This USMBOOKS web page contains a selection of 100% original Third Reich Feldpost letters written by, to or about members of the German Wehrmacht. They are priced individually.
The empty 4 x 5-3/4 inch Third Reich envelope we offer here once contained a letter that was sent by a Nazi Air Force Unteroffizier from the Luftwaffe Erholungsheim (Luftwaffe Convalescent Home) in the Grand-Hotel Alassio. Alassio is a resort town on the Mediterranean coast between Monaco and Genoa and the Grand-Hotel located right on the Mediterranean Sea had been turned into a recuperation facility for Luftwaffe personnel.
FELDPOST FROM A LUFTWAFFE CONVALESCENT HOME IN ALASSIO, ITALY
The envelope no longer contains the letter the Luftwaffe Unteroffizier sent to a Fraulein in Niederdonau but it has two Munich Capital of the Movement swastika cancelations dated 26 October 1942 as the Feldpost from this Luftwaffe post was processed in München.
Note the Luftwaffe Erholungsheim Grand-Hotel Alassio had its own rubber stamp complete with the Nazi eagle and swastika emblem in the middle!

Rare and absolutely original Third Reich philatelic material. Condition as shown.
Offered for sale for $11.50 + $3.00 for 1st Class Mail in the USA.

Additional charges apply for insurance, Priority Mail or shipping abroad. Please inquire.


The images and the entire text used on this and all other USMBOOKS web pages are the copyrighted property of USM Inc. Those images and the text may be used by others ONLY AFTER completion of a formal international licensing agreement and payment of a licensing fee! It is therefore, illegal for anyone to take any of the material found on USMBOOKS.com and use it for their own purposes without our written permission, irrespective of any excuse they may feel they have for doing so.
This letter was mailed on 13 October 1943 to Obergefreiter Heinz Pomarius, Feldpost Nr. 46535 by his mother, part owner of the Warmbadeanstalt Johannsen, a health spa facility in the popular resort town of Büsum in Holstein on the North Sea coast.
When the 4-1/2 x 6-3/8 inch envelope containg the letter arrived, Lieber Heinzi was already dead. The front of the envelope was marked "Fallen for Greater Germany" under the crossed out Feldpost number and the letter was returned to the Pomarius family in Büsum.

Envelope was carefully cut open along the top edge. Condition exactly as shown.
FALLEN FOR GREATER GERMANY BY THE TIME THE LETTER ARRIVED
Offered for sale for $16.50 + $3.00 for 1st Class Mail in the USA.

Additional charges apply for insurance, Priority Mail or shipping abroad. Please inquire.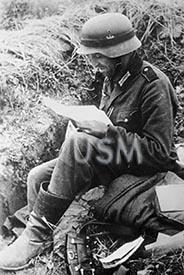 The 1942 SS-Feldpost card sent by Polizei Rottenführer Hefner is for sale
for $75.00 delivered by 1st Class Mail in the continental USA. (item ZG)

Additional charges apply for insurance, Priority Mail or shipping abroad. Please inquire.
1942 SS FELDPOST POSTCARD FROM A NAZI POLICEMAN STATIONED IN YUGOSLAVIA FIGHTING THE PARTISANS
On 6 April 1941, Nazi Germany, Italy and Hungary invaded Yugoslavia and the country was 'trisected'. The Third Reich annexed Slovenian Styria, Upper Carniola, Slovenian Carinthia, and the Lower Sava Valley. Italy annexed southeast Slovenia with Ljubljana, and Hungary annexed Prekmurje. The Bulgarian army moved in on 19 April 1941, occupying parts of Macedonia and some districts of eastern Serbia.

After its annexation, Lower Styria in Slovenia was called Untersteiermark. Dr. Siegfried Uiberreither, already the NSDAP Gauleiter and Reichsstatthalter of Steiermark (Styria) became the Chief of the Civil Administration of Untersteiermark. In Lower Styria the commander of the Nazi security police and SS security service was in charge of local law enforcement during the first year (a civil judiciary organization, as the first stage in the establishment of a regular judiciary, did not start work until the spring of 1942).
A policy of strict Germanization was introduced in Untersteiermark. Public use of Slovene language was prohibited and all Slovene associations were dissolved. Members of all Slovene professional and intellectual groups, including many clergymen, were expelled. Between April 1941 and May 1942, around 80,000 Slovenes (almost 15% of the overall population) were expelled from Untersteiermark, or resettled to other parts of the German Reich.
As a result, a resistance movement developed and there was fierce fighting between German troops and Slovene partisan units in Untersteiermark, especially those who were Communists and affiliated with Marshal 'Tito'.

For sale on this USMBOOKS web page is a 3-¼ x 5-½ inch deckle edge Nazi postcard showing the railway station in the town of Zagorje ob Savi in central Slovenia (the railway station is still there today and looks the same). The town is called Sagor in German and is located on the Save river 32 miles east of Ljubljana.


The card was sent by Polizei Rottenführer Hefner of Reserve-Polizei-Bataillon 72/2 to his wife Therese Hefner in Munich by SS-Feldpost on 20 April 1942. Reserve Police Battalion 72 was formed in the München area and was sent to Slovenia to fight the local partisans as part of a military formation of the Nazi Ordnungspolizei (Orpo or Order Police). It was part of "Polizei-Regiment Endler" and was heavily involved in fighting and eradicating resistance. Such police battalions gained further notoriety in their work in conjunction with SS Einsatzgruppen in the extermination of Jews and Communist partisans in both Poland and in the Soviet Union after the German invasion of the USSSR in 1941.

Very rare, in very good condition and 100% original to the Third Reich period.
Gefreiter Bruno Peters, Feldpostnummer 08531 was serving on the East Front when he sent this special Feldpost card home to his brother Harry Peters in Berlin at the end of August 1943. The message refers to the birth of his nephew who he hopes "would turn out a fine young man that would not have to serve in war!"

Condition exactly as shown.
Offered for sale for $14.50 + $3.00 for 1st Class Mail in the USA.

Additional charges apply for insurance, Priority Mail or shipping abroad. Please inquire.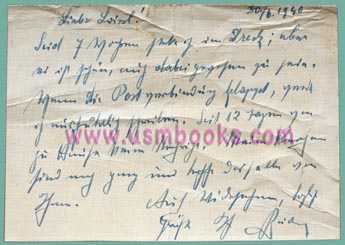 The original Feldpostkarte show above was sent from one member of the Wehrmacht to another on 2 July 1940. A Truppenführer with Feldpostnummer 069003 sent greetings to a Soldat with Feldpostnummer 13733. Poor condition exactly as shown above.
Offered for sale for $14.50 + $3.00 for 1st Class Mail in the USA.

Additional charges apply for insurance, Priority Mail or shipping abroad. Please inquire.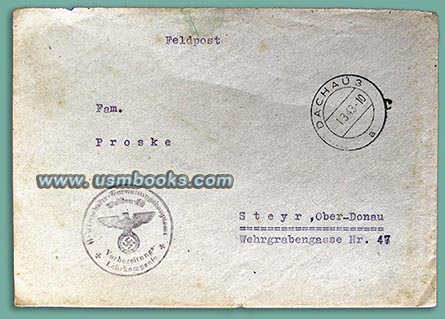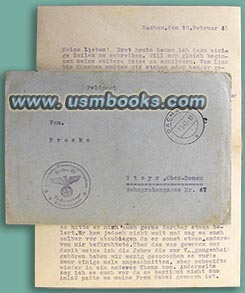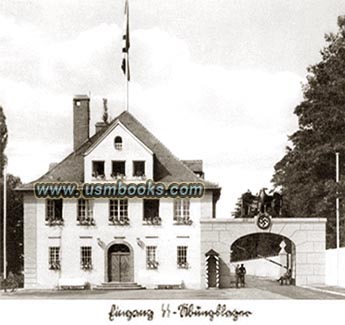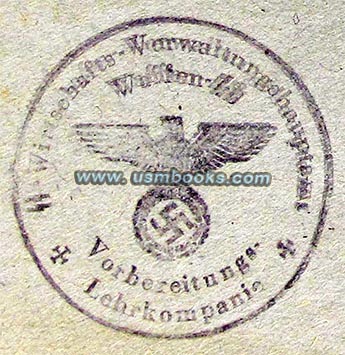 VERY RARE DACHAU SS ECONOMIC AND ADMINISTRATION SCHOOL STUDENT ENVELOPE WITH LETTER POSTMARKED 1 MARCH 1943
This is a 100% original Third Reich Nazi envelope with its original letter sent by Feldpost by SS-Oberscharführer K. Daspelgruber from Dachau to the Proske family in Steyr, Gau Oberdonau in 1943.
The 35 mm round eagle and swastika stamp on the front of the light grey-blue envelope shows SS-Oberscharführer Daspelgruber was stationed at Dachau and was part of the Vorbereitungs-Lehrkompanie of the SS-Wirtschafts-Verwaltungshauptamt (SS-WVHA or SS Main Economic and Administrative Office run by SS-Obergruppenführer Oswald Pohl) of the Waffen-SS. The SS-WVHA was a Nazi organization responsible for managing the finances, supply systems and business projects for the Allgemeine-SS.
The SS-WVHA had its own educational facility, the SS-Verwaltungsschule Dachau where future SS administrative leaders were trained. The school was on the grounds of the SS-Übungslager Dachau (SS Dachau Training Camp where future concentration camp guard personnel were also trained - shown right for reference) adjacent to Dachau Concentration Camp, and the administration of the school was housed in the SS-Totenkopf staff building.

A cursory look at the content of Speer's book Infiltration will give interested readers a good idea of what Oberscharführer Daspelgruber, the man whose correspondence we are selling, was doing in Dachau in the late winter of 1943.
The rare envelope measures 4-½ x 6-3/8 inches, and the neatly typed two-sided letter dated at Dachau on 28 February 1943 measures 5-¾ x 8-¼ inches. Daspelgruber wrote about the visit he and his wife made to Friedrichshafen to his father and his new wife before going on to Dachau. He wrote about the crowded train trip, air raid alarm upon arrival in Friedrichshafen, the awkward visit with his father, that he liked his father's new wife, etc. At the end of the letter he requests that somebody from the Proske family send the boot trees or stretchers that he had forgotten, and that he hoped to stay in Dachau until his next training assignment.
In Albert Speer's book Infiltration, published in English in 1981, he records that it was Reichsführer-SS Heinrich Himmler who through SS-Wirtschafts-Verwaltungshauptamt was determined to infiltrate the war economy with his own people and build an SS industrial conglomerate. Acting with Hitler's consent, Himmler intended to make the SS independent of state and party and to build an empire of companies within it to solve the great technological problems of the era.
We do not know what happened SS-Oberscharführer Daspelgruber, but the name is not particularly uncommon in some parts of Austria even today. Very rarely seen unique 74 year old SS material in very good used condition.
The rare 1943 SS-Feldpost sent from Dachau is for sale for $145.00
delivered by 1st Class Mail in the continental USA. (item KDG)

Additional charges apply for insurance, Priority Mail or shipping abroad. Please inquire.
A SELECTION OF ORIGINAL NAZI
FELDPOST CARDS AND LETTERS