This original Nazi era Wellner catalog and price list is offered for
sale for $595.00 delivered in the continental USA.

• IF you wish to purchase highly recommended, but optional insurance, add $9.75.
• We will be happy to ship abroad at additional cost. Please inquire.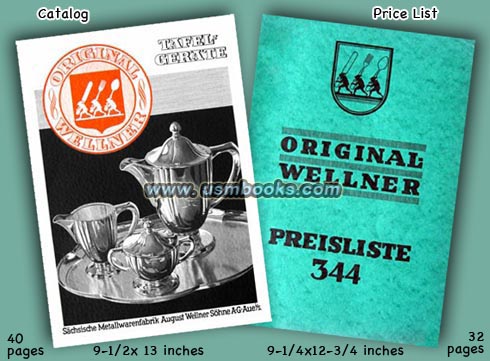 VERY RARE
SET:
BOUND
ORIGINAL-
WELLNER CATALOG
AND
SEPARATELY
BOUND
ORIGINAL-
WELLNER
PRICE LIST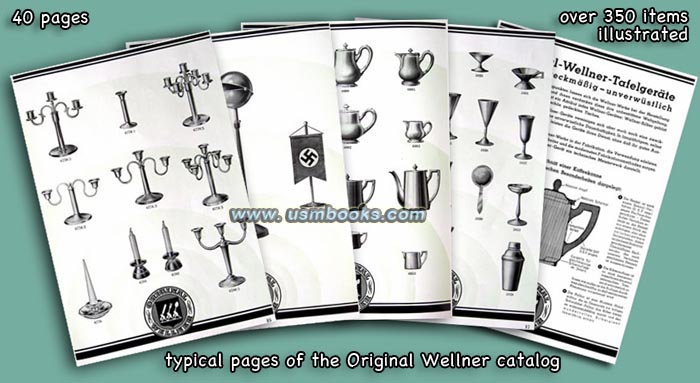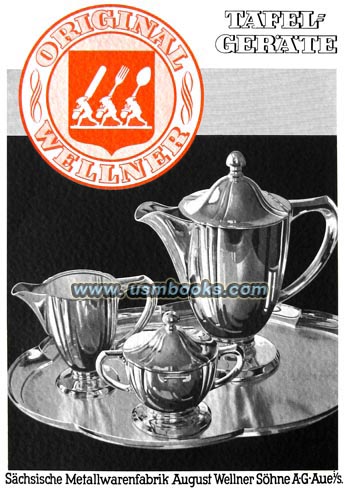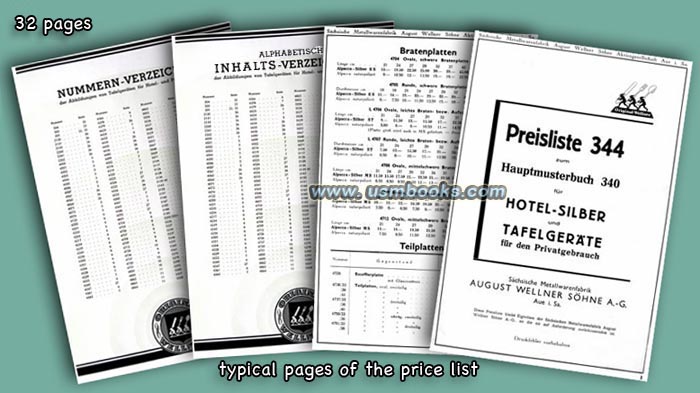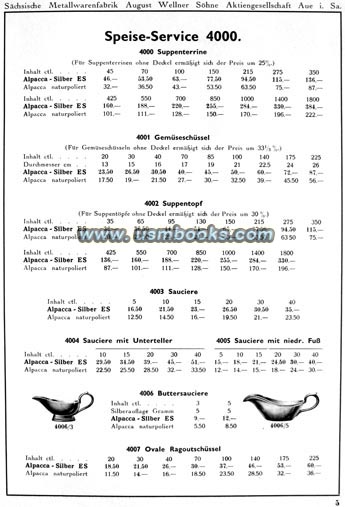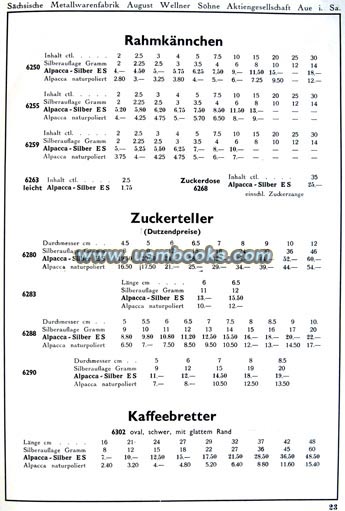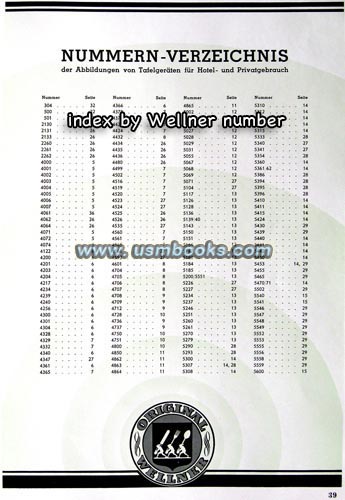 Pages 5 to 36 of the catalog depict over 350 original Wellner items along with the product number of each. There are Indices of items by both name and number in the back. Pages in the 9-1/4 x 12-3/4 inch, 32-page Price List (Property of Sächsische Metallwarenfabrik August Wellner Söhne AG) explain the various markings on the backs and bottoms of Original Wellner tableware items, and the weight of the silver used in the plating.

The Price List is divided into sections for Hotel Silver and Table Service for Consumer Use. Some pieces (designs) are offered in as many as a dozen or more sizes and various finishes, platings, etc. Every one of them has a price in each size! The Price List is alphabetically indexed in the back.
If collectors studied original literature of this sort they would be far less likely to buy the myriad fakes and phantoms that flood the market today.
The lot we offer here begins with a printed A4 cover letter explaining the new Original Wellner Haupt-Musterbuch (General Line Pattern Book) and separately bound price list that came with it. The 9-1/2 x 13 inch, 40-page catalog gives the background of the company, explains Alpacca metal, and provides information about a range of items Wellner manufactured. A full page of text provides details of the quality of construction of Original Wellner items.
If you have any interest in the table service items of the Third Reich period in Germany you know there is no substitute for original period catalogs that show numbers and prices of the items produced by major manufacturers like Original Wellner, Bruckmann, Gebrüder Hepp, WMF, Art. Krupp Berndorf, etc.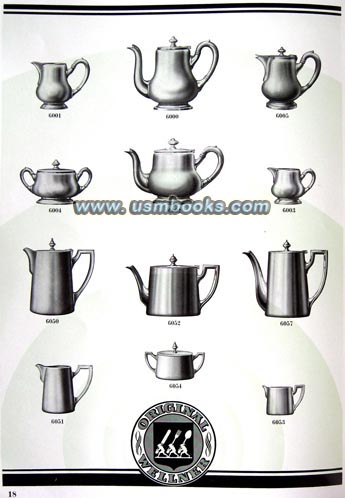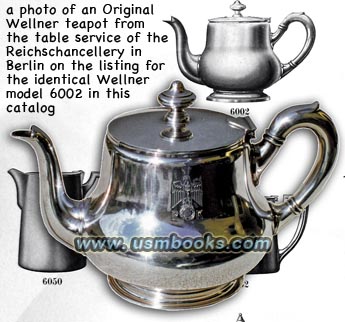 Sächsische Metallwarenfabrik August Wellner Söhne AG of Aue i/S. (in the Erzgebirge in Sachsen), Germany was the major designer and producer of the most popular line of Alpacca, silver plated Alpacca and other silver service or table service items in Nazi Germany.
Wellner made a large assortment of items under the Original Wellner trade name from tea pots to flag stands and serving trays to matchbox holders, and they made them for Hitler, his Reichschancellery in Berlin, for paramilitary organizations like the SS, for the Hitler Youth, the Wehrmacht and the Nazi Party among others. They sold via agents and from their own showrooms around the world and all over Greater Germany.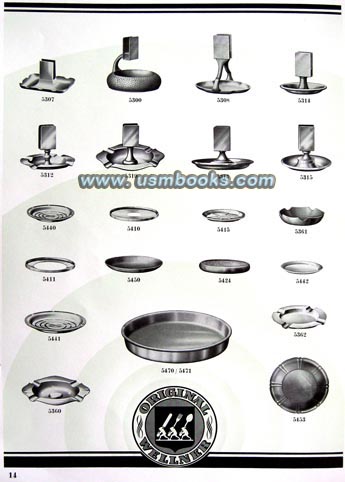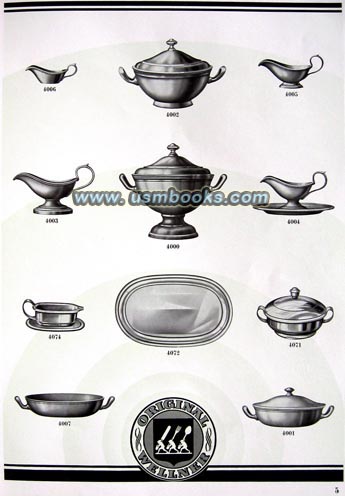 We doubt that you have ever seen another original Third Reich Wellner Catalog and Price List like this one offered for sale, and you probably never will. They are truly that rare. Both the Wellner Catalog and Price List are complete and in very good used condition.


The images and the entire text used on this and all other USMBOOKS web pages are the copyrighted property of USM Inc. Those images and the text may be used by others ONLY AFTER completion of a formal international licensing agreement and payment of a licensing fee! It is therefore, illegal for anyone to take any of the material found on USMBOOKS.com and use it for their own purposes without our written permission, irrespective of any excuse they may feel they have for doing so.
NAZI ERA ORIGINAL-WELLNER TABLE SERVICE CATALOG
A SPECTACULAR HEAVILY ILLUSTRATED
ORIGINAL WELLNER CATALOG AND PRICE LIST
SET FROM THE THIRD REICH