These three genuine Third Reich serving pieces from the famous hotel
Der Deutsche Hof in Nürnberg are offered for sale for:

A) large tray: **SOLD**
B) coffee pot with lid: **SOLD**
C) small creamer: **SOLD**

• We will be happy to combine shipping.
• IF you wish to purchase optional insurance, please inquire.
• We will be happy to ship abroad at additional cost. Please inquire.


The images and the entire text used on this and all other USMBOOKS web pages are the copyrighted property of USM Inc. Those images and the text may be used by others ONLY AFTER completion of a formal international licensing agreement and payment of a licensing fee! It is therefore, illegal for anyone to take any of the material found on USMBOOKS.com and use it for their own purposes without our written permission, irrespective of any excuse they may feel they have for doing so.
Also for sale on USMBOOKS.com, two original Third Reich pewter
souvenir plates from Nürnberg: PLATE 1 • PLATE 2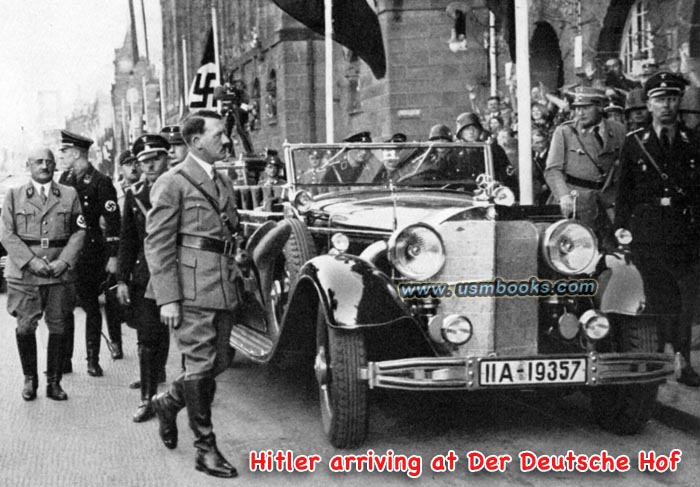 Offered for sale on this USMBOOKS web page are three original Third Reich silver service pieces from the most famous hotel in Germany during the Hitler era - Der Deutsche Hof near the railway station in Nürnberg. Most people with an interest in the period are aware that in the early days of the Nazi Party the fanciest hotels in Nürnberg turned Hitler and the Nazis away when they came to the city for their Reichsparteitage or Nazi State Party Days.

Among the best hotels, the one that welcomed the Nazis and Hitler specifically, was Der Deutsche Hof.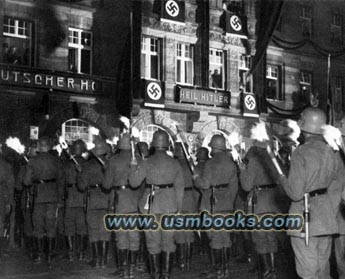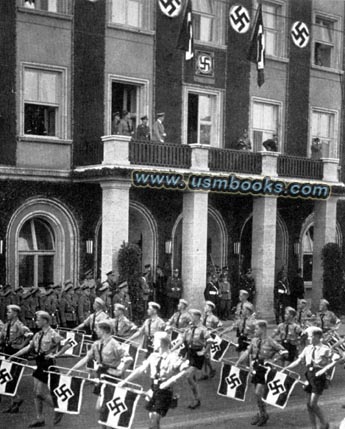 Hitler was grateful and after coming to power in Germany, he remembered Der Deutsche Hof and invariably stayed there during Reichs Party Days. Note that in the period advertisement directly below the hotel advertises itself as "das Haus des Führers in Nürnberg"! There are many photographs showing Hitler reviewing his paramilitary organizations from the front of the hotel.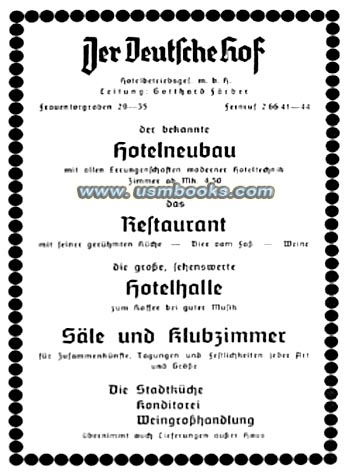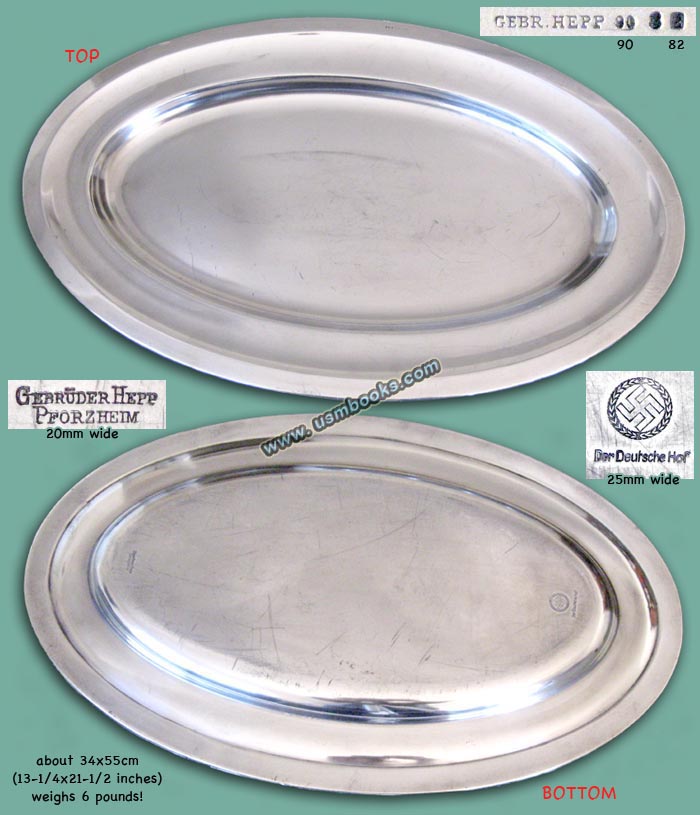 DER DEUTSCHE HOF LARGE PLATTER OR TRAY - GEBRÜDER HEPP
Silver service articles used in the dining room of Der Deutsche Hof were manufactured by the well-known metals manufacturing firm Gebrüder Hepp of Pforzheim, Germany, south of Heidelberg. Very much to Hitler's liking, the silver service pieces were plain, classic, heavy bordered, heavy weight silver plated Alpaca metal bearing a logo of a wreath with an outlined swastika in the center.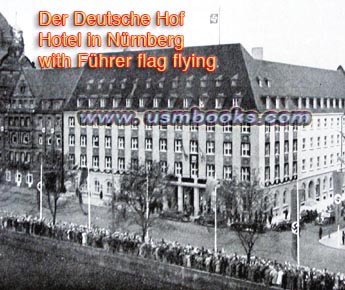 The three pieces we offer for sale were brought to the United States after World War II by an American GI. We have no other pieces for sale.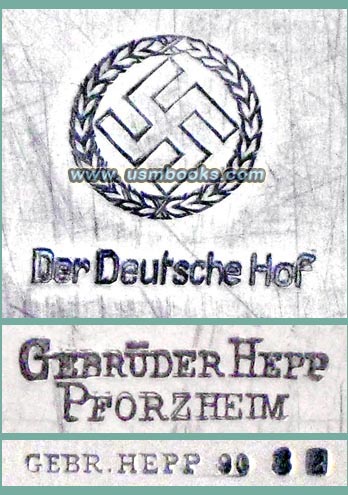 The largest piece is the large tray or platter. It measures about 13-¼ x 21-1/2 inches and weighs about 6 pounds. It is hallmarked with a Gebrüder Hepp manufacturing logo and has the name of the hotel beneath the swastika / wreath logo.

It is in remarkably good condition, showing only relatively light wear and scratches but no dents. It retains about 95% of its original silver plating. As most people know, serving pieces of this type can be (and often were during the Third Reich) straightened, repaired, polished and replated without negatively affecting their value.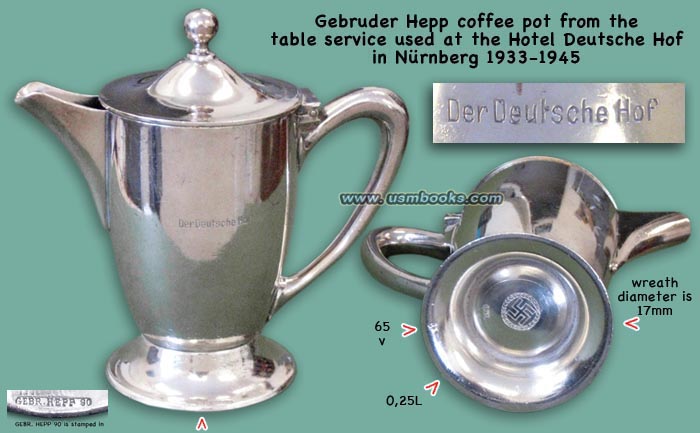 DER DEUTSCHE HOF 25 cl COFFEE POT WITH LID - GEBRÜDER HEPP
The 25 cl. coffee pot from Der Deutsche Hof still has with the original hinged lid. It is 5-¾ inches tall and on the bottom has the swastika inside a wreath 17 mm in diameter. The Gebrüder Hepp manufacturing logo is stamped on the base of the coffee pot - see photo. It is in very good condition, showing very little wear.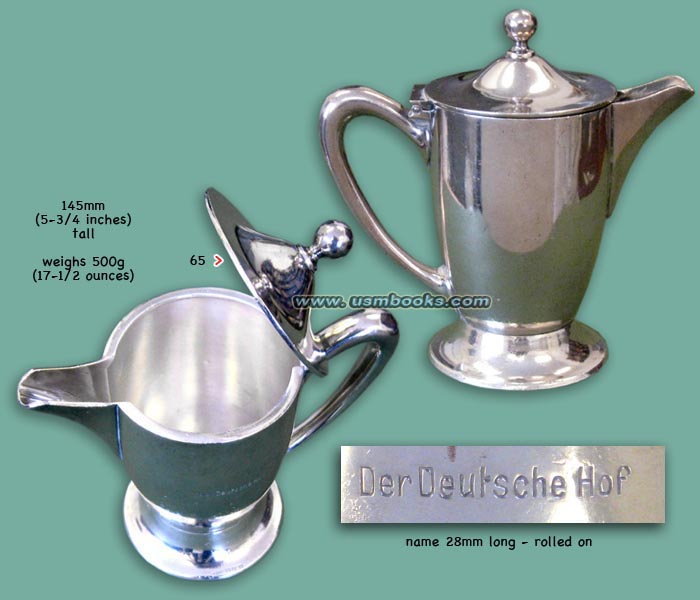 DER DEUTSCHE HOF 0.05 cl CREAMER - GEBRÜDER HEPP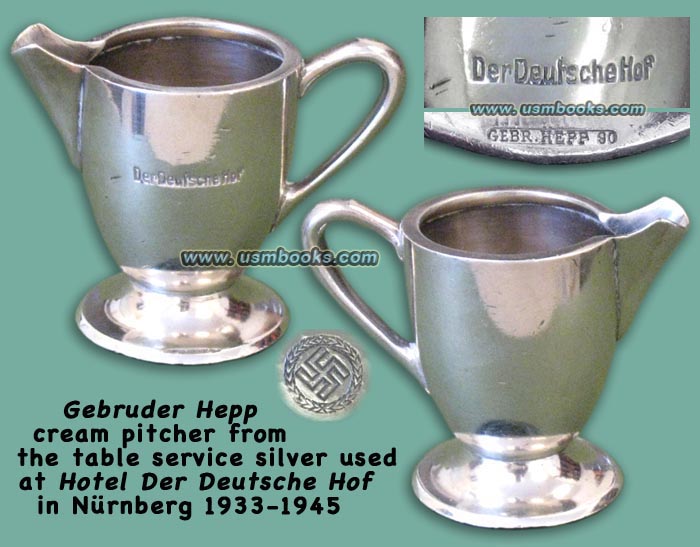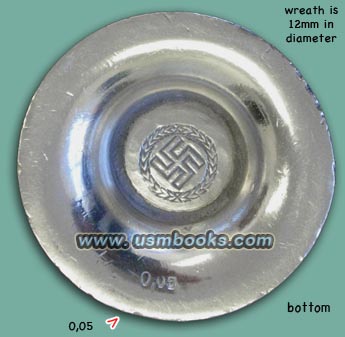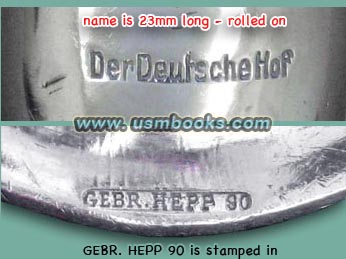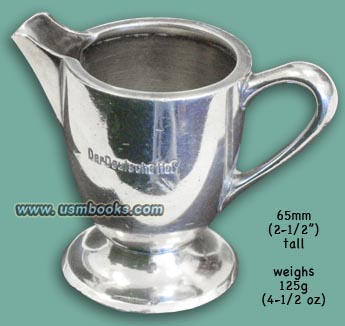 The original 0.05 cl Der Deutsche Hof creamer has the same GEBR. HEPP 90 manufacturing logo stamped on the base and the swastika / wreath logo on the bottom is 12 mm in diameter. It is 2-½ inches tall and weighs 4-½ oz.

Very nice condition, minimal wear, exactly as shown.
NAZI SILVER SERVICE FROM HITLER'S HOTEL IN NÜRNBERG - DER DEUTSCHE HOF
THREE VERY RARE PIECES FROM THE NAZI SILVER SERVICE
OF THE DEUTSCHE HOF HOTEL IN NUREMBERG, GERMANY -
HITLER HIMSELF MAY HAVE BEEN SERVED WITH THEM!