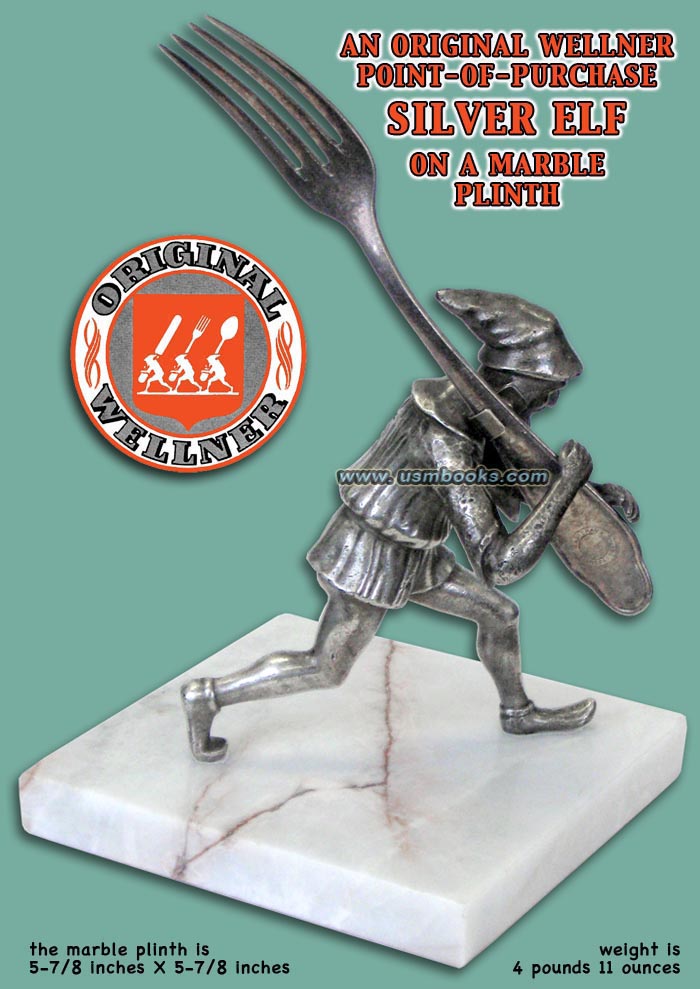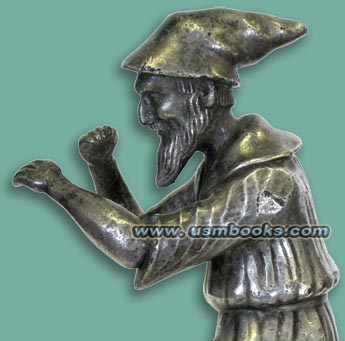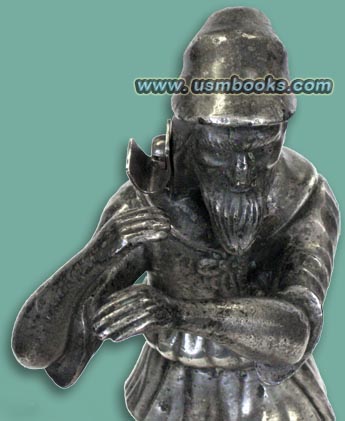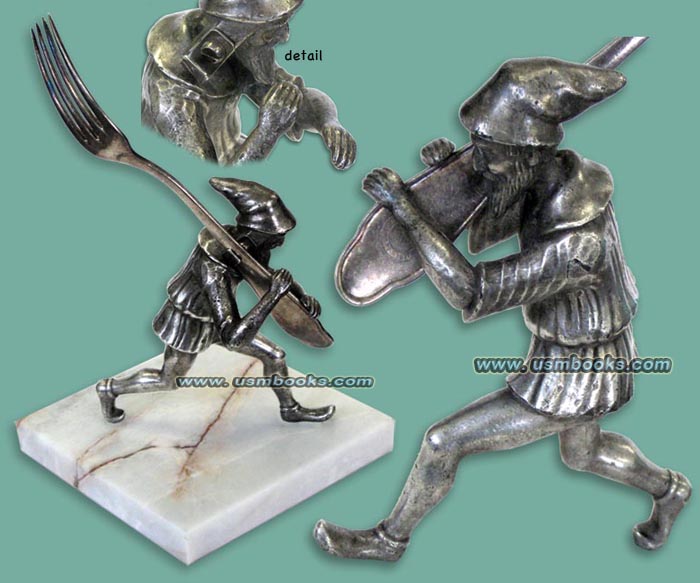 The elf has a hollow "J" shaped metal piece attached to his right shoulder. When a genuine spoon, fork or knife handle is inserted into the "J" shaped piece, it appears that the elf is carrying the actual piece of silverware on his shoulder!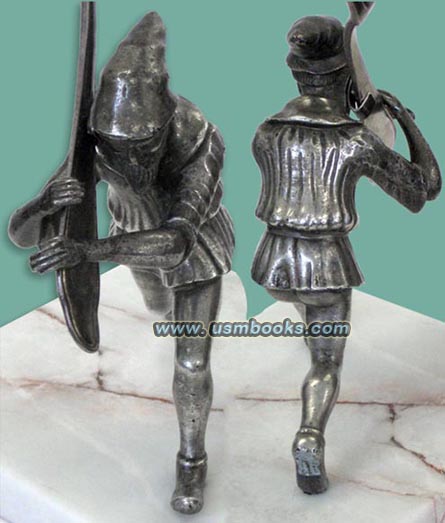 This is a remarkable old original piece of Nazi era Wellner retail store display material in very nice condition!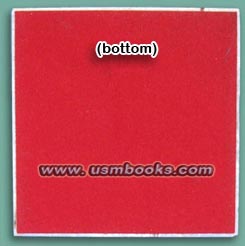 It is a very heavy 150 mm tall (5-7/8 inches) silver metal elf (the company logo and trademark) standing on a 150 x 150 mm ((5-7/8 x (5-7/8 inch) marble plinth that is 20 mm (3/4 inch) thick. It has a red felt protective base under the marble. The whole thing weighs 2.1 kg (4 pounds 11 ounces).
(The
Gästehaus Reichsparteitag
fork
in our pictures is not sold with the elf - it just shows how the display is used.)
The
Sächsische Metallwarenfabrik August Wellner Söhne AG
of Aue in Sachsen (in the
Erzgebirge
of east-central Germany) was a very major manufacturer of commercial tableware of all kinds, before and during the Third Reich. They had offices and showrooms in most of the major cities in Germany and in 29 cities around the world.
Wellner was famous for high quality, beautifully styled, extremely durable metal tableware ranging from silverware to gravy boats to platters, and tea pots to candelabra. They also manufactured champagne buckets, umbrella stands, picture frames, ashtrays and flag holders.
Adolf Hitler, Reichsführer-SS Heinrich Himmler, Hermann Göring and other top-20 Nazis owned lots of Wellner silverware as did institutions like the 20Reichschancellery in Berlin, SS Lebensborn homes, Luftwaffe Kasinos and even Kriegsmarine submarines.

This very rare old piece of Third Reich Wellner display material is in wonderful condition just as we bought it in Germany years ago. It appears that a previous owner may have put the red felt on the bottom of the marble plinth to replace whatever Wellner might have used originally. It is very historical Third Reich material that would compliment any collection of Nazi era tableware or table service items.


The images and the entire text used on this and all other USMBOOKS web pages are the copyrighted property of USM Inc. Those images and the text may be used by others ONLY AFTER completion of a formal international licensing agreement and payment of a licensing fee! It is therefore, illegal for anyone to take any of the material found on USMBOOKS.com and use it for their own purposes without our written permission, irrespective of any excuse they may feel they have for doing so.
This rare original Third Reich Wellner elf retail store silverware display
is offered for sale for $695.00 plus postage (see below).

• E-mail your zip code and we will quote Priority Mail postage which includes tracking.
• IF you wish to purchase highly recommended, but optional insurance, add $9.95.
• We will be happy to ship abroad at additional cost. Please inquire.
RARE WELLNER ELF RETAIL STORE SILVERWARE DISPLAY
RARE ANTIQUE THIRD REICH SILVER METAL WELLNER ELF MADE TO HOLD HIS SPOON, KNIFE OR FORK FOR A RETAIL STORE DISPLAY