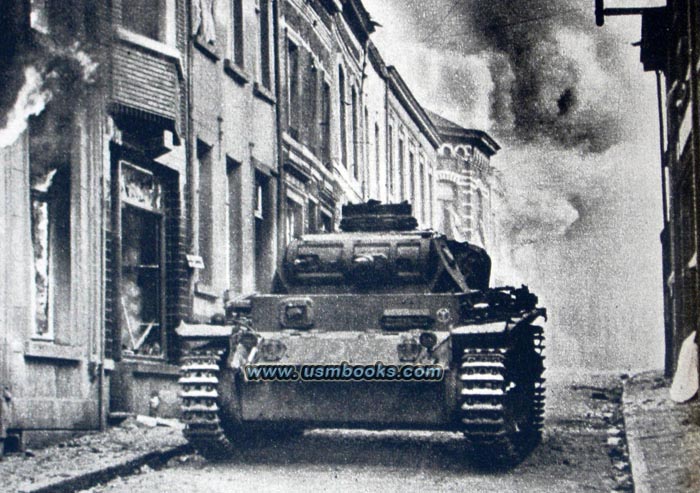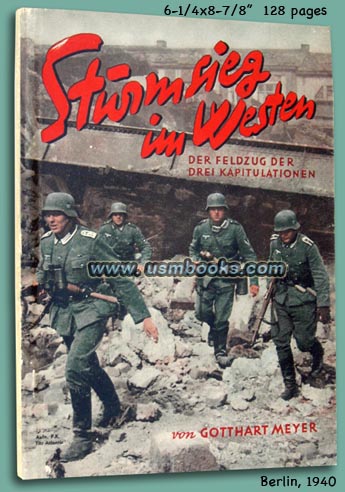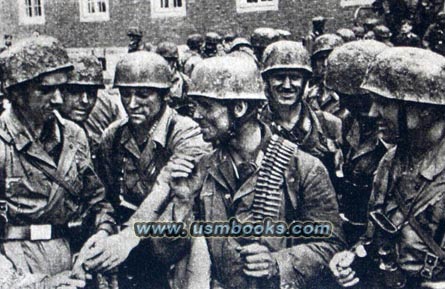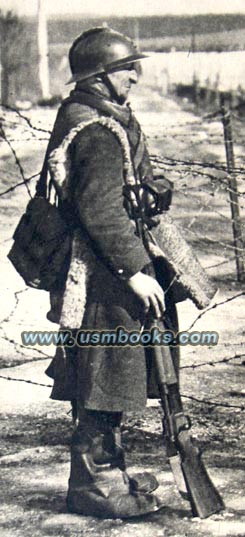 Sturmsieg im Westen (Rapid Victory in the West) by Gotthart Meyer is subtitled "The Battle with Three Capitulations" referring to the speedy victory of Wehrmacht forces in Holland, Belgium and France in May and June 1940. The 6-1/4 x 8-7/8 inch, 128 page soft cover Verlag Scherl publication starts with Adolf Hitler's 10 May 1940 Tagesbefehl or Order of the Day, the start of the Nazi invasion of western Europe.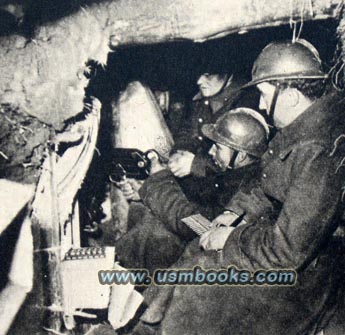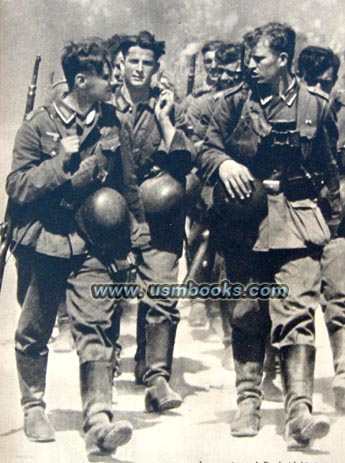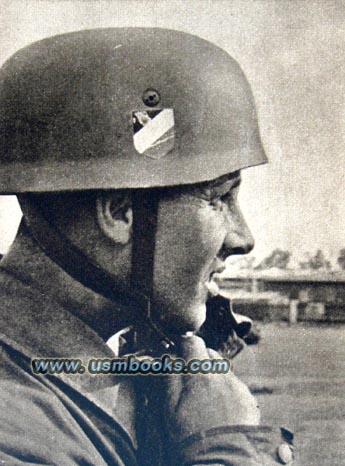 What led up to the invasion is described, but mostly this 1940 Nazi publication is filled with battle photos and map describing the victorious Wehrmacht battles in the west: Nazi tanks and their crews in Panzer wraps, heavy artillery and flak troops, Luftwaffe airplanes over France and on newly captured airfields, conquering flooded Dutch farm fields, Belgian bunkers, French Poilu and the Maginot Line, Hitler and Field Marshal Keitel looking over battle maps, Wehrmacht soldiers with bicycles on Dutch and Belgian country roads, He111 airplanes, German Army machine gun positions, paratrooper jumping over Rotterdam and the destruction of Rotterdam, Fallschirmjäger smoking after capturing Eben Emael fortress in Belgium, battle action and damage and destruction of bunkers, houses and cities, Gent railways station after a visit by the Luftwaffe, Dunkirk, the destruction of Calais harbor, white and colored French POWs, and of course, the Wehrmacht in and above Paris.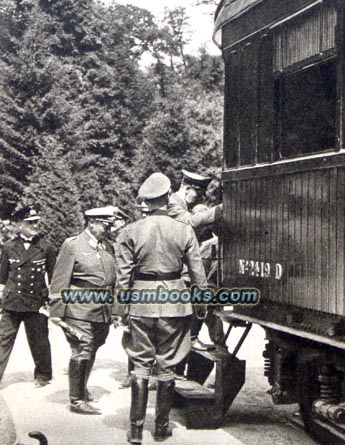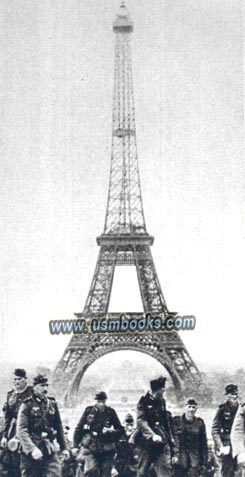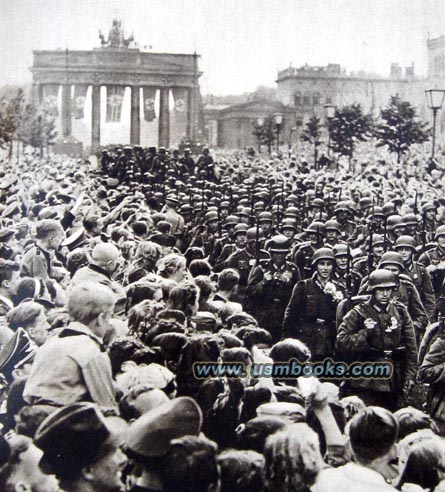 In the back of the book is a photo of Hermann Göring at Compiègne just before the French surrendered and Wehrmacht troops celebrating Belgian surrender in front of the the cathedral in Bruges as well as official photo portraits of Hitler's generals, Göring, von Brauchitsch, Keitel, von Bock, von Rundstedt, von Reichenau, List, Kluge, Kesselring, Milch, Sperrle, and von Witzleben. The book ends with a short recap of the battle and casualties.
There is advertising for
Der Adler
magazines
and other Adler-Bücherei inside and on the back cover.
A wonderful action-packed Nazi photo book in very good, little used condition.


The images and the entire text used on this and all other USMBOOKS web pages are the copyrighted property of USM Inc. Those images and the text may be used by others ONLY AFTER completion of a formal international licensing agreement and payment of a licensing fee! It is therefore, illegal for anyone to take any of the material found on USMBOOKS.com and use it for their own purposes without our written permission, irrespective of any excuse they may feel they have for doing so.
This Nazi photo book about the 1940 Wehrmacht victories in the west is
for sale for $65.00 delivered by Media Mail in the continental USA.


USM book #650
• IF you prefer Priority Mail shipping with USPS Tracking add $6.50.
• IF you wish to purchase highly recommended, but optional insurance, add $2.95.
• We will be happy to ship abroad at additional cost. Please inquire.
NAZI PHOTO BOOK ABOUT THE THREE WEHRMACHT VICTORIES IN
HOLLAND, BELGIUM AND FRANCE IN 1940
NAZI PHOTO BOOK ABOUT THE VICTORIOUS WEHRMACHT BATTLES
IN THE WEST IN 1940