Each example of Der Deutsche Sieg im Westen is **SOLD**.
We will be happy to ship abroad at additional cost. Please inquire.
USM book # 256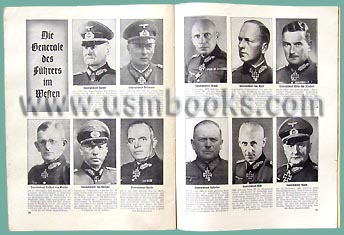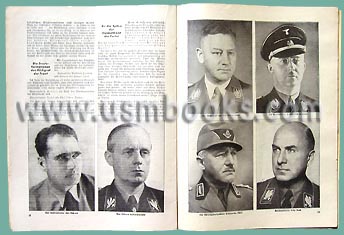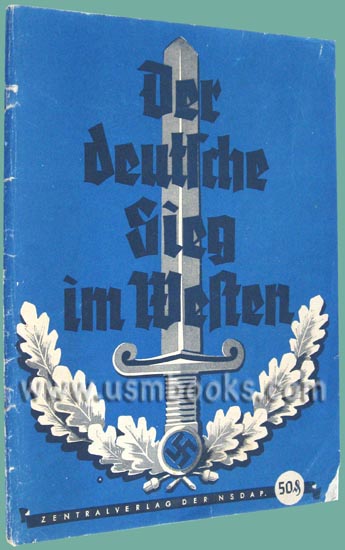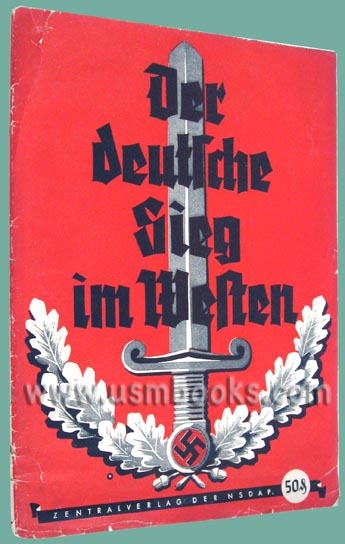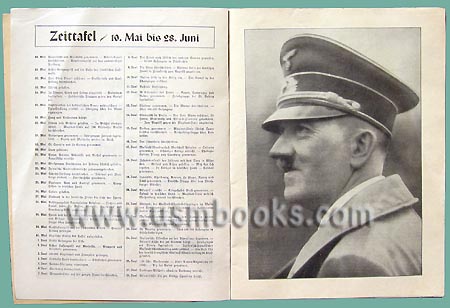 This is an excellent 9 x 11-7/8 inch, 96 page illustrated softcover book called Der Deutsche Sieg im Westen (German Victory in the West) as published in 1940 by the Nazi Publishing House, Zentralverlag der NSDAP Franz Eher Nachfolger, in München (Munich), Germany. This is not the more common book of pictures of the Nazi campaign in the West but a more important historical document of maps and photographs of the people who made the victory possible.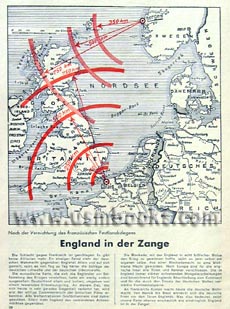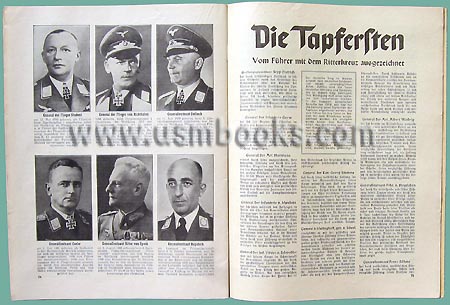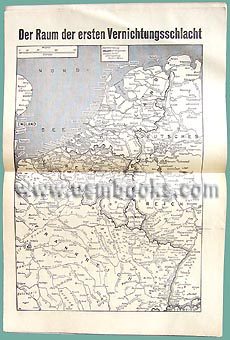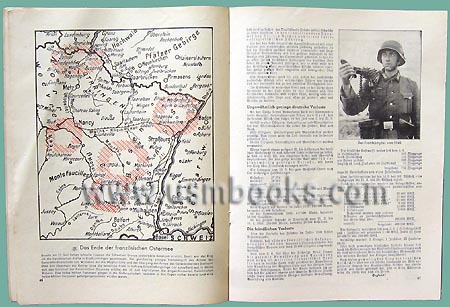 The campaign was one of the most brilliant military campaigns ever conceived and executed. In time measured in days rather than weeks and months, a relatively untested German Wehrmacht attacked over extremely rugged, heavily forested terrain and made minced meat of heavily fortified, dug-in French troops and their British Allies. A portion of the German Army routed their enemies and subjugated the country of France with a population of more than 40 million in a matter of days.
This book provides a day-by-day timetable and copious maps of the area the Germans conquered. There are photographs of Adolf Hitler, Hermann Göring, the German Field Marshals, Nazi Party leaders, and all 29 of the German Generals who were active in the Campaign in the West. There are photos of some, and the stories of all the dozens of German soldiers who received the Knights Cross of the Iron Cross medal for their actions. There are statistical abstracts of the enormous amount enemy equipment and almost countless troops that were captured.
There are larger books that purport to tell this same story, but none of them do it better than this single softcover book produced just after the German victories in the west in 1940.
IMPORTANT:
the books shown above with the blue and red cover are identical in content and both come with their original Third Reich map insert. Both 69 year old publications are in good used condition but as is clearly visible in our photos, the covers show wear.
WHEN ORDERING, PLEASE SPECIFY IF YOU WANT TO BUY THE MAGAZINE WITH THE RED COVER OR THE ONE WITH THE BLUE COVER.
THE GERMAN VICTORY IN THE WEST
A DAY-BY-DAY HISTORICAL ABSTRACT OF THE
GERMAN MILITARY VICTORY ON THE WEST FRONT
BETWEEN 10 AND 28 MAY 1940


The images and the entire text used on this and all other USMBOOKS web pages are the copyrighted property of USM Inc. Those images and the text may be used by others ONLY AFTER completion of a formal international licensing agreement and payment of a licensing fee! It is therefore, illegal for anyone to take any of the material found on USMBOOKS.com and use it for their own purposes without our written permission, irrespective of any excuse they may feel they have for doing so.