This rare 1937 First Edition Nazi freeway system book is offered for sale
for $225.00 delivered by Media Mail in the continental USA.


USM book # 562
• IF you prefer faster and safer Priority Mail shipping with USPS Tracking add $9.95.
• IF you wish to purchase highly recommended, but optional insurance, add 4.95.
• We will be happy to ship abroad at additional cost. Please inquire.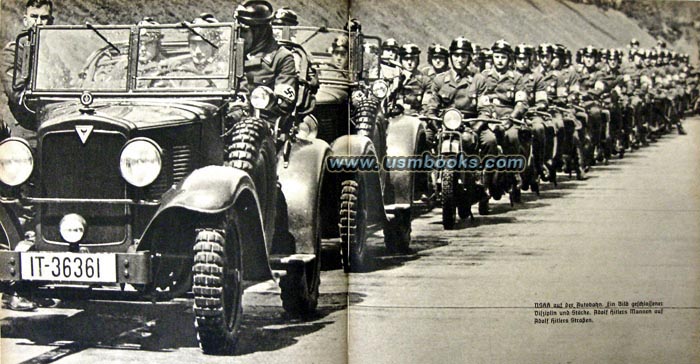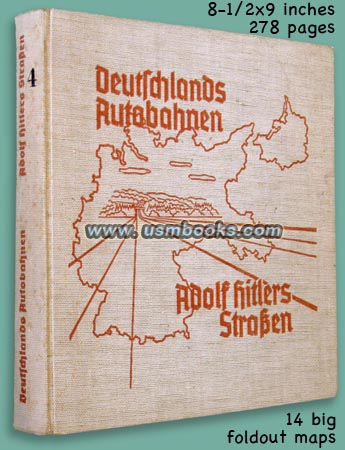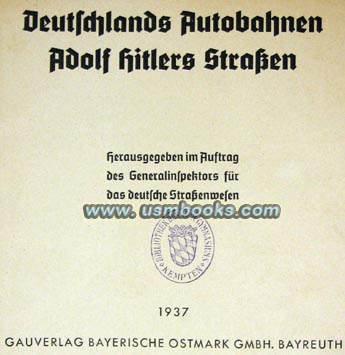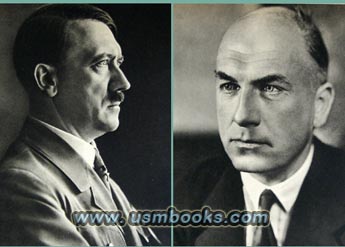 Deutschlands Autobahnen - Adolf Hitlers Straßen (Germany's Freeways - Adolf Hitler's Roads) was published in 1937 by the Nazi Party's Gauverlag Bayrische Ostmark in Bayreuth on the authority of the man in charge of developing and building the freeway system in Nazi Germany, Dr. Fritz Todt, the Generalinspektor für das deutsche Straßenwesen (Inspector General of German Highways). The hardcover book measures 8-1/2 x 9 inches and the 278 pages are absolutely full of spectacular photographs and color maps!

This First Edition of Deutschlands Autobahnen - Adolf Hitlers Straßen starts with a full-page portrait of Adolf Hitler (the creator of the enormous Nazi freeway project) followed by a full-page portrait of Dr. Fritz Todt (the builder of the Reichsautobahnen). The thought behind the freeway system is explained, then developing real plans from the original ideas, planning to fit freeways into German scenery, the labor force for the building of the freeway system, housing and feeding the labor force, laws regarding street and highway designations, alpine roads, fuel, the motorization of Germany, foreign travel, etc., etc.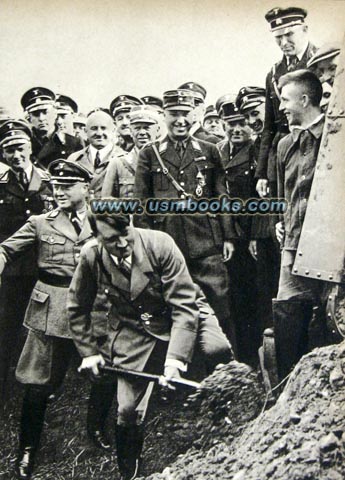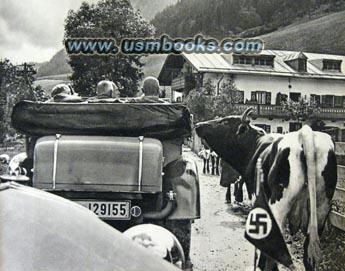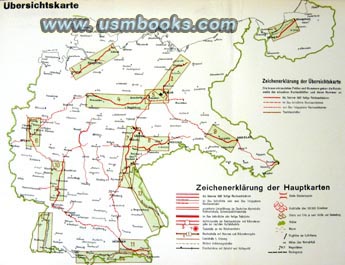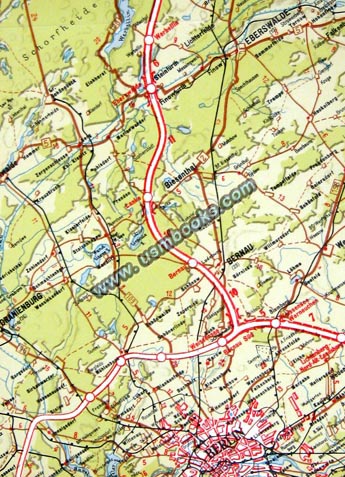 The enormous progress of building the Reichsautobahnen between 1 May 1933 and 19 December 1936 is covered as well as the new laws regarding the freeway system.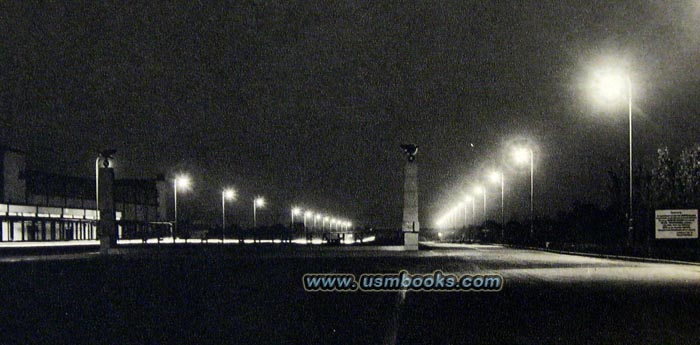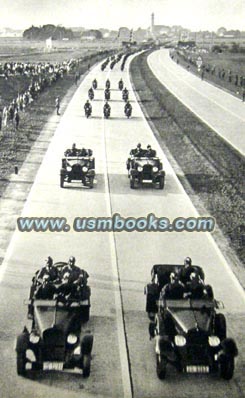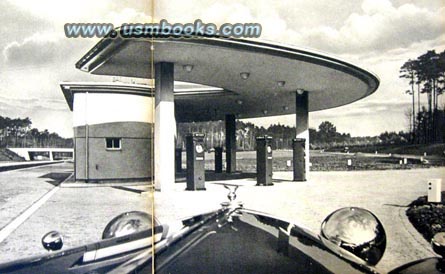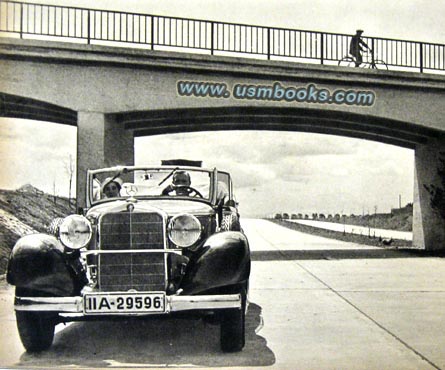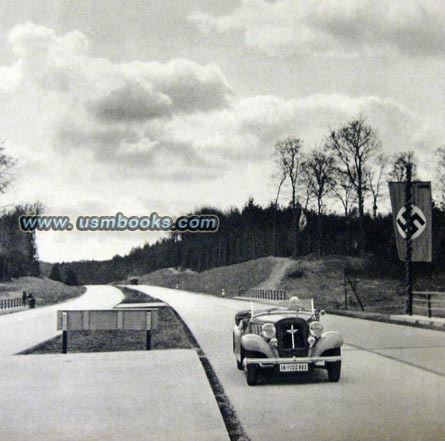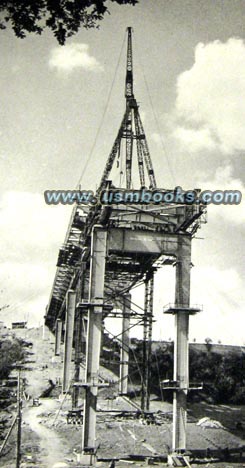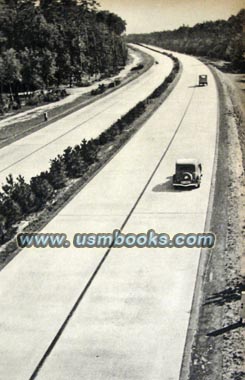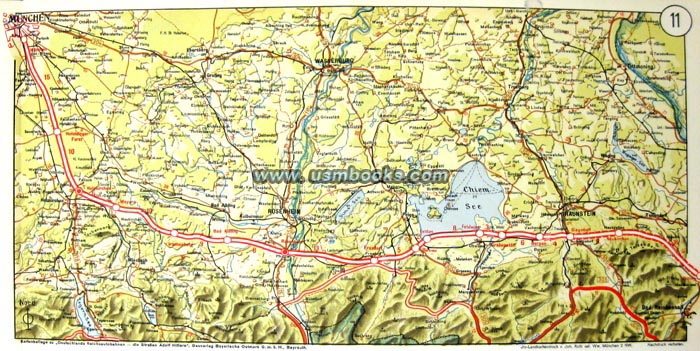 From page 95 onward this book is filled with Die Straßen Adolf Hitlers in Bild or Pictures of Adolf Hitler's Roads: Hitler on 23 September 1933 with the first shovel of dirt that started the construction of the freeway between Frankfurt - Darmstadt - Heidelberg; Hitler and Todt looking at freeway bridge models; supplies, building sites, laborers and their barracks, enormous Reichsautobahn bridges (under construction and finished), cars on the newly opened stretches of freeway, swastika flags and religious symbols on the freeway, the NSKK on the Reichsautobahn, etc., etc.
There is even an advertising section from industrial giants to small German companies that participated in the construction of the Nazi freeway system (many of them still in business today): Siemens, Krupp, Bödicker, DEMAG, Wayss & Freytag, Louis Eilers, HUTA, Sager & Woerner, Jucho, Polensky & Zöllner, Philipp Holzmann, MAN, Hochtief and many others.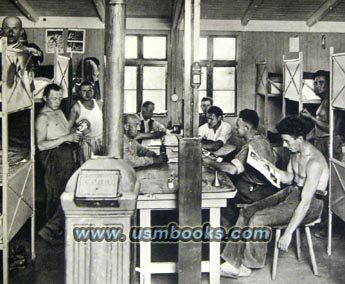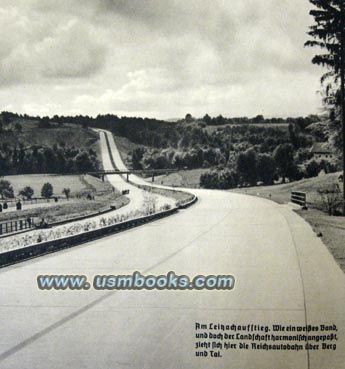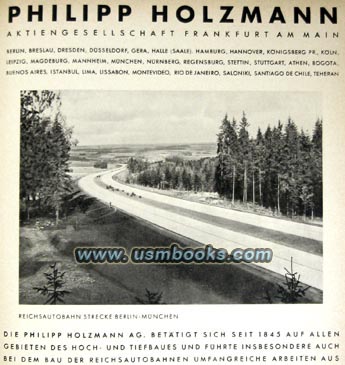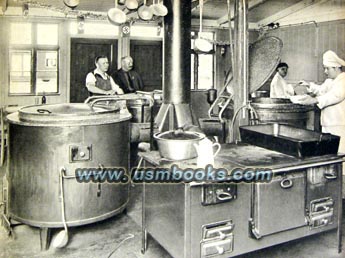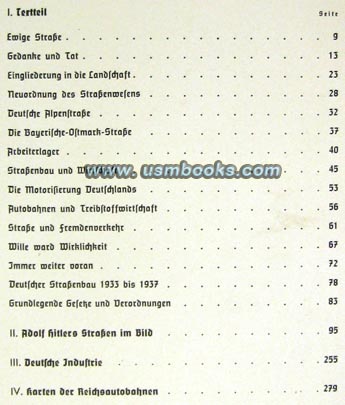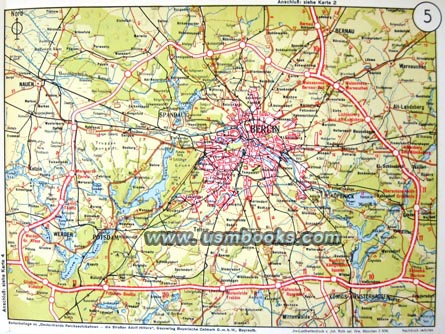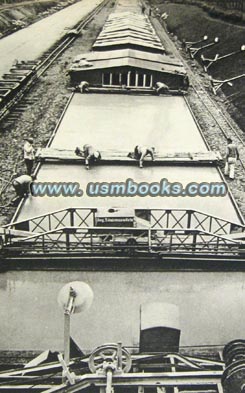 The last section of the book contains 16 very accurate COLOR fold out maps of the Reichsautobahnen in Nazi Germany. The sections are Bremen-Hamburg-Lübeck, Berlin-Stettin, Elbing-Königsberg, Hannover-Berlin, the Berliner Ring, Köln-Ruhrgebiet, Hall-Leipzig-Bayreuth, Glauchau-Dresden, Kreibau-Breslau, Ban Nauheim-Bruchtal, München-Salzburg, Schwarzwalderhöhenstrasse, Bayerische Ostmark and the Deutsche Alpenstrasse. Some of the color maps are as large as 9 x 42 inches!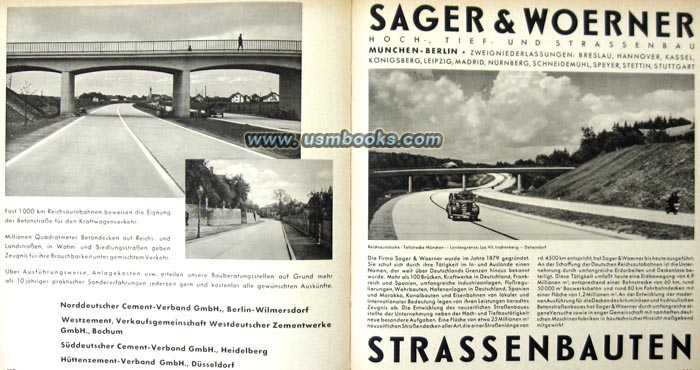 A superb Third Reich Reichsautobahn book in very good used condition. Please note: Fold-out map 5 is a professional laser photocopy of an original in our archive.
RARE 1937 NAZI PHOTO BOOK ABOUT THE NEW REICHSAUTOBAHN
FREEWAY SYSTEM IN GERMANY
DEUTSCHLANDS AUTOBAHNEN - ADOLF HITLERS STRASSEN
GERMANY'S FREEWAYS - ADOLF HITLER'S ROADS

SUPERB FIRST EDITION HARD COVER PHOTO BOOK ABOUT THE FREEWAY SYSTEM IN NAZI GERMANY


The images and the entire text used on this and all other USMBOOKS web pages are the copyrighted property of USM Inc. Those images and the text may be used by others ONLY AFTER completion of a formal international licensing agreement and payment of a licensing fee! It is therefore, illegal for anyone to take any of the material found on USMBOOKS.com and use it for their own purposes without our written permission, irrespective of any excuse they may feel they have for doing so.