The images and text used on this and all other USM web pages are the copyrighted property
of USM Inc. Those images and the text may be used by others ONLY AFTER completion
of a formal international licensing agreement and payment of a licensing fee!
---
NAZI REICHSAUTOBAHN PHOTO DOCUMENTARY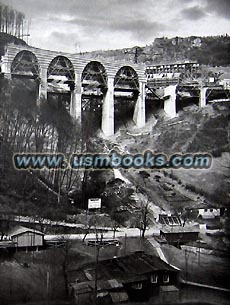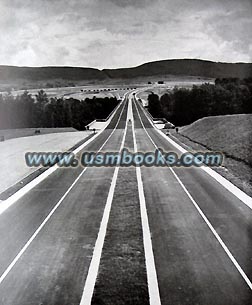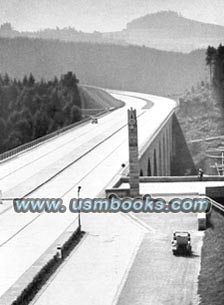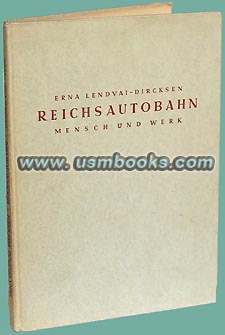 REICHSAUTOBAHN -
MENSCH UND WERK
(THE STATE FREEWAYS -
MEN AND ACHIEVEMENT)
MAGINIFICENT 1942
NAZI PHOTO BOOK
This is a nice copy of the 1942 second edition of the rare 7-1/2 x 10-1/2 inch, 128 page very, very heavily illustrated hard cover book Reichsautobahn - Mensch und Werk (The State Freeways - Men and Achievement) by photographer Erna Lendvai-Dircksen as published by Gauverlag Bayreuth.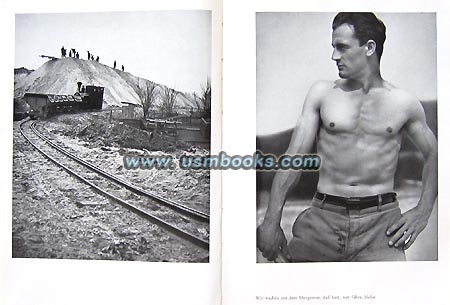 This book was deemed important enough by the NSDAP that the foreword was written for it by the
Generalinspektor für das deutsche Strassenwesen Reichsminister
Dr.-Ing.
Fritz Todt
prior to his tragic death in a plane crash in Russia, and Emil Maier-Dorn wrote the photo captions.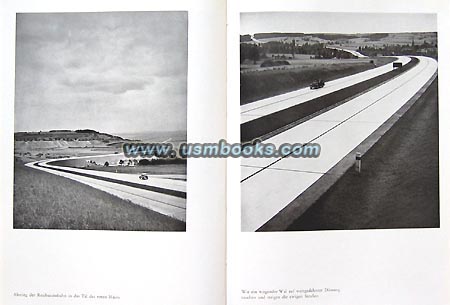 Erna Lendvai-Dircksen was a world-famous, world-class documentary photographer of enormous standing at the time she shot the photos for this exercise in justifiable German pride. The
Reichsautobahn
was without question the first freeway system in the world to have been carried beyond the experimental stage, and its development was closely watched and copied by highway builders and the governments of every country.
The book is magnificent. One hundred huge full-page black & white photos depict not only the landscapes, machinery and construction of one of the mid 20th century wonders of the world, but also the faces, bodies, and talented hands of the men who built it.
Reichsautobahn
bridges are shown in scaffolding and as beautifully stone-clad finished structures. Safe traffic lanes traverse the country of Germany with gentle curves, conformable ascents and descends, and no grade crossings.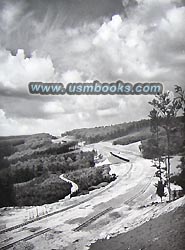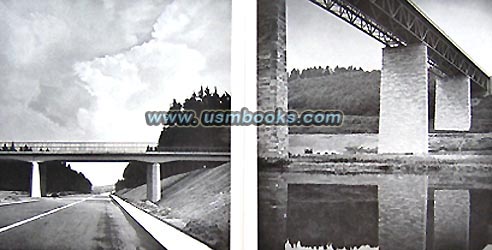 Today, with freeway travel a norm virtually everywhere, some of the importance of this book will be lost on many, but for any historian it is like leafing through a photographic manual on the building of the pyramids!
Spine is scotch taped, but nice condition.
This 1942 Erna Lendvai-Dircksen Reichsautobahn book is offered for sale
for $270.00 delivered to any address in the United States of America.
We will be happy to ship insured or abroad at additional cost. Please inquire.
USM book # 72
For additional original Third Reich
Reichsautobahn
material, click HERE.
This USM Books website is Copyright © 2013 by USM, Inc., and the text and images on it are fully protected by international copyright law. It is therefore, illegal for anyone to take any of the material found here and use it for their own purposes without our written permission, irrespective of any excuse they may feel they have for doing so.