The images and the entire text used on this and all other USMBOOKS web pages are the copyrighted property of USM Inc. Those images and the text may be used by others ONLY AFTER completion of a formal international licensing agreement and payment of a licensing fee! It is therefore, illegal for anyone to take any of the material found on USMBOOKS.com and use it for their own purposes without our written permission, irrespective of any excuse they may feel they have for doing so.
As many collectors know ALL of the performing arts in Nazi Germany were allowed only within the parameters established by the Reichskulturkammer (RKK or Reichs Chamber of Culture). Directed by Dr. Joseph Goebbels, Reichsminister für Volksaufklärung und Propaganda (State Minister for National Community Clarification and Publicity), performances done live, filmed or recorded, were required to utilize talent and staff that were card-carrying members of the RKK. Unless one possessed RKK membership, working anywhere in the arts in the Grossdeutschland of Adolf Hitler was impossible.

The five performing arts programs offered on this (and connected) USMBOOKS webpages are original to the Third Reich and are for performances at the most prestigious venues and are elegant and comprehensive. They are heavily illustrated with pictures of actors, casts of characters, credits, scenes from the theatrical piece, historical background and/or a synopsis on the play or opera, biographical information on the writer as well as information about upcoming plays and operas.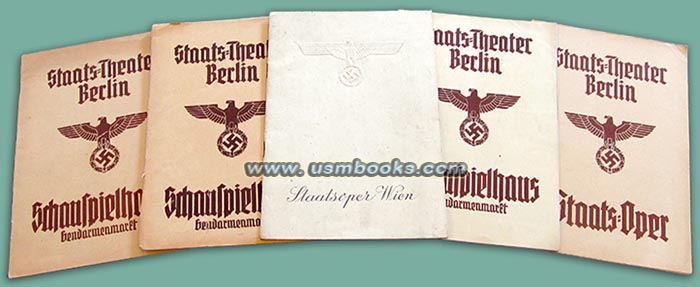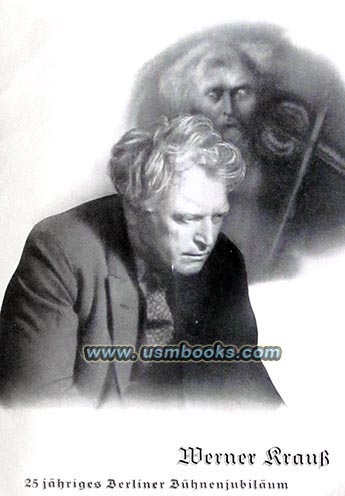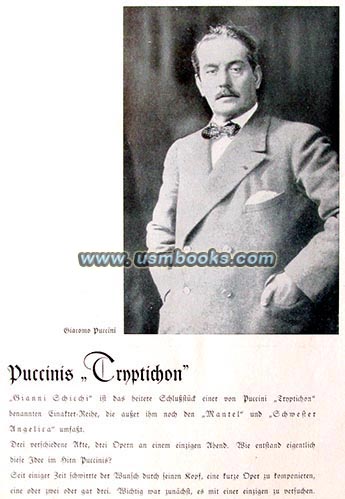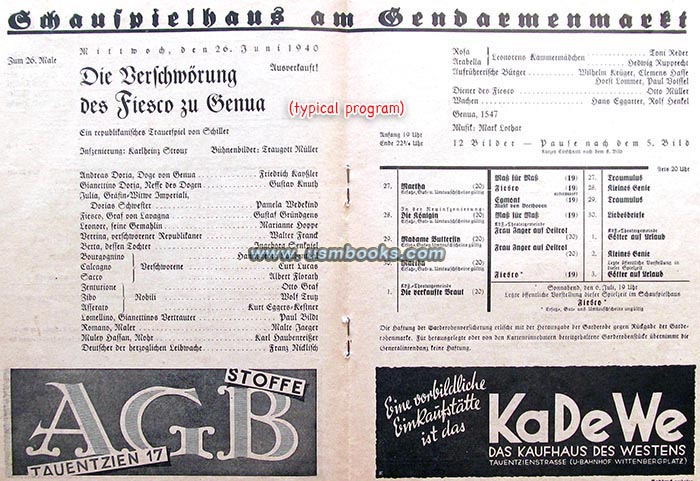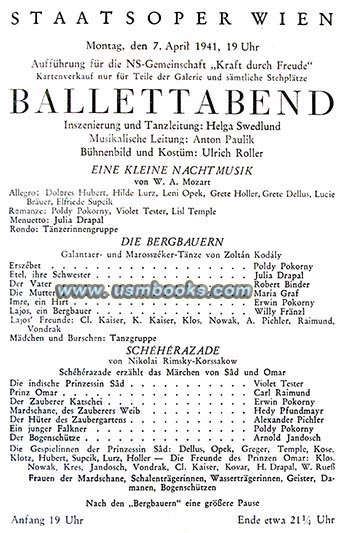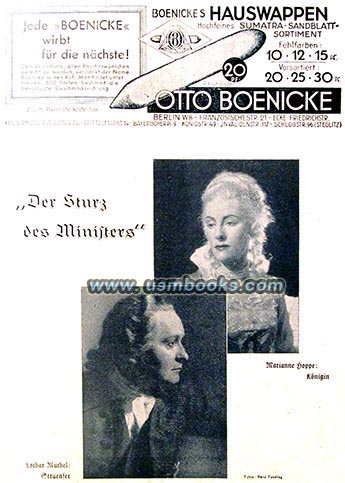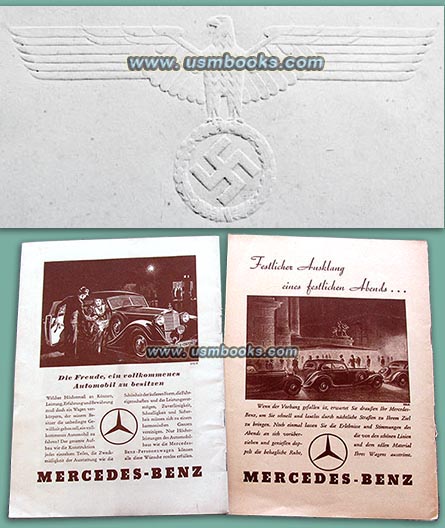 The four Berlin programs contain advertising by KaDeWe, Mercedes-Benz, Rodenstock, Rosenthal, Otto Boenicke cigars,
Neophan
, Ideal and Triumph typewriters, Bernstein, Hertie, Karstadt, AEG, Gold-Pfeil, and many restaurants, bars, clothing companies, art dealers, etc. The Vienna program does not contain advertising.
Staats-Theater Berlin on the Gendarmenmakrt in Berlin
5 April 1938, for the 25th performance of Der Sturz des Ministers by Eberhard Wolfgang Möller, 24 pages, 6-¾ x 9-½ inch, tear in front cover.
Staats-Theater Berlin on the Gendarmenmarkt in Berlin
29 November 1938 performance of Friedrich Hebbel's drama Gyges und sein Ring, 32 pages, 6-¾ x 9-½ inch, in very nice used condition.
Staats-Theater Berlin on the Gendarmenmarkt in Berlin
26 June 1940, for the sold-out 26th performance of Die Verschwörung des Fiesco zu Genua by Friedrich Schiller, 32 pages, 6-¾ x 9-½ inch, in very nice used condition with tear in front cover.
Staats-Theater Berlin Staats-Oper
17 June 1940, a performance by the KdF Theater Group of Giacomo Puccini' opera, Gianni Schicchi, 32 pages, 6-¾ x 9-½ inch, in very nice used condition.
Staatsoper Wien
7 April 1941, a ballet performance by the KdF Theater Group to Wolfgang Amadeus Mozart's Eine Kleine Nachtmusik. The program has a beautiful embossed eagle and swastika cover, 20 pages, measures 6-¾ x 9-½ inches, and is in very nice condition.
In addition to the fascinating history they contain, these Nazi performing arts programs provide a safe, inexpensive, logical and striking field of collecting for those who tire of the endless fakes, phonies and phantoms that plague other areas of Third Reich collectibles.

All five programs were used by spectators at live performances in Nazi Germany during the Third Reich and show some wear, but they are complete.

Buyer will reeive a bonus program dated 24 June 1940 for a performance by the KdF Theater Group of Puccini's La Bohème. That 32-page program is complete but in poor condition.
Also for sale on USMBOOKS.com,additional Third Reich
opera and operetta programs from Berlin and Vienna:
Page 1 • Page 2 • Page 3
These FIVE Nazi theater, opera and ballet programs are offered for sale
for $65.00 delivered by Media Mail in the continental USA.

• IF you prefer faster and safer Priority Mail shipping with USPS Tracking add $6.95.
• IF you wish to purchase highly recommended, but optional insurance, add $3.50.
• We will be happy to ship abroad at additional cost. Please inquire.
FIVE NAZI OPERA, BALLET & THEATER PROGRAMS
FROM BERLIN AND VIENNA - 1938 • 1940 • 1941
THE FIVE PROGRAMS IN
THIS LOT ARE: