The images and the entire text used on this and all other USMBOOKS web pages are the copyrighted property of USM Inc. Those images and the text may be used by others ONLY AFTER completion of a formal international licensing agreement and payment of a licensing fee! It is therefore, illegal for anyone to take any of the material found on USMBOOKS.com and use it for their own purposes without our written permission, irrespective of any excuse they may feel they have for doing so.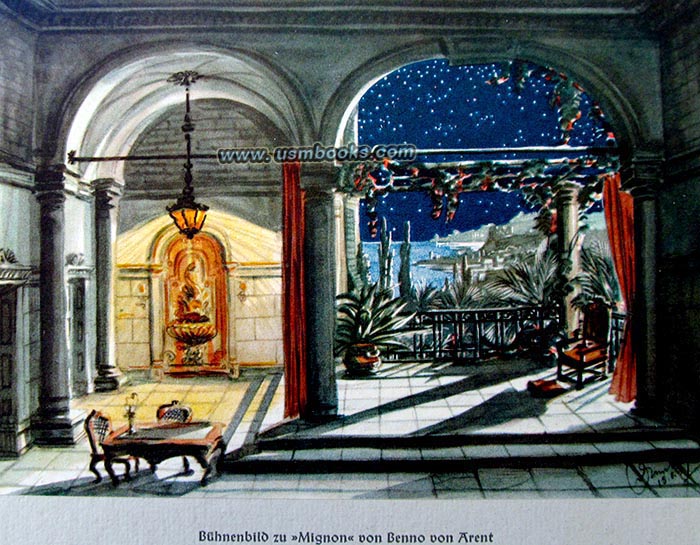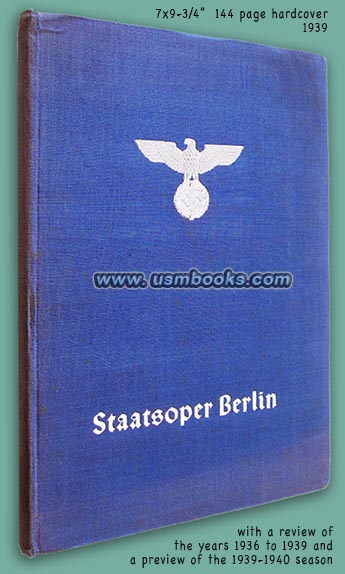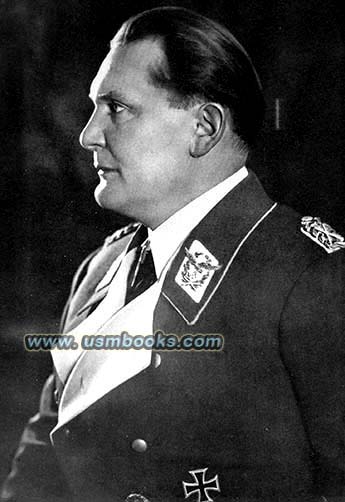 Staatsoper Berlin is a beautifully illustrated history of the State Opera in Berlin covering the years 1936 thru 1939, including a preview of the 1939/1940 season. This 7 x 9-¾ inch, 144 page blue linen bound hardcover book with silver blocking was published in 1939 and has 300 images plus eight tipped-in color pages.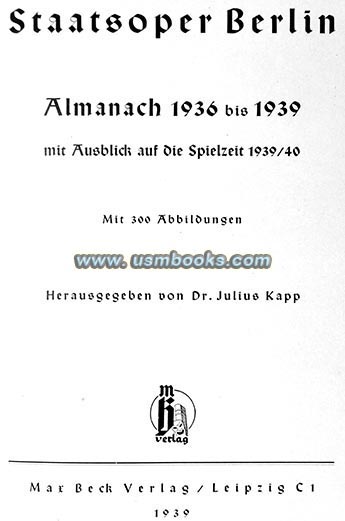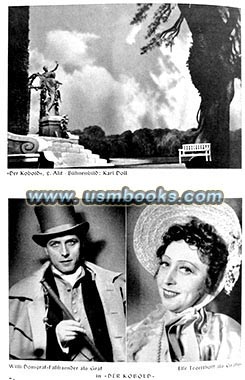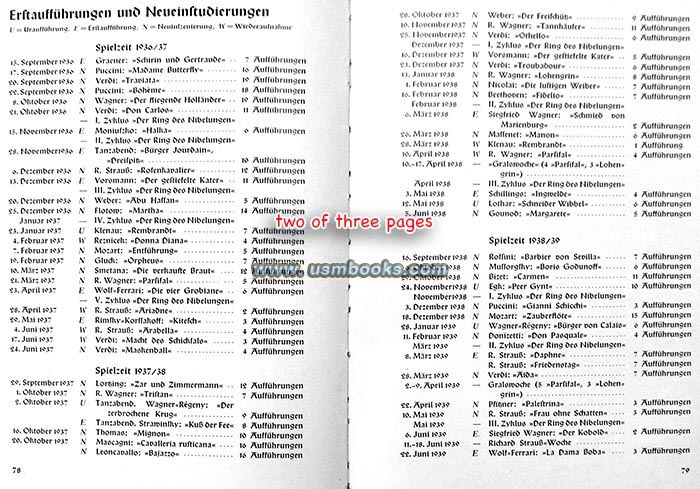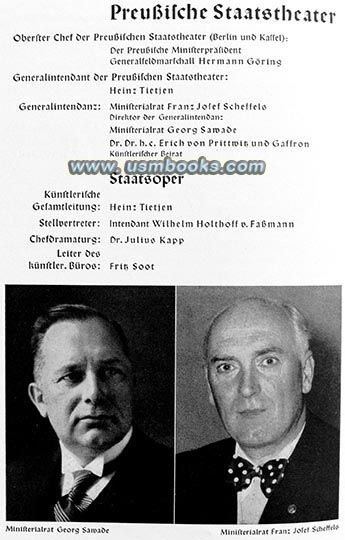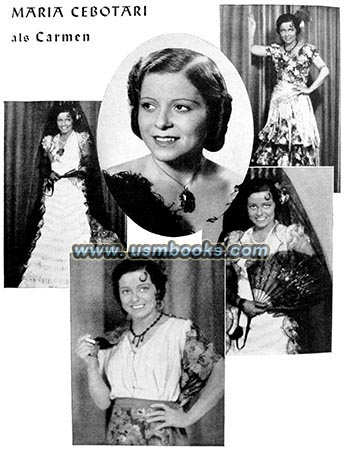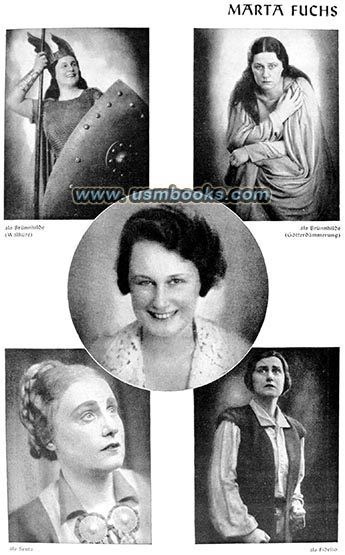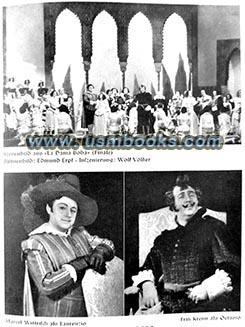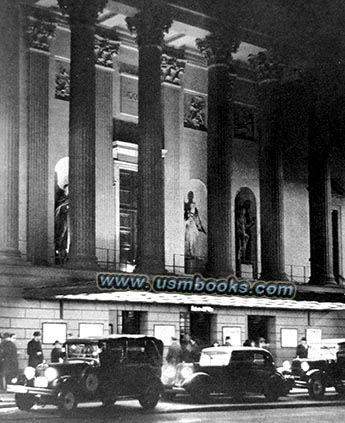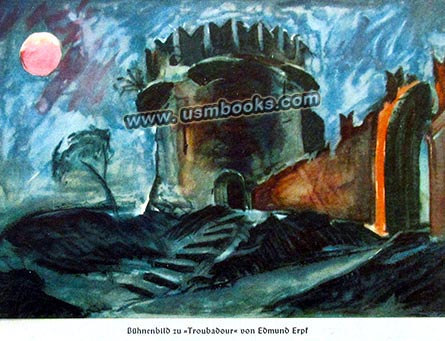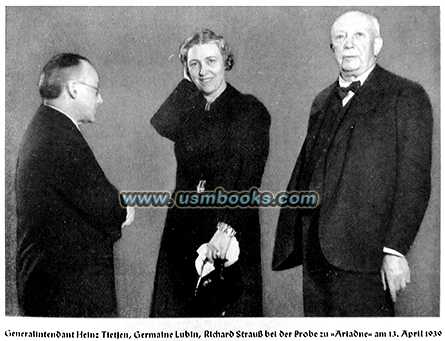 The author and publisher of this book, Dr. Julius Kapp, was a well-known author of books on Richard Wagner and other famous musical figures. He was the Dramaturg or dramatic advisor to the Berlin State Opera on Unter den Linden, the central thoroughfare in Berlin, the political capital of Nazi Germany. While Kapp had joined the Nazi Party in 1933, he was still able to resume his job as Dramaturg for the Berlin Opera in 1948 and remained until 1954!
Staatsoper Berlin starts with a full-page photo of Generalfeldmarschall Hermann Göring, the driving force behind the Berlin Opera, followed by Generalintendant Heinz Tietjen, and the front of the State Opera building on Unter Den Linden in Berlin at night. This is followed by a list of all the operas performed during the 1936/37, the 1937/1938 and 1938/1939 season, mentioning whether they were a premiere performance, a new production, or a reopening of an existing production and how many performances were held in total. They include Tannhäuser, Fidelio, Othello, the Barber of Seville, Carmen, Walküre, Zauberflöte, Aïda, Parsifal, der Ring der Nibelungen, Peer Gynt, Bohème, Rigoletto, Madame Butterfly, the Flying Dutchman and many more.
There is also a list in alphabetical order and a detailed preview of the 60 operas scheduled for the 1939/40 season which started on 1 September 1939. Interestingly, it is mentioned that there would be special performances for the KdF from 24 - 31 August 1939, but that they were not open to the general public.
The book contains eight color Bühnenbilder or scenery pictures, tipped-in on card stock pages depicting fancy opera sets. In additional through the book there are black & white photos of opera sets, actors, producers, musical directors, costume designers, choreography producers, even a photo of Richard Strauss and General Director Heinz Tietjen during a rehearsal of Ariadne on 13 April 1939. The photos of the actors and actresses show them in in publicity shots and fancy opera costumes.
In the back there is advertising from the famous Berlin department store KaDeWe, as well as Hertie, Agfa, Triumph typewriters and several theatrical costume suppliers.

Staatsoper Berlin is a very high-quality Third Reich book, beautifully printed on the best glossy art paper and with the tipped-in color pages on heavy card stock. The silver blocking Nazi eagle and swastika on the front cover is deeply and finely embossed.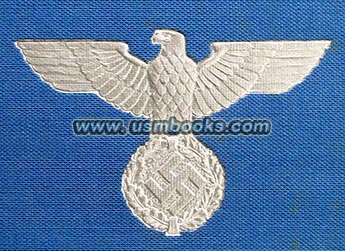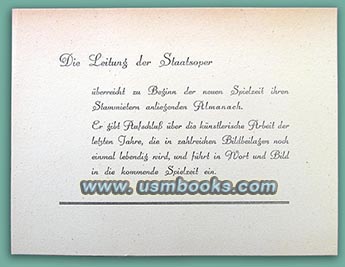 This 77 year old First Edition example comes with a rare original 5-3/8 x 7-1/8 inch one-sided presentation card from the Directors of the Staatsoper showing this particular book was given to a season ticket holder at the start of the theater season.

The book is complete and in nice used condition. There is some fading to the cover and the upper right corner is bent, but the binding is tight and the content is wonderful!


Also for sale on USMBOOKS.com, a large assortment of Third Reich
opera and operetta programs from Berlin and Vienna:
Page 1 • Page 2 • Page 3
This high-quality Nazi book on the Berlin State Opera is offered for sale
for $125.00 delivered by Media Mail in the continental USA.


USM book # 788
• IF you prefer faster and safer Priority Mail shipping with USPS Tracking add $6.95.
• IF you wish to purchase highly recommended, but optional insurance, add $3.50.
• We will be happy to ship abroad at additional cost. Please inquire.
1939 FIRST EDITION NAZI BOOK ON THE BERLIN STATE OPERA
BEAUTIFULLY BOUND & ILLUSTRATED
A HEAVILY ILLUSTRATED 1936-1940 ALMANAC-STYLE NAZI BOOK ON THE STAATSOPER BELIN