The images and text used on this and all other USM web pages are the copyrighted property
of USM Inc. Those images and the text may be used by others ONLY AFTER completion
of a formal international licensing agreement and payment of a licensing fee!
This Model Nazi Enterprize competition book from 1937 is offered for sale
for $195.00 delivered by Media Mail in the continental USA.


USM book #547
• IF you prefer Priority Mail shipping with USPS delivery confirmation add $6.95.
• IF you wish to purchase highly recommended, but optional insurance, add $3.05.
• We will be happy to ship abroad at additional cost. Please inquire.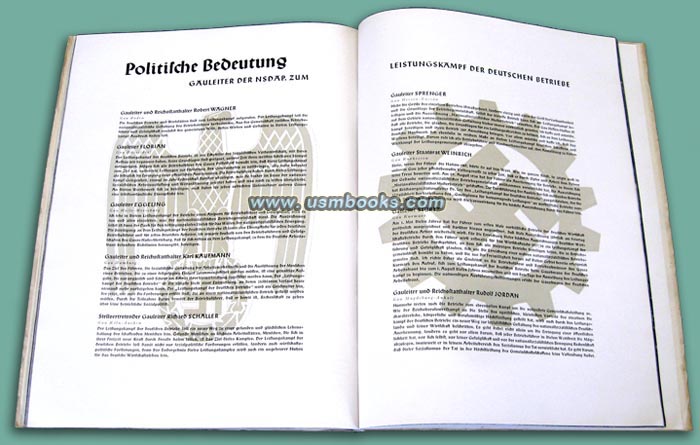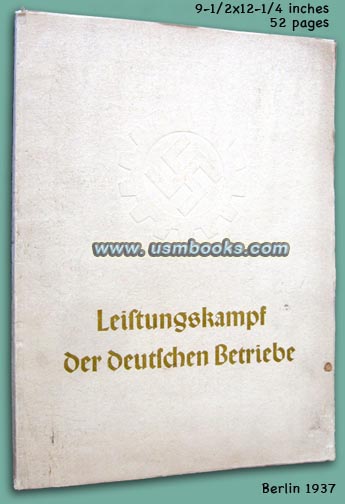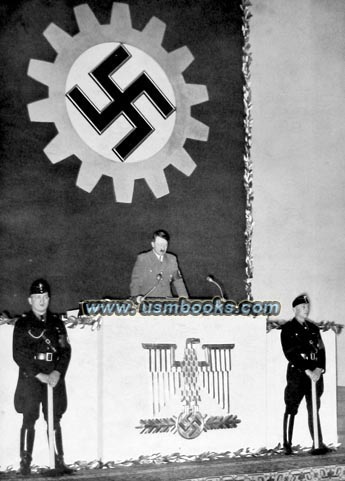 This is a nice used example of the rare 9-1/2 x 12-1/4 inch, 52-page very heavily illustrated book on the first Leistungskampf der deutsche Betriebe or the first Competition between German Industrial Enterprises for the title of Model Companies. A pet program of Adolf Hitler and Hermann Göring, the competition within the 80,000 or so industrial companies in Germany first took place in 1936, and this book from 1937 was published to honor those companies that stood out among all German enterprises.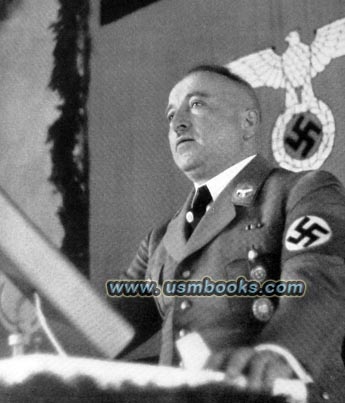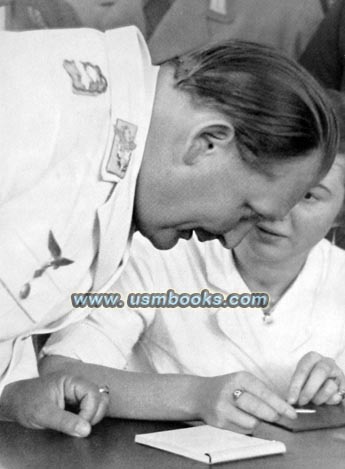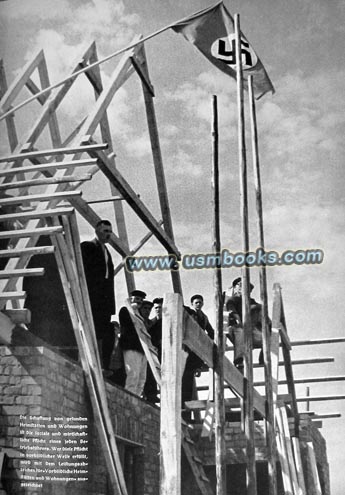 The contenders all had several things in common - their employees worked in clean, bright, modern enterprises and were educated and cared for in a very humane manner by the management. In addition to a complete listing the 30 enterprises that were recognized as winners by the German government as "Model Companies", the book explains the various aspects of the program and contains comments from many Gauleiters and Reichsstatthalters about the political implications and importance of the competition.
A few of the winners of the first National Socialist
Musterbetrieb
competition were the Berliner Kindl Brewery in Berlin, Deutsche Milk Producers in Zwingenberg, the Paul Liepe & Co Car Repair Facility in Magdeburg, the Schmid Cocoa & Chocolate Company Bodeta in Oschersleben, the Teutoburger Margerin Factory in Hilter, the Julius Huneke Featherbed Factory in Osnabruck, the Berlin-Suhler Weapon & Automobile Company at the
Wilhelm Gustloff Foundation
in Suhl, etc., etc.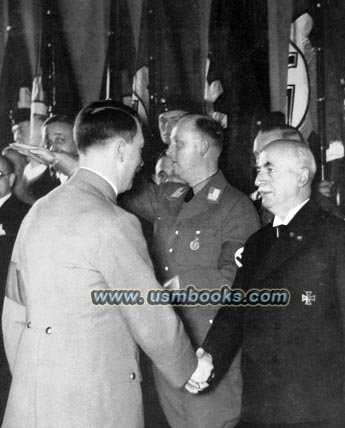 Fascinating reading with splendid large photos and the original cover letter from the Reichsamtleiter der NSDAP that came with the book. Nice used condition.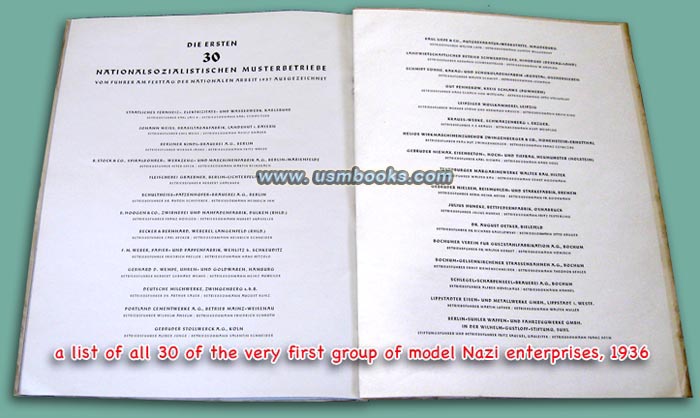 EXCELLENT NAZI ILLUSTRATED BOOK ON THE COMPETITION FOR
THE TITLE MODEL ENTERPRISES OF THE NATION
LEISTUNGSKAMPF DER DEUTSCHEN BETRIEBE -
THE NAZI BOOK ON THE FIRST MODEL ENTERPRISE COMPETITIONS
This USM Books website is Copyright © 2013 by USM, Inc., and the text and images on it are fully protected by international copyright law. It is therefore, illegal for anyone to take any of the material found here and use it for their own purposes without our written permission, irrespective of any excuse they may feel they have for doing so.