These original blank Nazi ancestry records are offered for sale for
$85.00 delivered by 1st Class Mail in the continental USA.

• IF you prefer faster and safer Priority Mail shipping with USPS Tracking add $6.95.
• IF you wish to purchase highly recommended, but optional insurance, add $3.25.
• We will be happy to ship abroad at additional cost. Please inquire.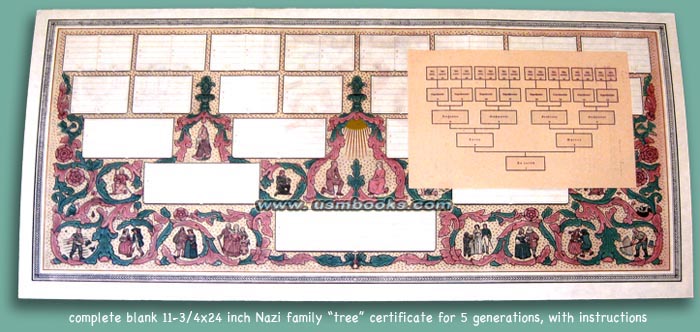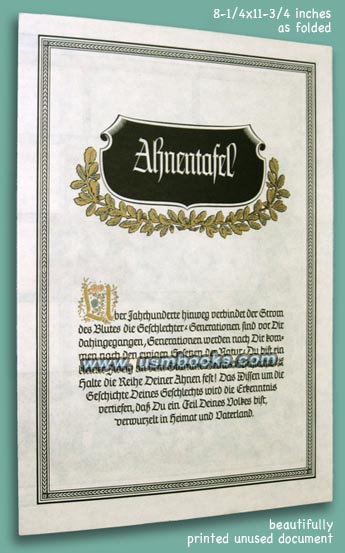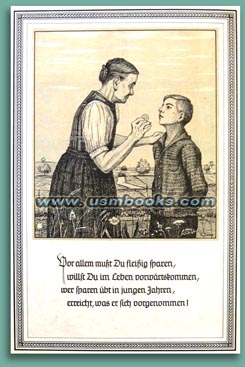 Offered for sale on this USMBOOKS web page are two certificates dealing with a subject very important to National Socialists - family ancestry and racial purity.

Both certificates are absolutely original to the Third Reich period and both are blank, they were never filled out. They are rare New Old Stock originals!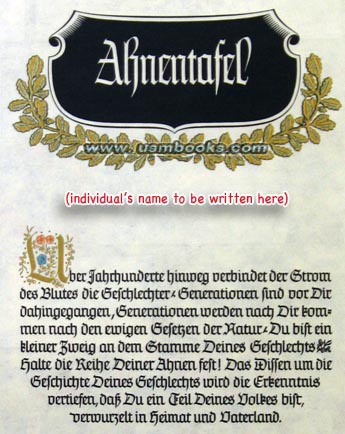 They were made available to Aryan customers of Die Erste österreichische Spar-Casse, a large savings bank in Vienna around the time of the reunification of Austria with Hitler's Nazi Germany in the spring of 1938. Below the word Ahnentafel on the front cover is a patriotic paragraph about the importance of ones ancestry; that knowing ones bloodline is important to any person but also to the Nation. The large certificate also has slogans about the importance of saving money ("It does not matter how much money you save, it matters THAT you save! Perseverance leads to a goal, also when saving money!").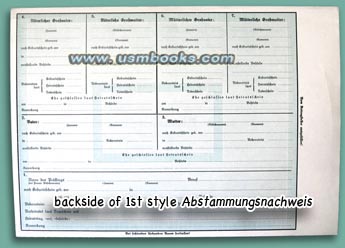 Also included is an original Third Reich Abstammungsnachweis or NSDAP Ancestry Certificate, a certificate from the Office of Racial Research of the Nazi Party that was to be filled out with the names of ancestors and which would prove that a person was an Aryan, a Jew, or of mixed blood. This original 8-1/4 x 11-3/4 inch certificate was never filled out - no entries on either the front or back side.

In very good, never used condition. Rare!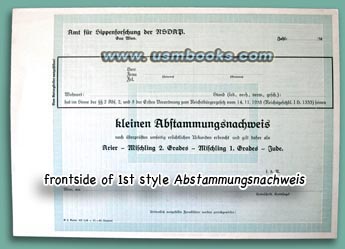 This Ahnentafel still has the original tan instruction sheet to help filling out all the entries correctly.
The beautifully printed Ahnentafel (family tree or genealogical table) measures 8-1/4 x 11-3/4 inches when closed (folds out to 11-3/4 x 24 inches).
NAZI ANCESTRY RECORDS - BEAUTIFULLY PRINTED - BLANK EXAMPLE
ORIGINAL THIRD REICH RACIAL PEDIGREE CERTIFICATE AND NAZI PARTY ANCESTRY CERTIFICATE


The images and the entire text used on this and all other USMBOOKS web pages are the copyrighted property of USM Inc. Those images and the text may be used by others ONLY AFTER completion of a formal international licensing agreement and payment of a licensing fee! It is therefore, illegal for anyone to take any of the material found on USMBOOKS.com and use it for their own purposes without our written permission, irrespective of any excuse they may feel they have for doing so.