The images and the entire text used on this and all other USMBOOKS web pages are the copyrighted property of USM Inc. Those images and the text may be used by others ONLY AFTER completion of a formal international licensing agreement and payment of a licensing fee! It is therefore, illegal for anyone to take any of the material found on USMBOOKS.com and use it for their own purposes without our written permission, irrespective of any excuse they may feel they have for doing so.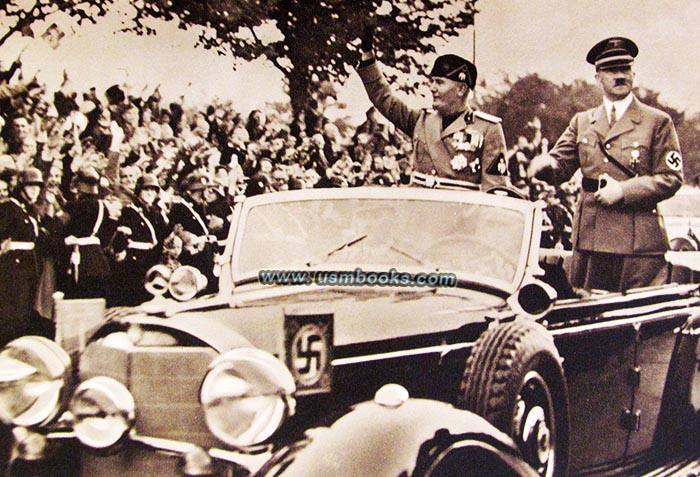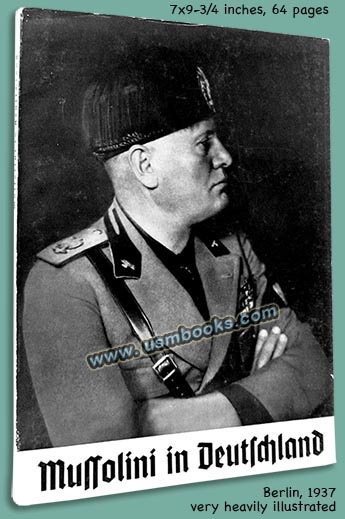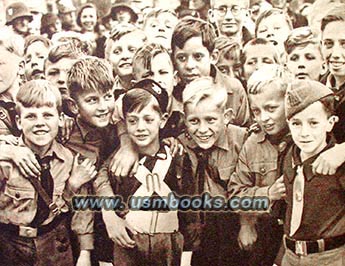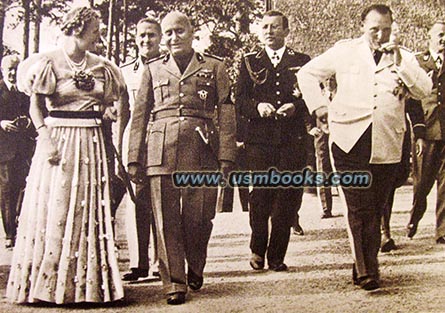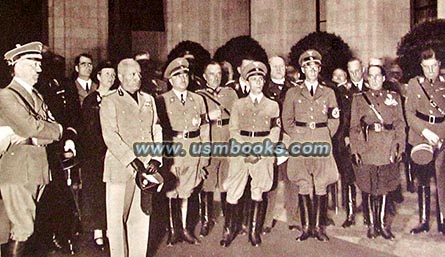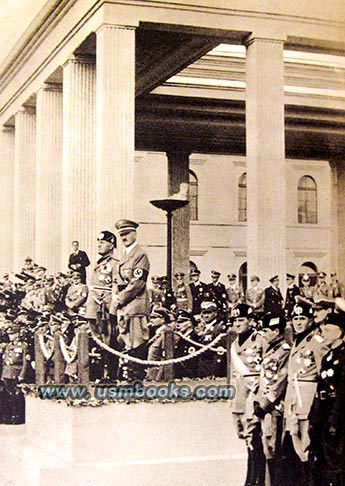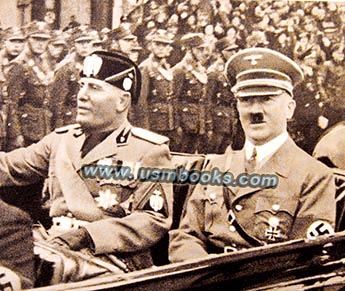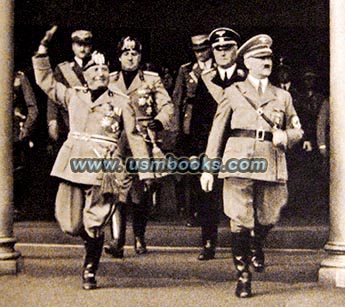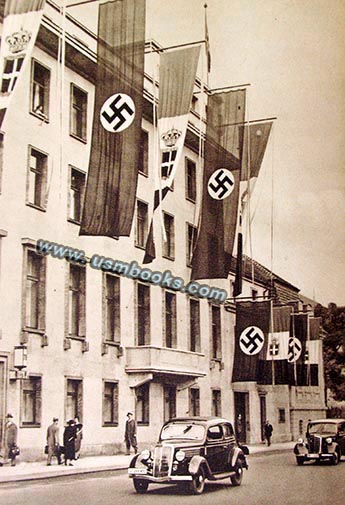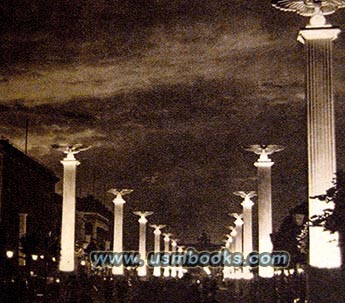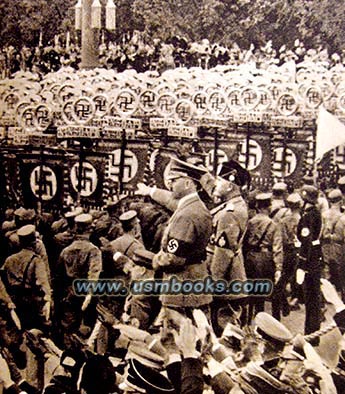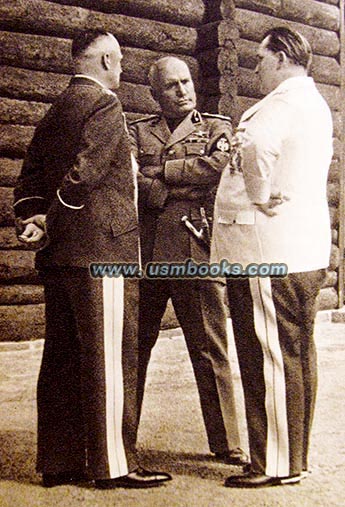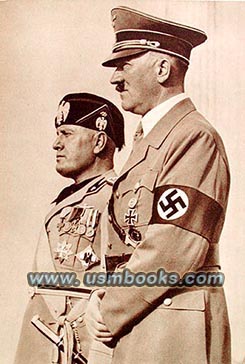 The subtitle of Mussolini in Deutschland translates as "National Demonstration of Peace during the Days of 25 - 29 September 1937".

The author of this rare book, Dr. Fred C. Willis, was Ministerialreferent, a very high-ranking employee at Dr. Joseph Goebbels' Reichsministerium für Volksaufklärung und Propaganda (State Ministry for National Community Clarification and Publicity) in Berlin.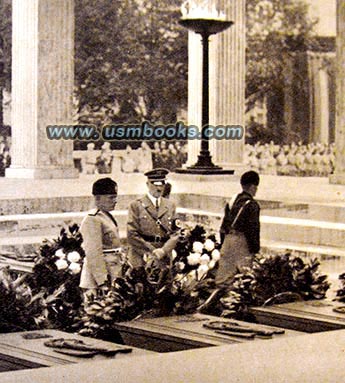 Published by Freiheitsverlag in 1937 this book covers the Staatstreffen Mussolini-Hitler, the official state visit of Il Duce to Nazi Germany, accompanied by Foreign Minister Count Galeazzo Ciano, Minister Achille Starace, Minister Dino Alfieri and Marschall Badaglio.
The book starts with a foreword about the two statesmen by Dr. Goebbels which is followed by a short text about Benito Mussolini's visit to Germany, excerpts from speeches, the text of an award which made Hitler an honorary Corporal of the Italian Militia, even the special Deutsche Reichspost cancelation stamp designed for the Staatstreffen Mussolini-Hitler.
There are photos of the Führer and Il Duce in Munich and Berlin, during official ceremonies and speeches, military reviews and meetings with German children, veterans and Nazi dignitaries, and at Hermann Göring's lavish estate - Carinhall - north of Berlin.
There are also a photos of Hitler and Mussolini in Essen where they visited the German industrial and weapons giant Krupp AG. Other dignitaries shown in photos are Hermann Göring and his wife Emmy, Dr. Joseph Goebbels, Count Ciano, Admiral Raeder, Field Marshal von Blomberg and von Fritsch, Marshal Pietro Badoglio, German Foreign Minister Freiherr von Neurath, Dr. Robert Ley, Rudolf Hess, Dr. Krupp von Bohlen and others.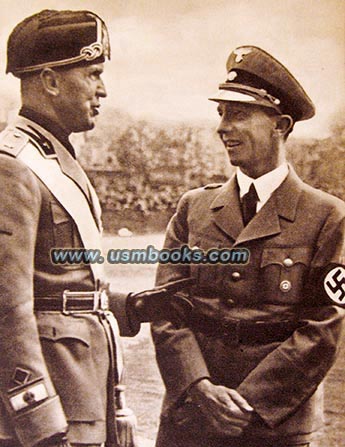 Mussolini in Deutschland is a very rare 7 x 9-¾ inch, softcover book with 64 pages that contain photos by Atlantic Photo, Heinrich Hoffmann, Scherl-Bilderdienst, Friedrich Krupp AG, and pictures by photographers from the Italian magazine Illuztrazione Italiana of Milan.

This example, unlike most surviving examples, is in very good, little-used condition and comes with its original hard-to-find dust jacket.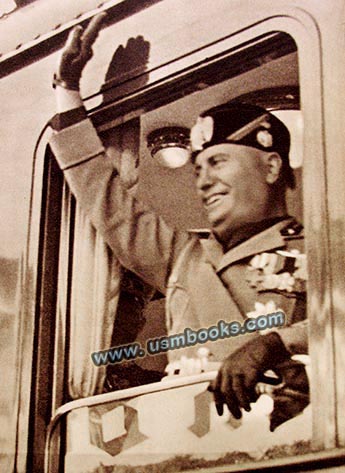 This rare 1937 example of Mussolini in Deutschland is
**SOLD**


USM book #814
• IF you prefer faster and safer Priority Mail shipping with USPS Tracking add $6.50.
• IF you wish to purchase highly recommended, but optional insurance, add $4.75.
• We will be happy to ship abroad at additional cost. Please inquire.
RAREST OF THE NAZI PHOTO BOOKS ABOUT MUSSOLINI'S VISIT
TO GERMANY IN SEPTEMBER 1937
MUSSOLINI IN DEUTSCHLAND DEMONSTRATION OF PEACE 25-29 SEPTEMBER 1937
THIRD REICH PHOTO BOOK