The images and the entire text used on this and all other USMBOOKS web pages are the copyrighted property of USM Inc. Those images and the text may be used by others ONLY AFTER completion of a formal international licensing agreement and payment of a licensing fee! It is therefore, illegal for anyone to take any of the material found on USMBOOKS.com and use it for their own purposes without our written permission, irrespective of any excuse they may feel they have for doing so.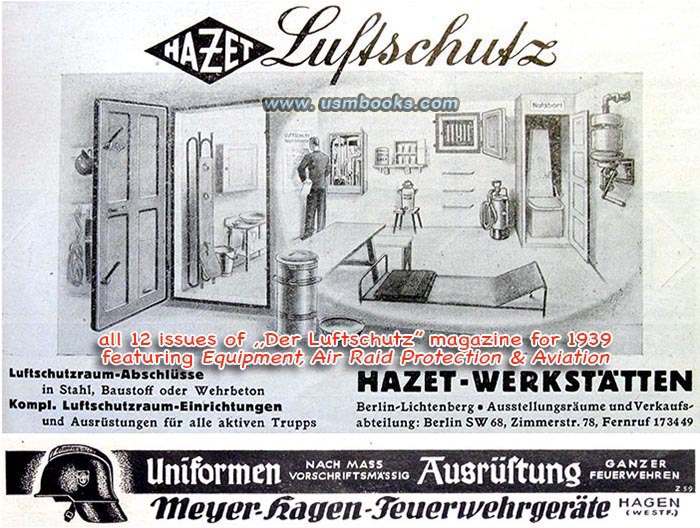 Der Luftschutz (Air Protection) was a heavily illustrated monthly magazine published in Wien (Vienna, the second largest city in Greater Germany). This 9 x 12 inch hardcover book contains all twelve issues for the year 1939, 166 pages total. This very interesting magazine was published monthly and contained heavily illustrated articles and information about air raid protection, aviation and aviation equipment.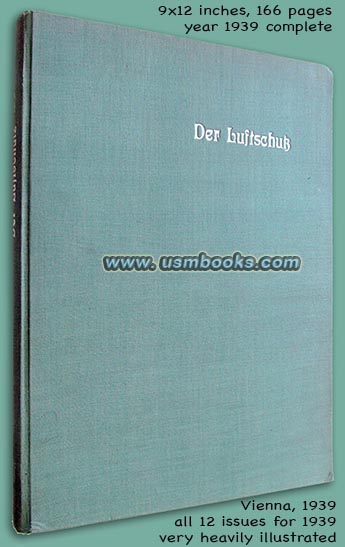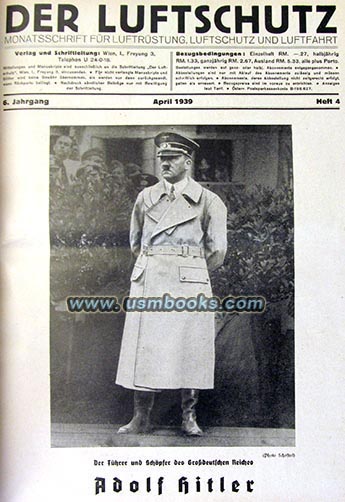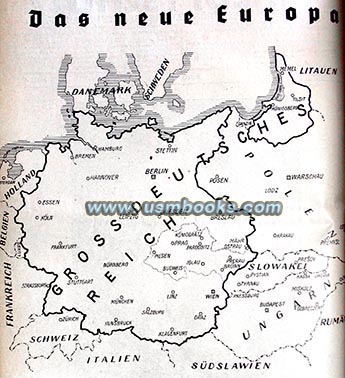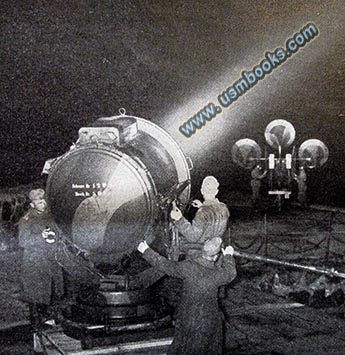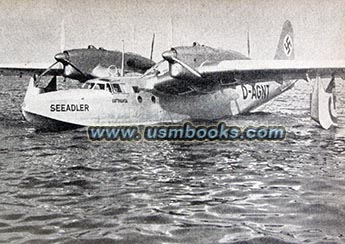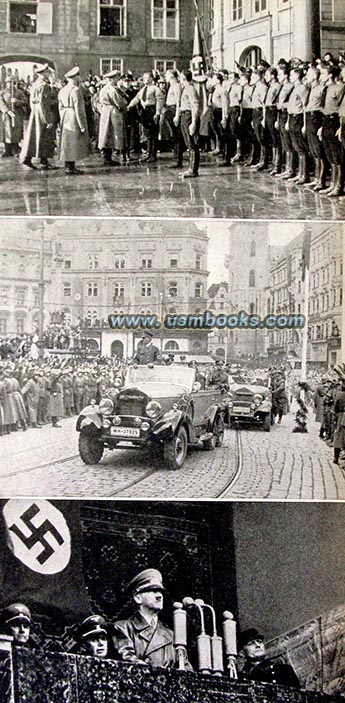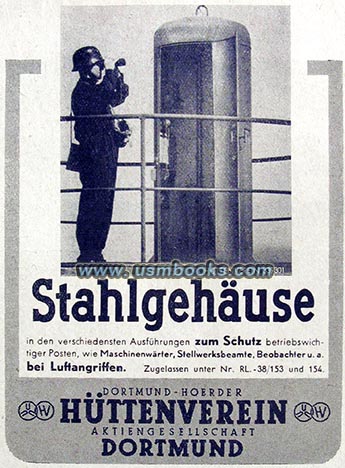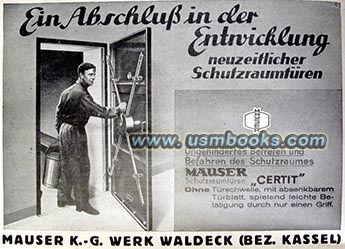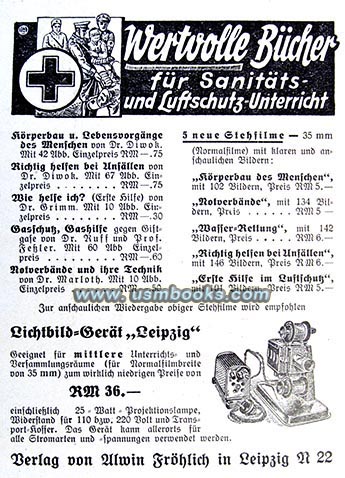 These issues contain articles about Civilian Air Raid Protection in China, France, Great Britain, Hungary; Understanding the Dangers from the Air; the Luftwaffe over the Mediterranean; Chemical Warfare, British Firebombs; One Year Anniversary Celebrations of the Reunification of Austria with Nazi Germany; Flakartillerie; 25 Years of Pioneer Aviation Achievements by Dornier; Adolf Hitler's Historic Visit to Prague; the Ranks and Tasks in a Nazi Fliegertruppe; the Swiss Air Force; Lilienthal-Gesellschaft; the Opening of the Greater German Air Protection Exhibition in Vienna; Improvements in Air Raid Alarms and Sirens; the Official Opening of the Reichsluftschutz School by Generalfeldmarschall Hermann Göring; NSFK-Gruppe 17 (Ostmark); the 20th Anniversary of TeNo; Workplace Accidents; the War in Poland; the new Tobis movie D III 88; Protecting Food during Air Raids; as well as short national and international news, from new American bomber airplanes to protecting animals during air raids, the Spanish Civil War and the return of the Condor Legion to Berlin, Luftwaffe promotions, France canceling an order for American Curtiss airplanes, RLB training in Berlin, new air raid laws in Sudetengau, increased warplane production in the USA, British airplane sales to Portugal, updates about new RLB regulations and air raid laws.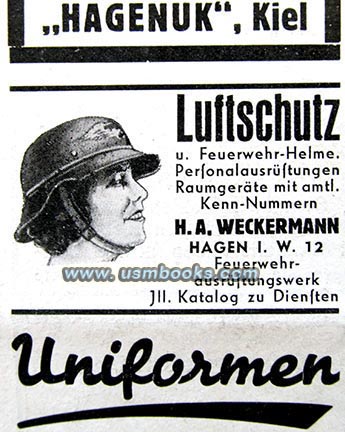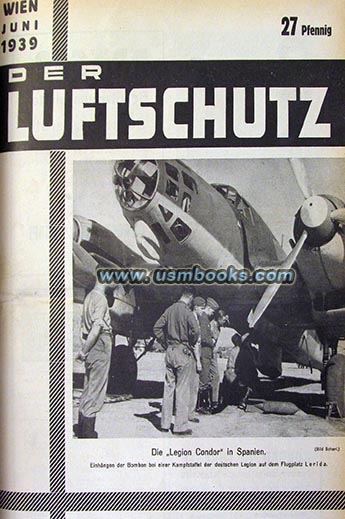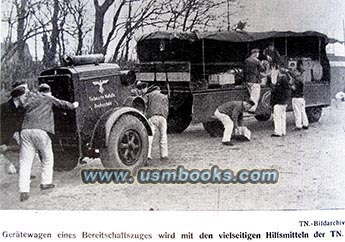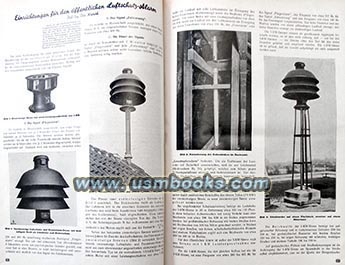 Every issue of Der Luftschutz contained very interesting advertising from companies producing air raid protection equipment such as gas-proof doors, ventilation equipment, fire extinguishers, air raid sirens, blackout lamps and curtains, helmets and uniforms, first aid equipment, etc.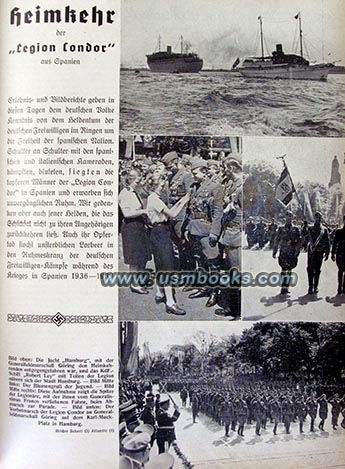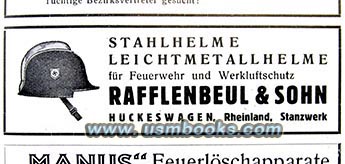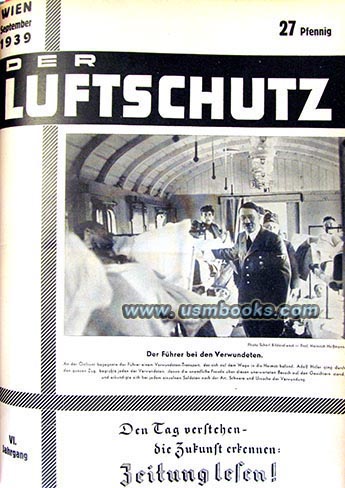 This book is in very good condition. No odor. Nothing has been torn out or cut out of the magazines, which is quite rare 78 years after publication!
This hardbound book with all 1939 issues of Der Luftschutz is for sale
for $195.00 delivered by Media Mail in the continental USA.
(that is only $16.25 per issue!)


USM book #845
• IF you prefer faster and safer Priority Mail shipping with USPS Tracking add $7.45.
• IF you wish to purchase highly recommended, but optional insurance, add $3.50.
• We will be happy to ship abroad at additional cost. Please inquire.
NAZI MONTHLY MAGAZINE DER LUFTSCHUTZ (AIR PROTECTION) HARDBOUND
ALL HEAVILY ILLUSTRATED ISSUES OF DER LUFTSCHUTZ FOR THE YEAR 1939 - HARDBOUND IN A BOOK