The images and the entire text used on this and all other USMBOOKS web pages are the copyrighted property of USM Inc. Those images and the text may be used by others ONLY AFTER completion of a formal international licensing agreement and payment of a licensing fee! It is therefore, illegal for anyone to take any of the material found on USMBOOKS.com and use it for their own purposes without our written permission, irrespective of any excuse they may feel they have for doing so.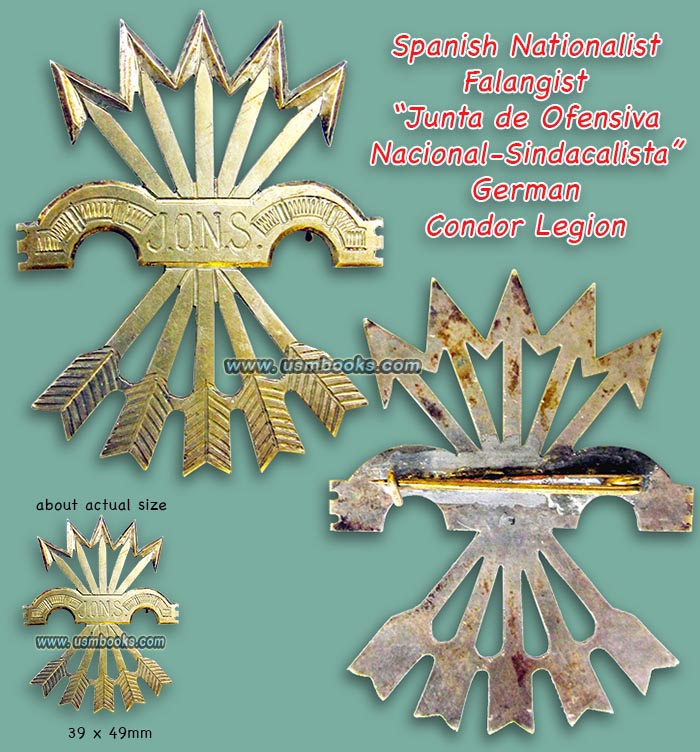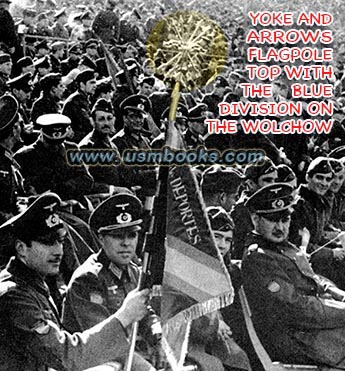 This is a rare silver/gold-ish colored metal Spanish fascist 'Junta de Ofensiva Nacional-Sindicalista' (JONS or Unions of the National-Unionist Offensive) badge. The badge we offer here is genuine to the period, not something cooked up years later to fill a hole in a collection.

The JONS fascist movement was founded in 1933 in Spain and was part of the Falange Española of José Antonio Primo de Rivera who we show here wearing a JONS "Yoke and Arrows" badge. The picture shows him in a uniform that was a dark blue shirt with epaulettes and black trousers. On the left breast pocket he wears the Falangist party symbol - five war arrows representing the five kingdoms, crossed by the yoke of the Catholic monarchs, a symbol of agriculture in Spain.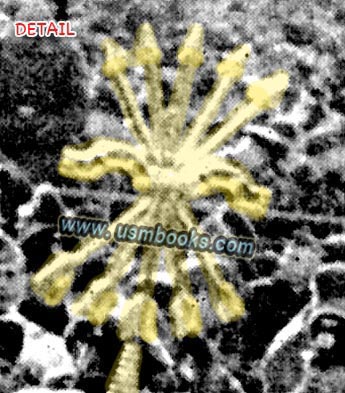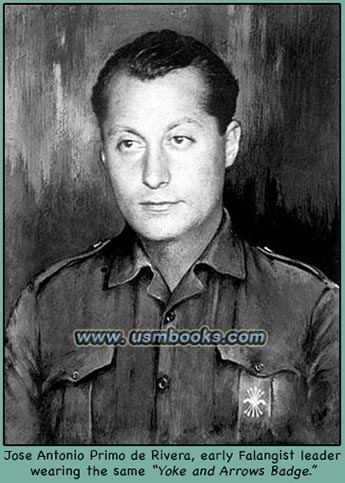 Naturally, with the death of Spanish leader Francisco Franco in 1975 and with the ongoing death of the generation of the Civil War in Spain, material of this sort was no longer to be found. It is very rare in Germany and when found there, is always associated with the Legion Condor. We purchased this badge many years ago in Germany. The perfect accompaniment to a German Condor Legion uniform or photo album.
During the Spanish Civil War the German members of the Condor Legion fought in Spain and we are sure that it was one of them that brought this rare pin back to Germany. We can find no markings on it but it appears to be jeweler made. Online blogs also state that this breast badge was worn by Spanish soldiers of the Blue Division who fought in Russia with the Wehrmacht and the Waffen-SS.
This rare Spanish Fascist JONS badge is offered for sale
for $145.00 delivered by 1st Class Mail in the continental USA.

• IF you prefer faster and safer Priority Mail shipping with USPS Tracking add $6.50.
• IF you wish to purchase highly recommended, but optional insurance, add $3.50.
• We will be happy to ship abroad at additional cost. Please inquire.
VERY RARE SPANISH FASCIST JONS BADGE