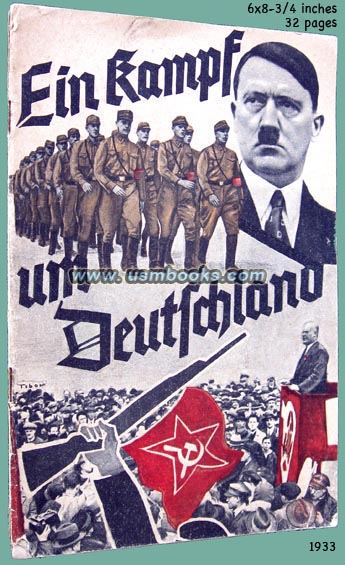 Ein Kampf um Deutschland
(A Battle for Germany)
begins by telling of the ruthlessness of international communism as it attempted to frighten the German population into submission, profiles the paramilitary units of the Communist Party in Germany and explains how, when the ratios are correct, communists even kill German policemen who are simply doing their duty.
This rare original Third Reich anti-Communist book is offered for
sale for $95.00 delivered by Media Mail in the continental USA.


USM book # 75
• IF you prefer faster and safer Priority Mail shipping with USPS Tracking add $6.65.
• IF you wish to purchase highly recommended, but optional insurance, add $3.25.
• We will be happy to ship abroad at additional cost. Please inquire.
NAZI ANTI-COMMUNIST BOOK 1933
EIN KAMPF UM DEUTSCHLAND


(A BATTLE FOR GERMANY)
NAZI ANTI-COMMUNIST
BOOK FROM 1933


The images and the entire text used on this and all other USMBOOKS web pages are the copyrighted property of USM Inc. Those images and the text may be used by others ONLY AFTER completion of a formal international licensing agreement and payment of a licensing fee! It is therefore, illegal for anyone to take any of the material found on USMBOOKS.com and use it for their own purposes without our written permission, irrespective of any excuse they may feel they have for doing so.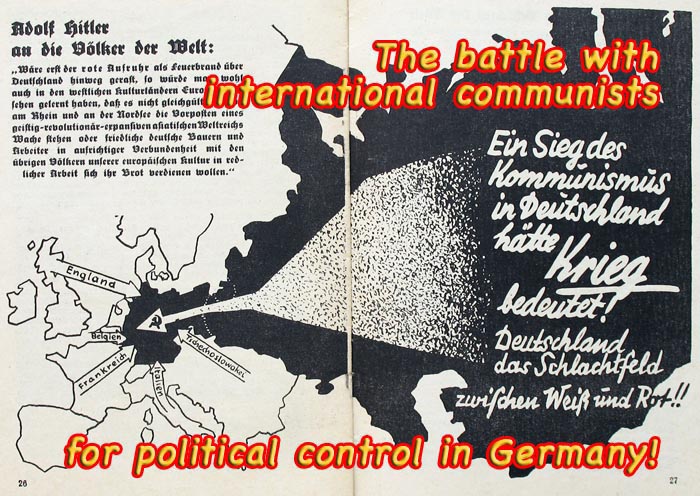 Even after the Nazis were elected to power in Germany early in 1933, the battle for the hearts and minds of the German people went on unabated. This rare 5-7/8 x 9 inch, 32-page well-illustrated soft cover book concentrates on the battle against communists and sexual perversion and ends by asking the reader to vote only for NSDAP candidates in the elections on 12 November 1933
.
The godless nature of communism
is given plenty of space.
A special section of the book deals with the immorality of communists and the perversion of publications of communists such as "Sexual Bolshewist Magnus Hirschfeld" and many others like him. The book claims that hunger and terror were the tools the communists used in their attempt to gain control of the government, and the Nazis promised precisely the opposite.
Ein Kampf um Deutschland is a very rare and historic publication as the Communist Party in Germany was soon banished by the Nazis. Good used good 84 year old condition. Comes with a rare 16-page supplement about the life of Adolf Hitler, called Der Lebensweg des Führers, Alle sagen: JA!.