The images and the entire text used on this and all other USMBOOKS web pages are the copyrighted property of USM Inc. Those images and the text may be used by others ONLY AFTER completion of a formal international licensing agreement and payment of a licensing fee! It is therefore, illegal for anyone to take any of the material found on USMBOOKS.com and use it for their own purposes without our written permission, irrespective of any excuse they may feel they have for doing so.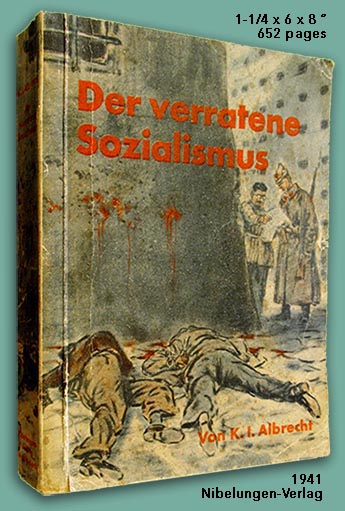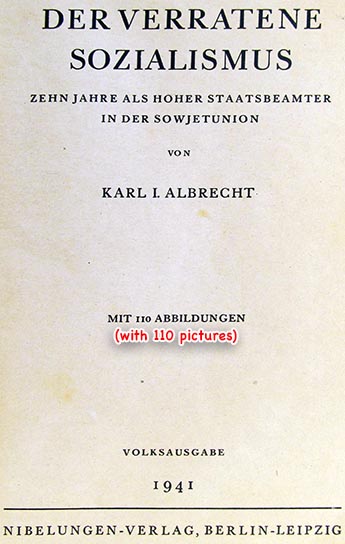 Der verratene Sozialismus, Zehn Jahre als hoher Staatsbeamter in der Sowjetunion (Betrayed Socialism - Ten Years as a High State Official in the Soviet Union) was written by Karl Iwanowitsch Albrecht (real name Karl Matthäus Löw) who was an ardent Communist in early life. After his return to Germany he was imprisoned by the Nazis and after his release spent time in Turkey with his Russian wife. There he came in contact with the Nazi Auslandsorganisation and changed his disposition completely.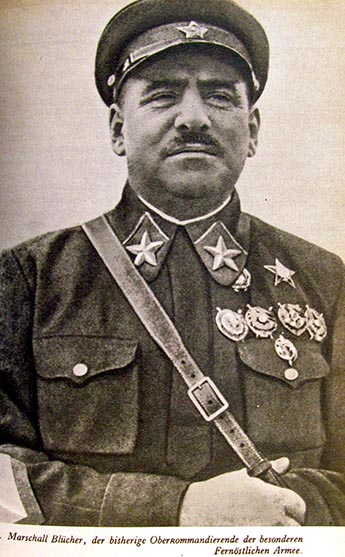 Back in Nazi Germany he came in contact with Eberhard Taubert of the SS publishing house Nibelungen Verlag, which took a chance on publishing Albrecht's book in 1938. A lot of publicity about the German World War I veteran and former Communist author caused the first edition of 10,000 to sell out immediately. Ten editions were printed before the German-Soviet Non-Agression Pact of 1939, stopped publiction and all further editions were postponed until September 1941. The 1941 Volksausgabe edition sold out right away and by 1944 two million copies of Der verratene Sozialismus were in print! After World War II this book ended up on the 'forbidden book list' in East Germany, the Soviet occupied zone of Germany and a great many were destroyed.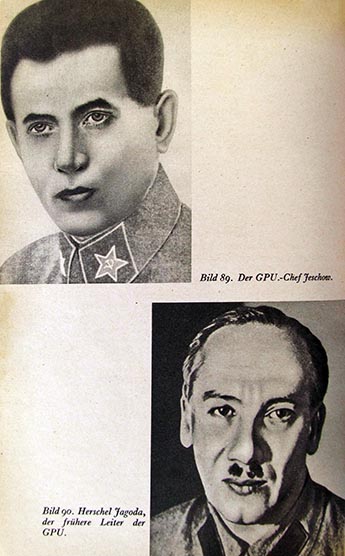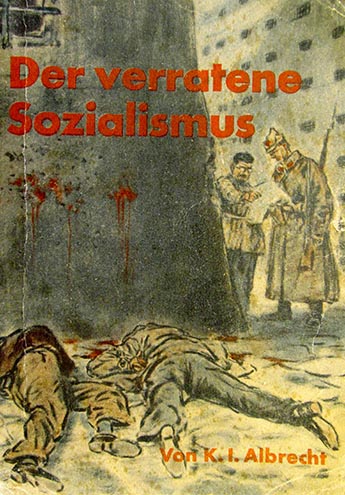 The 1-¼ x 6 x 8 inch, 652 page edition of Der verratene Sozialismus for sale on this USMBOOKS web page is from the 1941 Volksausgabe published by Nibelungen Verlag in Berlin. The cover design is by famous illustrator Theo Matejko, and the book has 110 pictures.
The author was in a perfect position to describe life in the Soviet Union in the 1920s. He was a forester who had worked his way up to a forest management official in the Soviet wood industry. He also became the Deputy Leader of the Foreign Academics section of the Communist Party. That position gave him the opportunity to travel and witness life in the Soviet Union, about which he wrote in this book. After he refused to give up his German nationality early in 1932, he was imprisoned in Moscow.
In the book Albrecht describes experiences of his ten years in the Soviet Union. Stories about the political Soviet hierarchy, forced labor, Soviet plunder in Karelia, the Kommintern, Trotzki, Stalin, as well as his time as a prisoner in different Russian prisons.

There are photos of the author while working in the forest industry, Stalin, Trotzki, Molotow and other high-ranking Soviet politicians, Soviet military commander Marshal Blücher, Klara Zetkin, Communist revolutionary Ambassador Alexandra Kollontai and Ambassador Ivan Maisky, the Jewish Hungarian Communist revolutionary Bela Kun, Soviet spies, work camps, foreign Communists living in the Soviet Union, etc.
This 77 year old edition of Der verratene Sozialismus is in good used condition. A Third Reich bestseller, not very well-known nowadays. Fundamental historical material.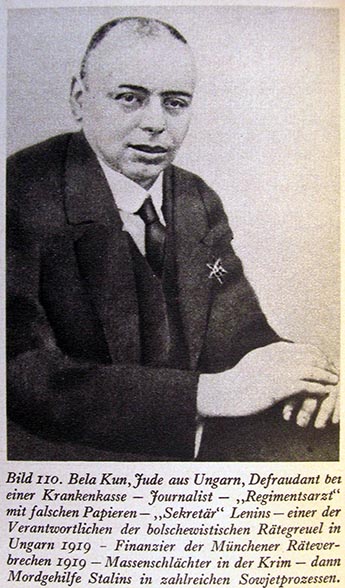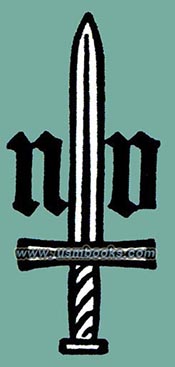 Have a look at the 1933 anti-Communist Nazi book 'A Battle for Germany'
for sale on USMBOOKS.com. We are happy to combine shipping
to save you money!
This anti-Soviet Nazi bestseller by Karl Albrecht is offered for sale
for $85.00 delivered by Media Mail in the continental USA.


USM book #907
• IF you prefer faster and safer Priority Mail shipping with USPS Tracking add $7.25.
• IF you wish to purchase highly recommended, but optional insurance, add $3.45.
• We will be happy to ship abroad at additional cost. Please inquire.
ANTI-SOVIET NAZI BOOK WRITTEN BY A FORMER COMMUNIST,
WITH 110 PHOTOS
A THIRD REICH BESTSELLER ABOUT LIFE IN THE SOVIET UNION, WRITTEN BY A GERMAN WORLD WAR I VETERAN AND FORMER COMMUNIST