The images and the entire text used on this and all other USMBOOKS web pages are the copyrighted property of USM Inc. Those images and the text may be used by others ONLY AFTER completion of a formal international licensing agreement and payment of a licensing fee! It is therefore, illegal for anyone to take any of the material found on USMBOOKS.com and use it for their own purposes without our written permission, irrespective of any excuse they may feel they have for doing so.
This original 1933 Nazi Assumption of Power book is offered for sale
for $175.00 delivered by Media Mail in the continental USA.


USM book # 197b
• IF you prefer faster and safer Priority Mail shipping with USPS Tracking add $6.75.
• IF you wish to purchase highly recommended, but optional insurance, add $3.45.
• We will be happy to ship abroad at additional cost. Please inquire.
This is a 1933 First Edition of Die Nationale Erhebung, a 7 x 10 inch, 112 page softcover book complete with its original dust jacket. It is in used condition, no offensive odor.
NAZI ASSUMPTION OF POWER PHOTO BOOK 1933
DIE NATIONALE ERHEBUNG 1933
(THE NATIONAL RISE)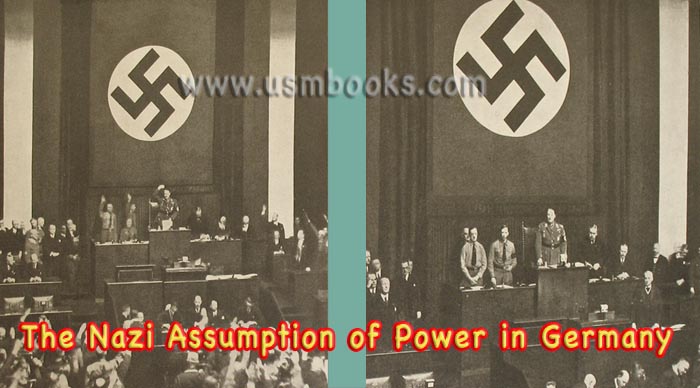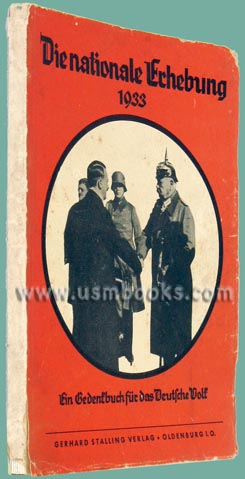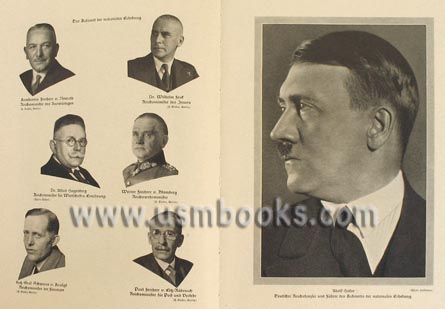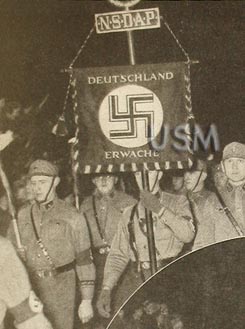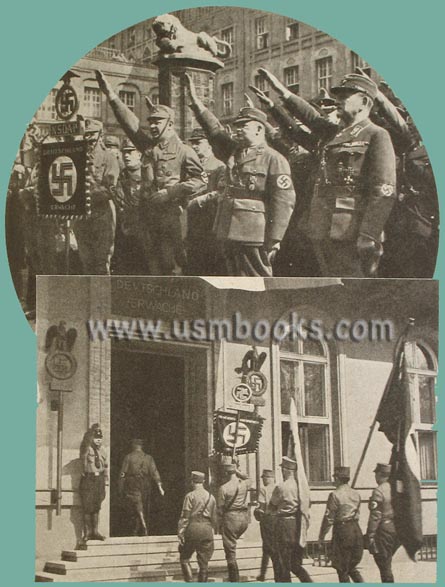 The title of this rare 7 x 10 inch, 112 page very, very heavily illustrated soft cover book
Die Nationale Erhebung
refers to the elevation of Adolf Hitler and the Nazi Party to the assumption of all important political power in Germany when Nazi Führer Adolf Hitler was named 23rd Chancellor of the country in January 1933.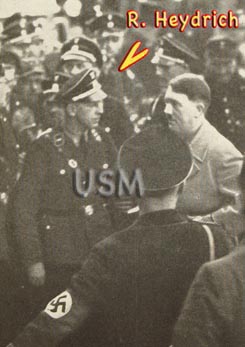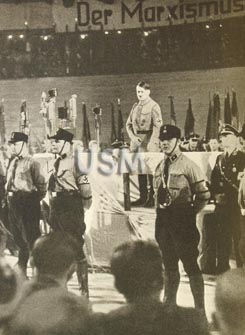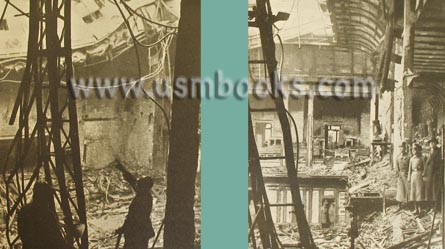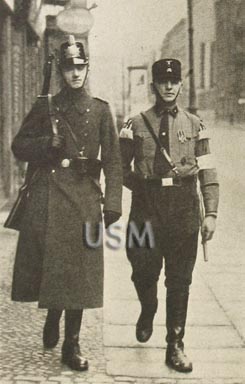 With the subsequent burning of the Reichstag and the resulting "Enabling Act" passed with the aid of catholic and socialist minorities, Adolf Hitler received an unprecedented four years of exclusive legislative power to accomplish whatever he desired in Germany.

This rare book is subtitled "A Remembrance Book for the German Nation" and was published by Verlag Gerhard Stalling in Oldenburg in 1933 to commemorate the Nazi assumption of power.   This is NOT a modern reprint.

With over 130 rare photographs in a Heinrich Hoffmann style format, this book brought real respectability to Adolf Hitler, Hermann Göring, Dr. Joseph Goebbels and the Nazis by depicting them as equals in the center of German political power and not as a rag-tag army of beer hall brawlers.

Rare photographs show the police sharing authority with SA auxiliary police and breaking out swastika armbands for display on their green uniforms. There are many photographs of Hitler, Nazi electioneering, celebrations, Hitler being made Chancellor, joyous crowds, etc. There is even a unique photograph of Adolf Hitler and then-unknown Reinhard Heydrich at the Kroll Opera on 21 March 1933.