The images and text used on this and all other USM web pages are the copyrighted property
of USM Inc. Those images and the text may be used by others ONLY AFTER completion
of a formal international licensing agreement and payment of a licensing fee!
This 1940 Nazi police promotion document signed by Reichsführer-SS
Heinrich Himmler is **SOLD**.

We will be happy to ship abroad at additional cost. Please inquire.
A few years ago we purchased in Europe, all of the promotional appointment and medal award documents of a career policeman, Otto Stiegeler of Baden, Germany.
The promotional document offered on this web page BEARS THE AUTHENTIC HANDWRITTEN PEN AND INK SIGNATURE OF REICHSFÜHRER-SS HEINRICH HIMMLER.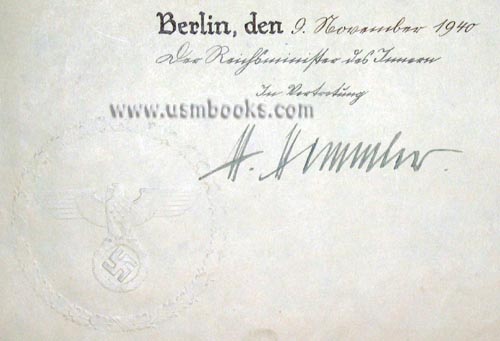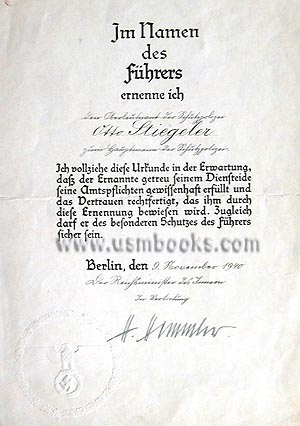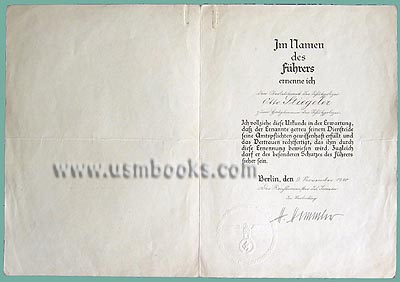 This authentic Third Reich document signed by Himmler has been folded through the center but is otherwise in very good condition. Come with a Certificate of Authenticity executed by well-known authors and collectors, Ray & Josephine Cowdery.
This document is a standard 14 x 20 inch (folds to 10 x 14 inches) Ernennung or Appointment "In The Name of The Führer" appointing Oberleutnant of Schutzpolizei Otto Stiegeler to Hauptmann der Schutzpolizei.
It is dated Berlin, 9 November 1940 and bears a 3+ inch embossed Hoheitsabzeichen or National Eagle and Swastika Seal and the authentic 3-3/4 inch pen and ink signature of Reichsführer-SS Himmler as the Reichsminister of the Interior.
To see a Nazi diplomatic promotion document signed by Foreign Minister Joachim von Ribbentrop, click HERE.
NAZI POLICE HIMMLER SIGNED DOCUMENT
A HAND-SIGNED
REICHSFÜHRER-SS
HEINRICH HIMMLER
DOCUMENT FROM A
GROUPING OF POLICE
DOCUMENTS IN THE
NAME OF WORLD WAR I
VETERAN AND NAZI
POLICE OFFICER
OTTO STIEGELER
This USM Books website is Copyright © 2010 by USM, Inc., and the text and images on it are fully protected by international copyright law. It is therefore, illegal for anyone to take any of the material found here and use it for their own purposes without our written permission, irrespective of any excuse they may feel they have for doing so.