The images and text used on this and all other USM web pages are the copyrighted property
of USM Inc. Those images and the text may be used by others ONLY AFTER completion
of a formal international licensing agreement and payment of a licensing fee!
---
RARE VON RIBBENTROP SIGNATURE DIPLOMATIC PROMOTION
AN ORIGINAL NAZI DIPLOMATIC CORPS PROMOTION
URKUNDE SIGNED BY GERMAN FOREIGN MINISTER
JOACHIM VON RIBBENTROP
This 1942 Nazi promotional document signed by Joachim von Ribbentrop
is **SOLD**.
We will be happy to ship abroad at additional cost. Please inquire.
This USM Books website is Copyright © 2009 by USM, Inc., and the text and images on it are fully protected by international copyright law. It is therefore, illegal for anyone to take any of the material found here and use it for their own purposes without our written permission, irrespective of any excuse they may feel they have for doing so.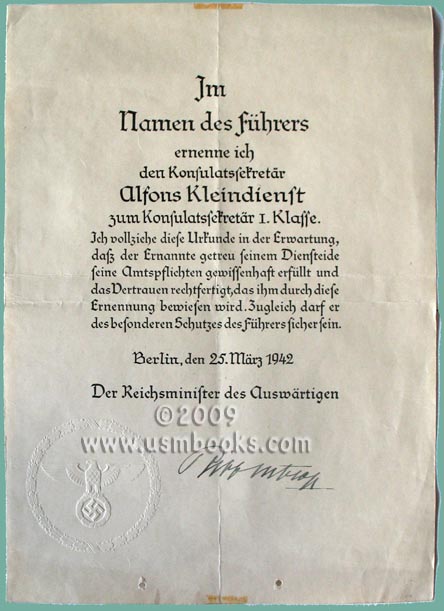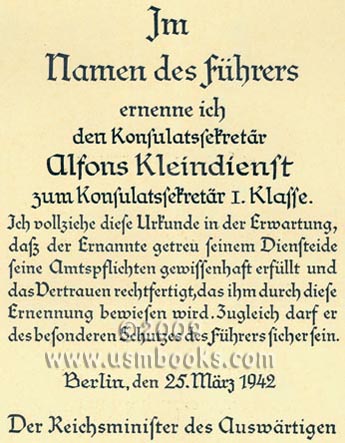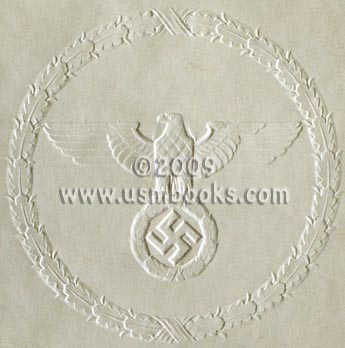 Over the embossed seal of the Auswärtiges Amt in Berlin, Von Ribbentrop promoted Konsulatsekretär Alfons Kleindienst to Konsulatsekretär I. Klasse (First Class) on 25 March 1942, giving Kleindienst all the privileges of that high office including the protection of the Führer himself, Adolf Hitler.

Every bit as interesting as this document is the fact that Alfons Kleindienst was a career diplomat who was serving in the United States at the time of the German declaration of war in December 1941, so he and his family were incarcerated in the luxury of the Greenbriar Hotel in White Sulphur Springs, West Virginia until they were exchanged for American diplomats and their families in 1942. Kleindienst served in both Paris and Berlin during the rest of the war.

After World War II he served his country as German Consul in New Orleans, Washington DC and Chicago before retiring in 1963. He died in 1967 and is buried in Amberg, Oberpfalz, Bayern.
This completely original 10 x 14 inch Third Reich document was folded at one time and had tape applied at the very top and bottom to hold it in a frame, but it is in very good used condition with an excellent emboss and a fine Ribbentrop pen and ink signature. Very, very hard to find.
PLEASE NOTE: also for sale on usmbooks.com is an original diplomatic passport issued to Alfons Kleindienst's family in 1943. To see this Deutsches Reich Ministerialpass issued at the German Consulate in Paris, click HERE.
This is one of those rare and desirable Nazi Diplomatic Corps documents signed by the German Foreign Minister Joachim von Ribbentrop (shown right) that only comes along once in a great while.