RARE BAYERISCHE OSTMARK PROGRESS BOOK 1937
A RARE NAZI PHOTO BOOK
DOCUMENTING THE
ADVANCES MADE IN
BAYERISCHE OSTMARK
UNDER THE NAZIS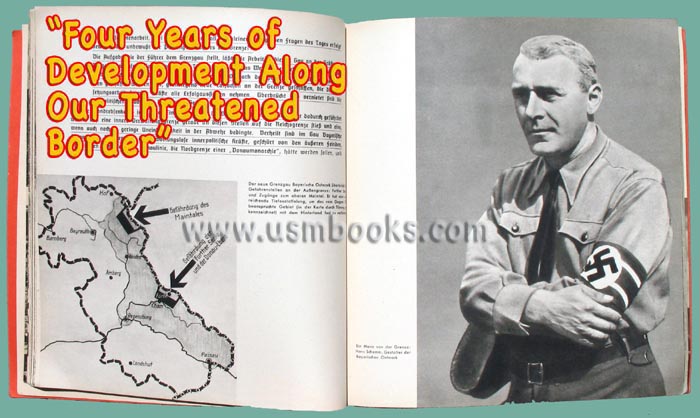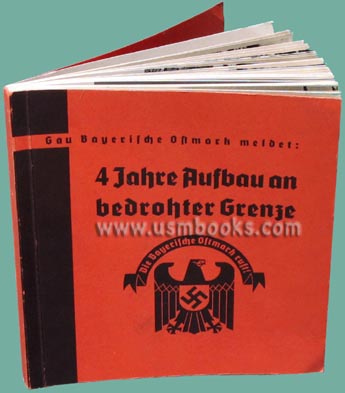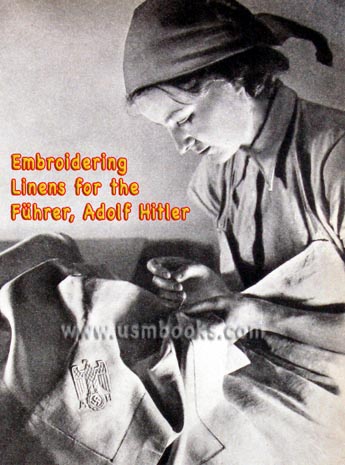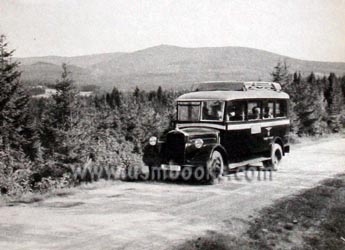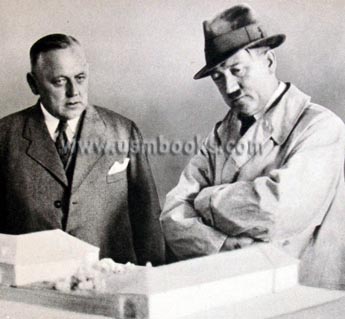 This is a rare 8 x 8-3/4 inch very heavily illustrated 160 page soft cover book called Bayerische Ostmark - Vier Jahre nationalsozialistische Aufbauarbeit in einem deutschen Grenzgau (the East Bavarian Gau - Four Years of Nazi Progress in a German Border Land) published by Gauleiter Fritz Wächtler.
Opening with a photo of Gauleiter Wächtler and Adolf Hitler examining a model for a Nazi building, this very rare book shows in hundreds of photos the progress made in a very rural and heavily forested border region of Germany in the first four years of Nazi rule. Although the Gau was originally in central Germany and included the cities of Hof, Bayreuth, Regensburg and Passau, by the time the Nazis came to power the new country of Czechoslovakia had put the Bayerische Ostmark on Germany's eastern frontier.
At the time the Nazis came to power, the infrastructure in the Bayerische Ostmark was in shambles and the job of turning it around was given to the first Gauleiter Hans Schemm. The
Gau
became famous not only for the Richard Wagner Festival in Bayreuth, but with the coming of the
Reichsautobahn
for many commercial products as well.
The Nazis exploited the long depressed porcelain and glass industries in the region (firms like Rosenthal and Bauscher in the towns of Selb and Weiden) and the hand woven linen industries of firms like Wegschneider in the Frankenwald who provided the Hitler linens for the
Berghof
and Reichschancellery in Berlin. There is a photo of a young Frankenwald
Mädchen
putting the final touches on Hitler's personal linens.
The area was famous for its granite and the square stones for the on and off ramps of virtually every
Reichsautobahn
interchange came from the Bayerische Ostmark.
Lots of little known data about one of Germany's most obscure Gaue. Very good condition.


The images and the entire text used on this and all other USMBOOKS web pages are the copyrighted property of USM Inc. Those images and the text may be used by others ONLY AFTER completion of a formal international licensing agreement and payment of a licensing fee! It is therefore, illegal for anyone to take any of the material found on USMBOOKS.com and use it for their own purposes without our written permission, irrespective of any excuse they may feel they have for doing so.
This rare Nazi Bayerische Ostmark photo book is offered for sale for
$1
2
5.00 delivered by Media Mail in the continental USA.


USM book #68
• IF you prefer faster and safer Priority Mail shipping with USPS Tracking add $7.25.
• IF you wish to purchase highly recommended, but optional insurance, add $3.45.
• We will be happy to ship abroad at additional cost. Please inquire.