The images and the entire text used on this and all other USMBOOKS web pages are the copyrighted property of USM Inc. Those images and the text may be used by others ONLY AFTER completion of a formal international licensing agreement and payment of a licensing fee! It is therefore, illegal for anyone to take any of the material found on USMBOOKS.com and use it for their own purposes without our written permission, irrespective of any excuse they may feel they have for doing so.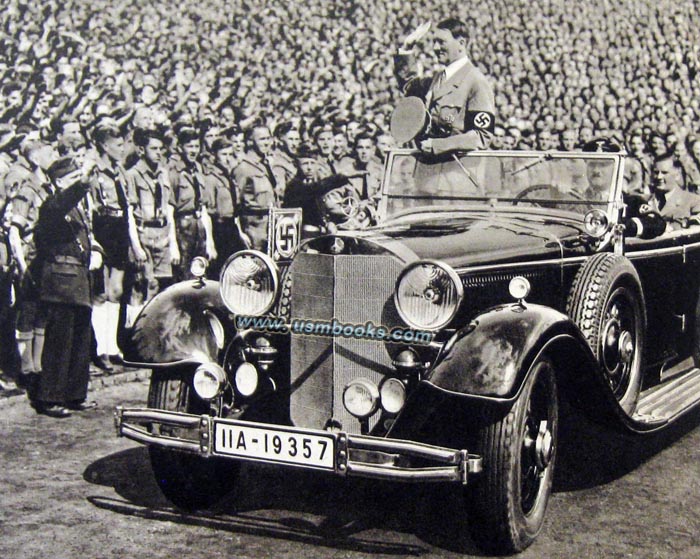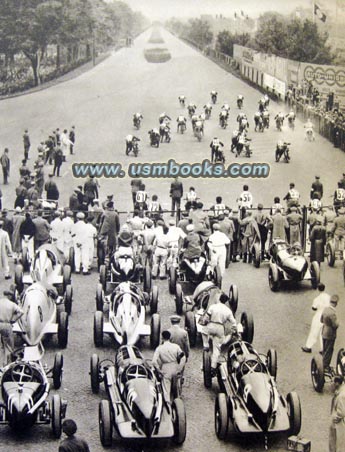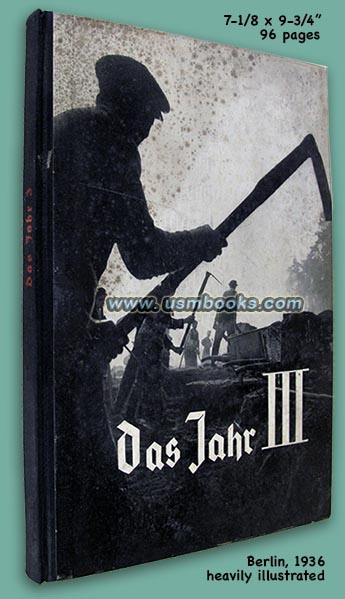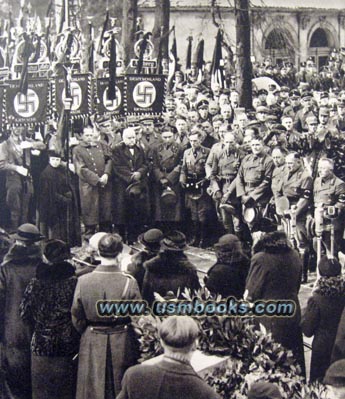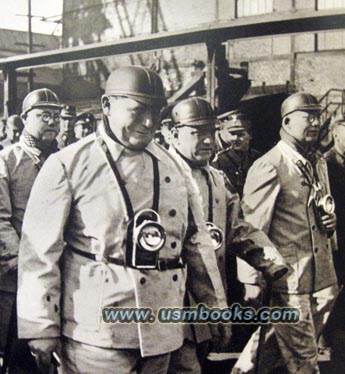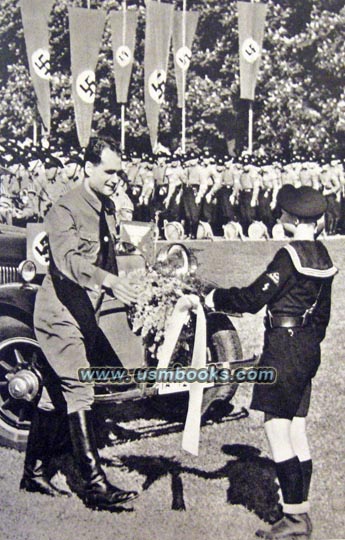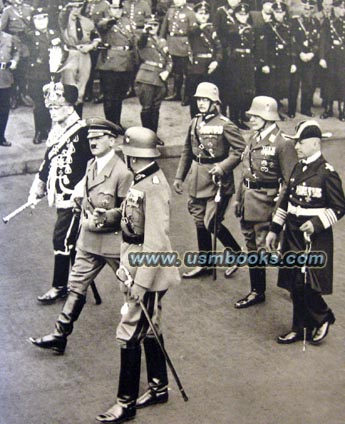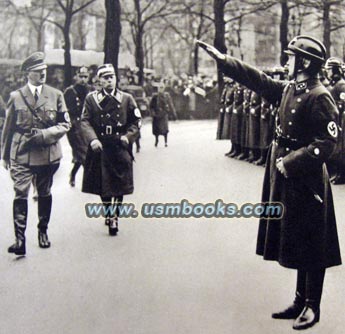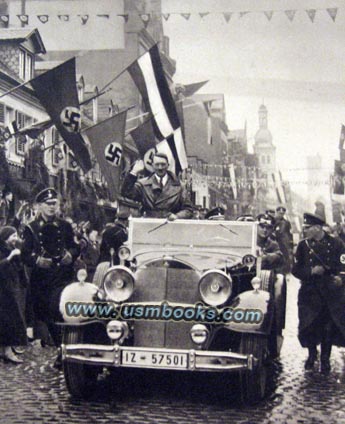 This heavily illustrated hardcover photo book Das Jahr III by Wulf Bley was published in 1936 and looks back on the third year of National Socialist power in Germany - achievements by and facts about the NSDAP in the year 1935. The 7-1/8 x 9-¾ inch, 96 page hardcover book has 48 carefully selected photographs that illustrate those achievements. It was published by Freiheitsverlag GmbH of Berlin in the same format as the other Das Jahr books published since 1933 (see links at the bottom of this USMBOOKS web page).
Text covers foreign and domestic politics, culture and the economy. There are photographs of Hitler and NSKK Führer Hühnlein opening the Automobile Exhibition in Berlin in February 1935, Reichsbankpräsident Schacht's promotion to Nazi Minister of the Economy, Hitler being welcomed by the population of the Saar region after its reunification with Germany, Hermann Göring in mining clothing in the Saar, the funeral of Gauleiter Schemm, SA Stabschef Viktor Lutze, Dr. Joseph Goebbels, Hitler with Wehrmacht Generals, Hitler aboard the battleship "Deutschland", Hitler with Generalfeldmarschall von Mackensen, von Blomberg, General von Fritsch, General der Flieger Göring and Admiral Raeder during the Heldengedenktag ceremony, a visit by British dignitaries to Berlin, Reichssportkommissar Tschammer und Osten and Dr. Goebbels during preparations for the 1936 Olympic Games, a huge Labor Day gathering at Tempelhof Airport in Berlin, Reichsminister Göring receives Polish Marschal Pilsudski in Berlin, Rudolf Hess, Nazi Foreign Minister Ribbentrop in London, the Hitler Youth, Hitler at the Reichsparteitag der Freiheit (Nazi Party Days of Freedom) in Nürnberg with members of the RAD and during parades, Hitler at the Tannenberg Memorial with Generalfeldmarschall von Mackensen, Hermann Göring at the opening ceremony of the new Air Ministry in Berlin, the finished Olympic Village in Berlin, the new Reichskriegsflagge, new Nazi submarines, Hermann Göring collecting WHW donations, the new Ju 86 airplane, etc.
This original 79 year old Third Reich book recapping the third year of National Socialist power in Germany is complete and in very good, little-used condition. Some spots on the cover, but the interior pages are in wonderful condition.
Also includes is a rare photo of the coffins of the Nazi martyrs of the 1923 Putsch being carried into the Honor Temples in Munich on 9 November 1935 (above).
Also for sale on USMBOOKS.com, Third Reich books from the same series
Jahr I • Jahr II • Jahr VI
We are happy to combine shipping to save you money!
This hardcover book about National Socialist achievements in 1935 is
for sale for $125.00 delivered by Media Mail in the continental USA.


USM book #695
• IF you prefer Priority Mail shipping with USPS Tracking add $7.25.
• IF you wish to purchase highly recommended, but optional insurance, add $3.45.
• We will be happy to ship abroad at additional cost. Please inquire.
ORIGINAL THIRD REICH PHOTO BOOK COVERING THE
THIRD YEAR OF NAZI POWER IN GERMANY
DAS JAHR III
( THE THIRD YEAR)
NATIONAL SOCIALIST ACHIEVEMENTS IN
THE YEAR 1935