The images and the entire text used on this and all other USMBOOKS web pages are the copyrighted property of USM Inc. Those images and the text may be used by others ONLY AFTER completion of a formal international licensing agreement and payment of a licensing fee! It is therefore, illegal for anyone to take any of the material found on USMBOOKS.com and use it for their own purposes without our written permission, irrespective of any excuse they may feel they have for doing so.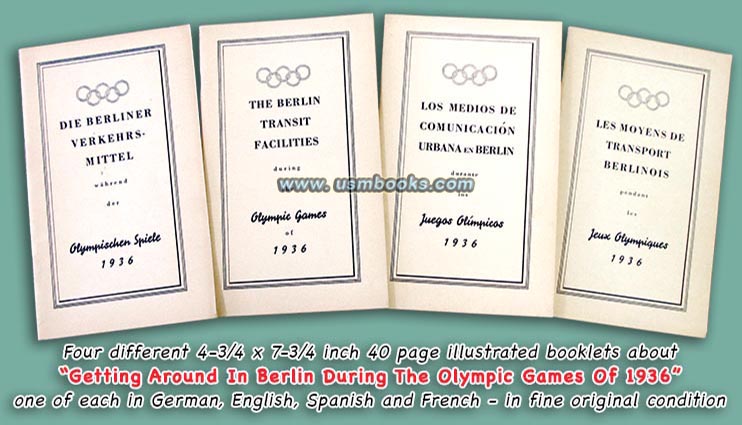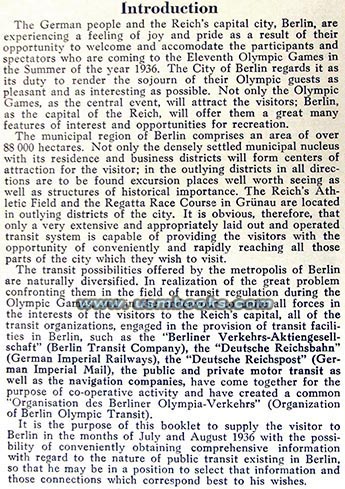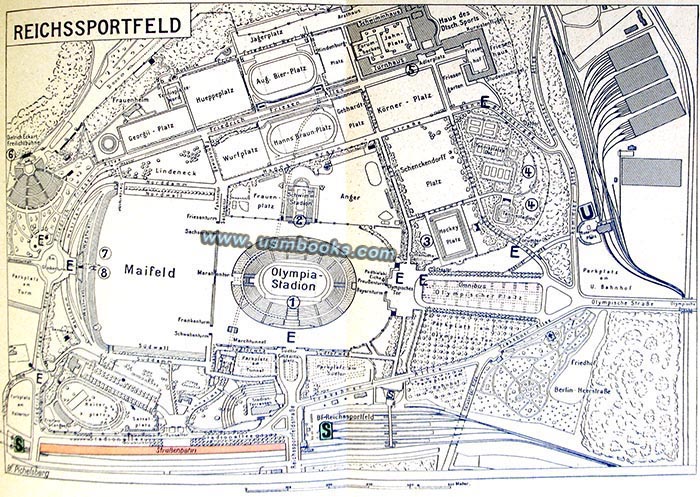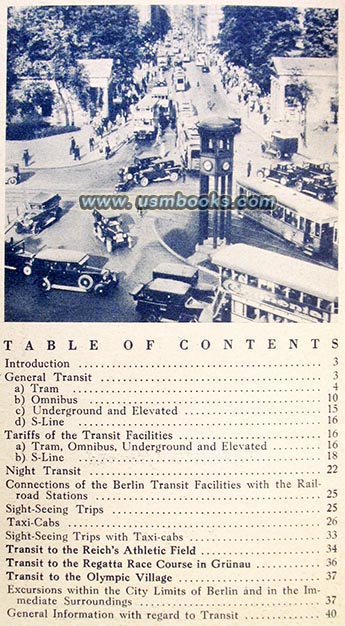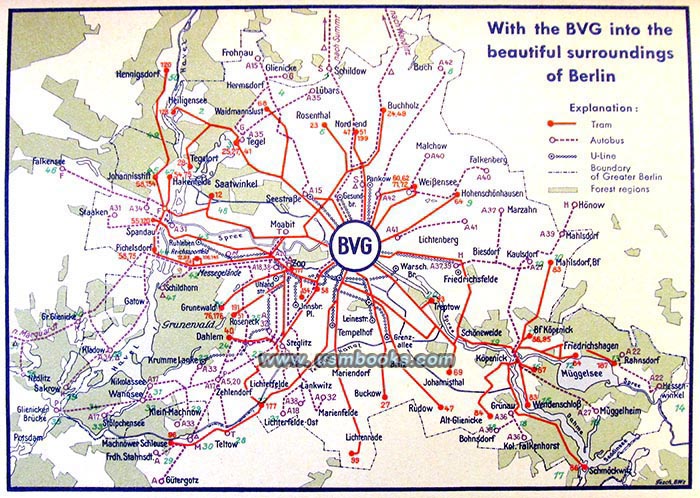 Photos on this USMBOOKS web page were taken from the English language example THE BERLIN TRANSIT FACILITIES during the Olympic Games of 1936 but the content is identical in all four publications:
tram, bus and subway routes, costs and schedules, sightseeing trips, taxis and transit options to Olympic venues such as the Olympic Stadium, Olympic Village and the Regatta Race Course in Grünau.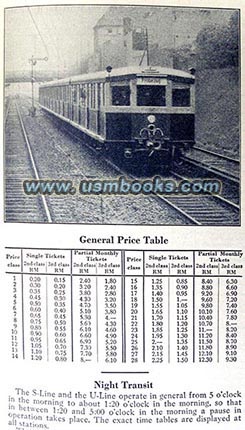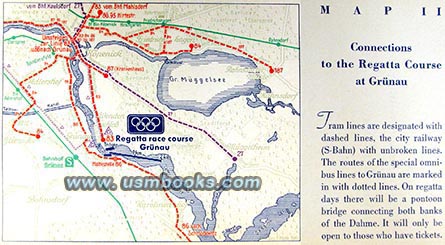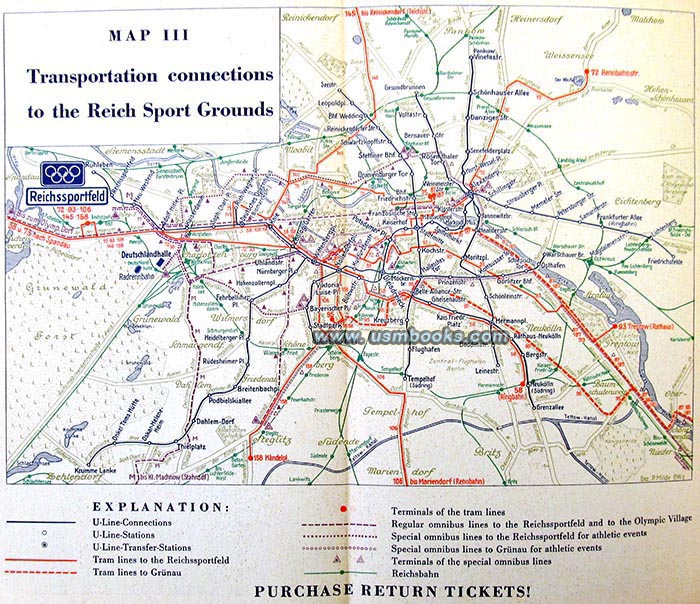 The four heavily illustrated Third Reich publications shown at the top of the USMBOOKS web page were produced to supply visitors to the Olympic Summer Games in Reichshauptstadt Berlin in the months of July and August 1936 with all the information necessary to use the many convenient options of public transportation in Berlin itself and the surrounding area.
All four 4-¾ x 7-¾ inch, 40-page booklets contain identical information and maps - only the language is different. Offered for sale are an English, German, French and Spanish language example called:
ENGLISH: The Berlin Transit Facilities during the Olympic Games of 1936
GERMAN: Die Berliner Verkehrsmittel während der Olympischen Spiele 1936
FRENCH: Les Moyen de Transport Berlinois pendant les Jeux Olympiques 1936
SPANISH: Los Medios de Comunicacion Urbana en Berlin durante los Juegos Olimpicos 1936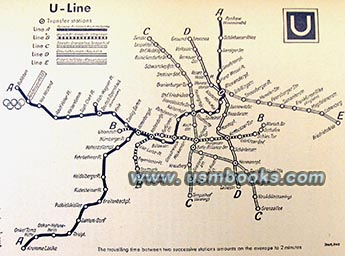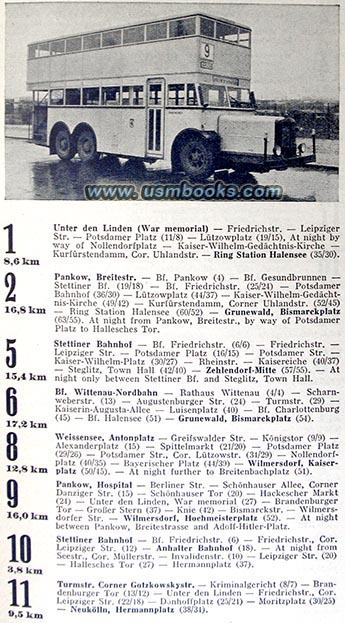 Each booklet contains a center page that is a fold-out with public transportation and city maps, the layout of the Reichssportfeld, etc. as well as some photos.
Published by Selle-Eysler in Berlin in 1936, all four rare examples are in unused condition. The edges of the covers have darkened a bit with age, but the interior pages are in excellent condition. No odor.
ENGLISH
language example: $55.00
USM book # 839a

GERMAN language example: SOLD
USM book # 839b

FRENCH language example: $65.00
USM book # 839c

SPANISH language example: $65.00
USM book # 839d
Prices include delivery by 1st Class Mail in the continental USA.
• IF you prefer faster and safer Priority Mail shipping with USPS Tracking add $6.65.
• IF you wish to purchase highly recommended, but optional insurance, add $3.25.
• We will be happy to ship abroad at additional cost. Please inquire.
ENGLISH, GERMAN, FRENCH, SPANISH ILLUSTRATED INFORMATION
BOOKLETS ON PUBLIC TRANSPORTATION IN BERLIN IN 1936
RARE ORIGINAL THIRD REICH INFORMATION BOOKLETS ON PUBLIC TRANSPORTATION POSSIBILITIES FOR VISITORS TO THE 1936 SUMMER OLYMPICS IN BERLIN