The images and the entire text used on this and all other USMBOOKS web pages are the copyrighted property of USM Inc. Those images and the text may be used by others ONLY AFTER completion of a formal international licensing agreement and payment of a licensing fee! It is therefore, illegal for anyone to take any of the material found on USMBOOKS.com and use it for their own purposes without our written permission, irrespective of any excuse they may feel they have for doing so.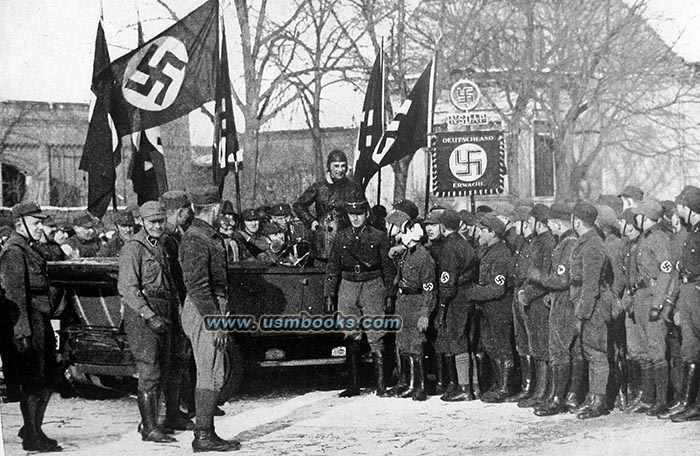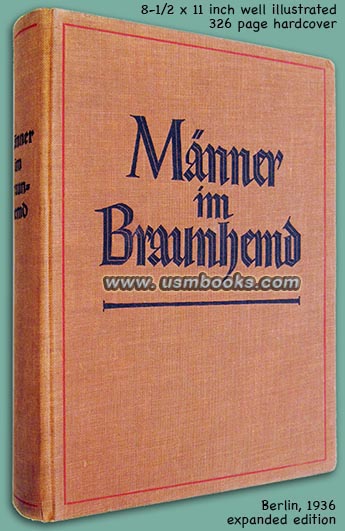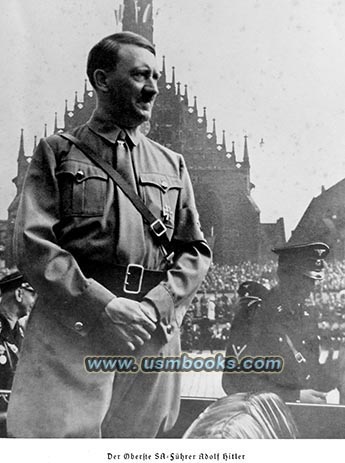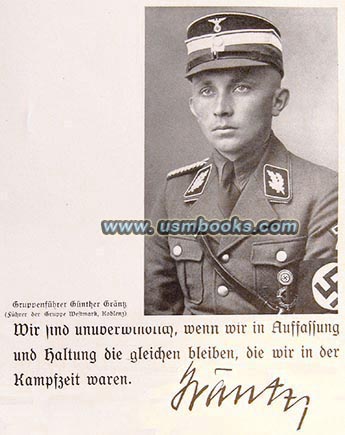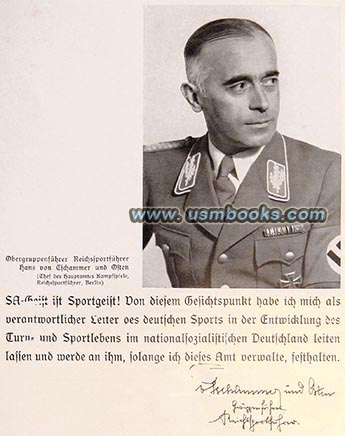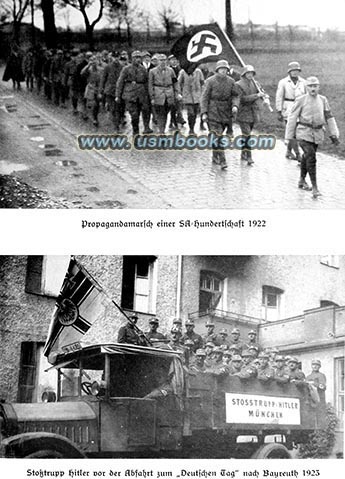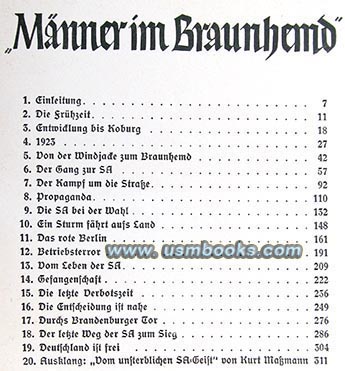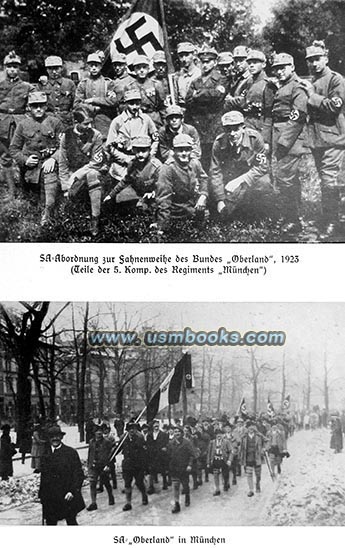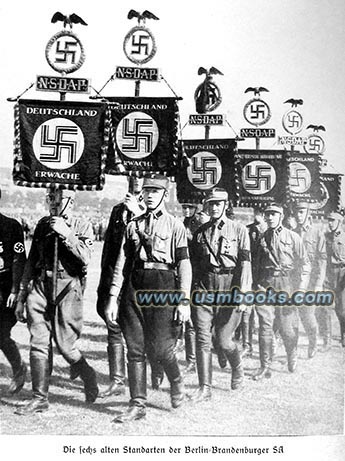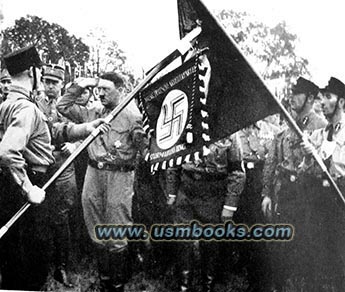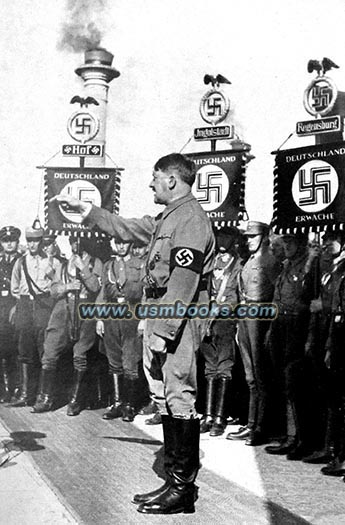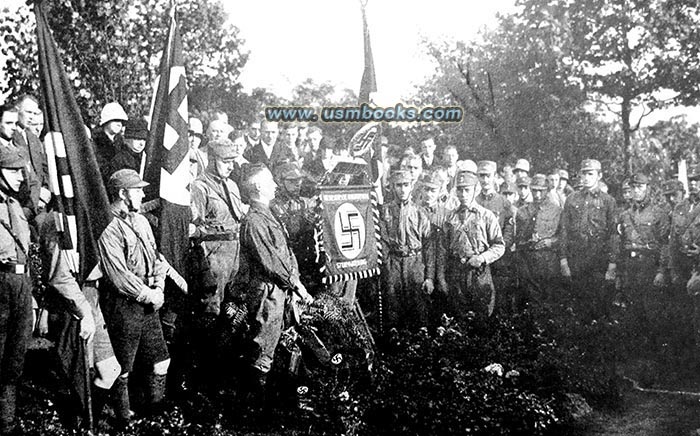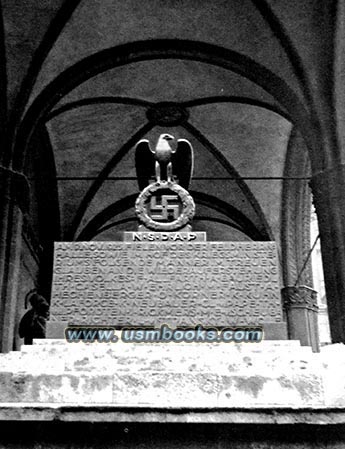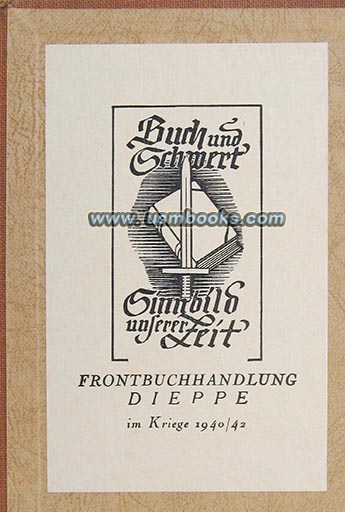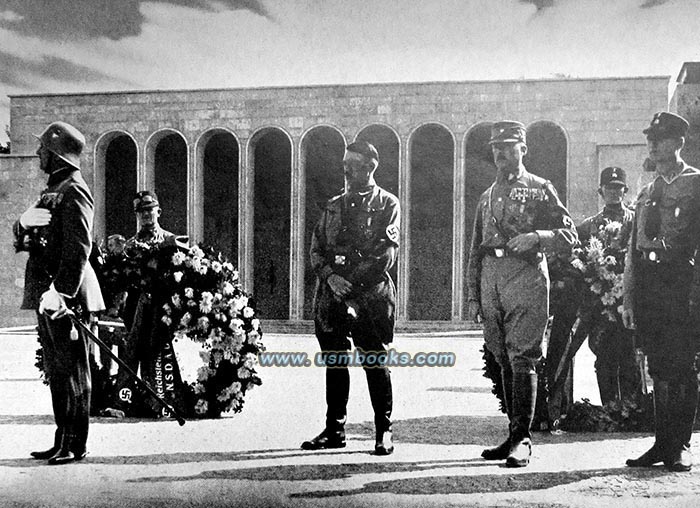 Männer im Braunhemd - Vom Kampf und Sieg der SA (Men in Brown Shirts - Battle and Victory of the SA) is dedicated to "The Unknown SA Man" was written by SA-Sturmhauptführer Karl W. H. Koch and this is the expanded hard cover edition dated 1936 that measures 8-½ x 11 inches and has 326 well illustrated pages.
The book starts with 35 glossy photo pages introducing the leadership of the Sturmabteilungen (Storm Detachments of SA): Adolf Hitler, Viktor Lutze, Adolf Hühnlein, Gruppenführer Prinz August Wilhlem ("Auwi"), SA-Obergruppenführer Adolf Heinz Beckerle, Gruppenführer Heinrich Bennecke, SA Gruppenführer Günther Gräntz, Reichssportführer Hans von Tschammer und Osten and many others. Of course, there is no mention of Ernst Röhm in this expanded 1936 edition.
The introduction by Sturmhauptführer Karl W. H. Koch is followed by a year-by-year history of the early "battle" years of the SA, the development of the SA into an important part of the Nazi movement, and chapters on Communist Berlin, propaganda and violence against the SA, life in the SA, imprisonment of SA Men, the SA Spirit, and the SA after the 1933 election victory of the NSDAP in Germany.
This huge book contains great photos of early SA troops, SA formations at early Nazi Party Days in Nuremberg, the SA at election time, Adolf Hitler with the Nazi Blutfahne (Blood Flag) and Nazi standards, Hitler meeting with men of the SA at various locations and events all over Germany, SA men at the 1929 Parteitag in Nürnberg and the 1930 Parteitag in the city of Gera, SA men on skis, on horseback and bicycle, SA bands, SA parades and marches all over Germany, etc.
There is a competent Index and photo sources in the back. Copyright by Herbert Stubenrauch Verlagsbuchhandlung in Berlin and printed by Bibliographisches Institut AG of Leipzig.

This heavy, hard cover linen book is in very nice used condition and has a book plate of wartime Frontbuchhandlung Dieppe 1940/42 On the leather-like endpapers inside the front cover (see picture right). No odor.
This original 1936 SA Braunhemd photo book is **SOLD**


USM book #849
• Priority Mail shipping with USPS Tracking $10.95
OR
Media Mail $7.95.
• IF you wish to purchase highly recommended, but optional insurance, add $4.95.
• We will be happy to ship abroad at additional cost. Please inquire.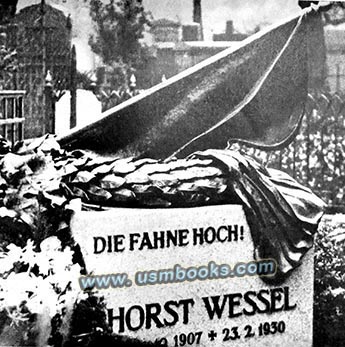 HUGE, RARE 1936 SA PHOTO HISTORY 'THE MEN IN BROWN SHIRTS'
MÄNNER IM BRAUNHEMD - 1936 EXPANDED EDITION
OF THE OFFICIAL NAZI
HISTORY OF THE SA