This rare 1943 Wilfrid Bade SA book is offered for sale for
$195.00 delivered by Media Mail in the continental USA.


USM book # 571
• IF you prefer faster and safer Priority Mail shipping with USPS Tracking add $6.95.
• IF you wish to purchase highly recommended, but optional insurance, add $3.45.
• We will be happy to ship abroad at additional cost. Please inquire.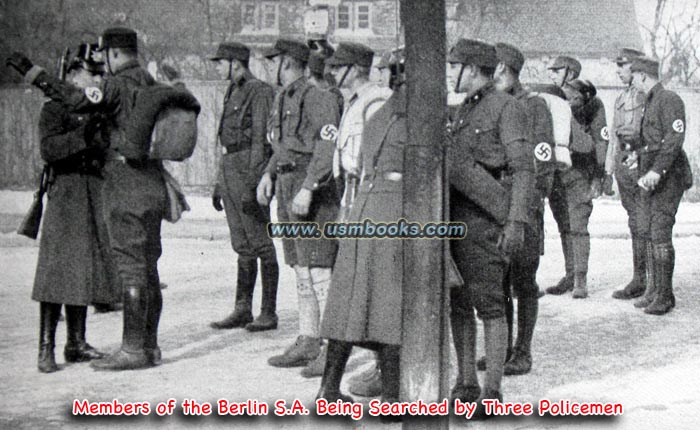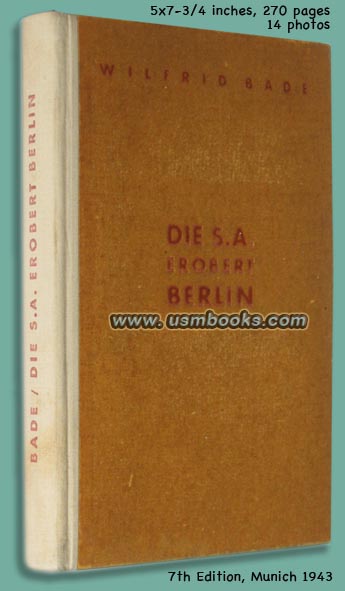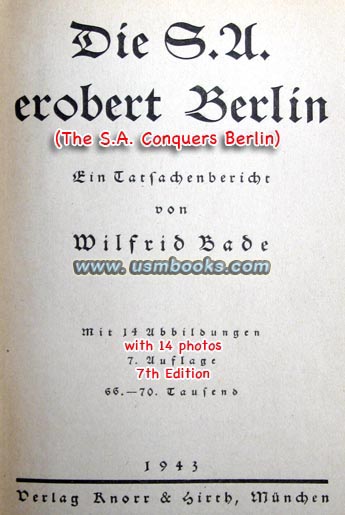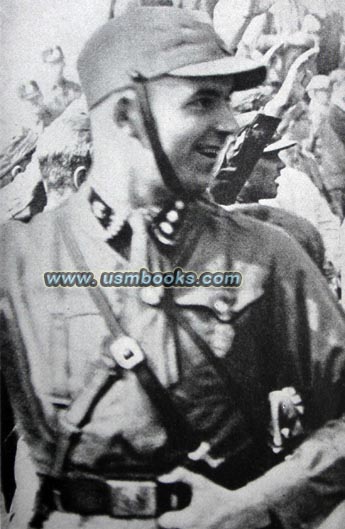 This is a very nice original 1943, 7th edition of Wilfrid Bade's well-written and illustrated book on the SA conquest of Berlin - Die SA erobert Berlin (The SA Conquers Berlin). The 5 x 7-3/4 inch, 270 page book includes 14 rare photographs of SA units and the difficulties they encountered in battling Communists and the opposition politicians in charge of the city of Berlin. In those early days the SA simply loaded up their troops in trucks and trailers and confronted the Communists wherever they found them.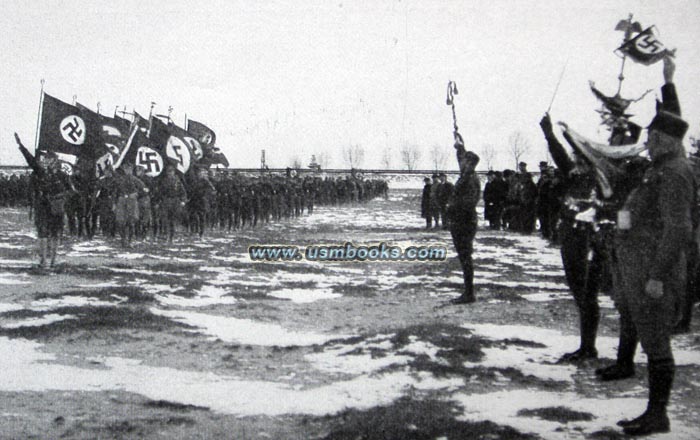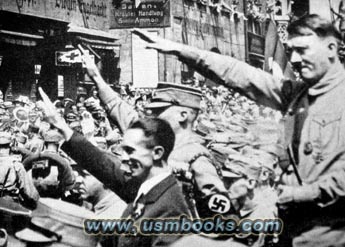 The leader of SA Sturm 5 in Berlin was Horst Wessel and he is featured prominently (including photo left). When the SA in Berlin wasn't fighting with Communists in the streets, they were parading their flag somewhere. Horst Wessel was of course, murdered by the Communist Ali Höhler and there is a police photo of Höhler with his shirt removed to show his tattooed torso and arms. Another very rare photo shows the battlefield surrounding the hearse carrying the corpse of Horst Wessel through Berlin (photo directly below).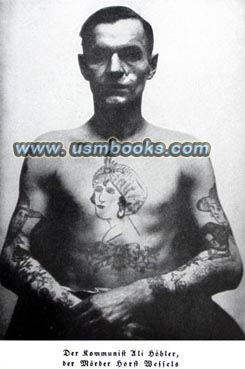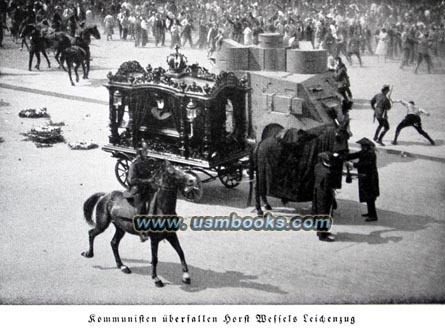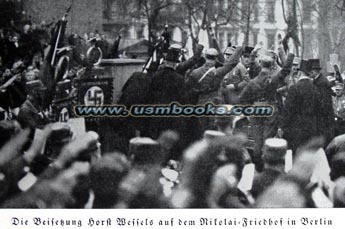 In the end the SA was victorious and Wilfrid Bade expected his book to be a standard reference in every library.

Immediately after the end of World War II Bade died in Soviet captivity and virtually all copies of Die SA erobert Berlin that could be found were destroyed. It is a very rare book today. A previous owner covered the tan hard covers with protective film so the book is in excellent used condition.


The images and the entire text used on this and all other USMBOOKS web pages are the copyrighted property of USM Inc. Those images and the text may be used by others ONLY AFTER completion of a formal international licensing agreement and payment of a licensing fee! It is therefore, illegal for anyone to take any of the material found on USMBOOKS.com and use it for their own purposes without our written permission, irrespective of any excuse they may feel they have for doing so.
RARE NAZI BOOK THE SA CONQUERS BERLIN BY WILFRID BADE 1943
DIE SA EROBERT BERLIN (THE SA CONQUERS BERLIN) BY WILFRID BADE WITH 14 UNIQUE PHOTOGRAPHS