This rare hardcover Hoffmann SA and SS photo book is **SOLD**

USM book # 193
• IF you prefer Priority Mail shipping with USPS delivery confirmation add $5.95.
• IF you wish to purchase highly recommended, but optional insurance, add $5.45.
• We will be happy to ship abroad at additional cost. Please inquire.
This rare linen hardcover FIRST EDITION of Das braune Heer was printed in December 1934 and is complete with all its original photographs. It is in very good condition. The photos have a slightly more sepia tint than they appear in the photos on our website.
NAZI HOFFMANN SA AND SS PHOTO BOOK - RARE!
RARE ORIGINAL HEINRICH
HOFFMANN PHOTO BOOK
DAS BRAUNE HEER -
100 BILDDOKUMENTE:
LEBEN, KAMPF UND SIEG
DER SA UND SS


The images and the entire text used on this and all other USMBOOKS web pages are the copyrighted property of USM Inc. Those images and the text may be used by others ONLY AFTER completion of a formal international licensing agreement and payment of a licensing fee! It is therefore, illegal for anyone to take any of the material found on USMBOOKS.com and use it for their own purposes without our written permission, irrespective of any excuse they may feel they have for doing so.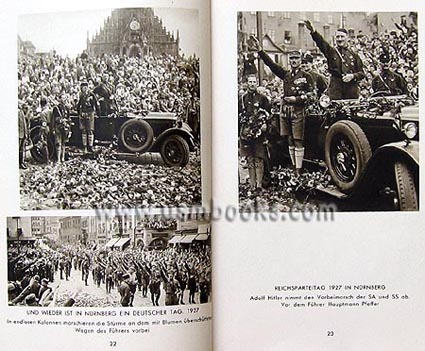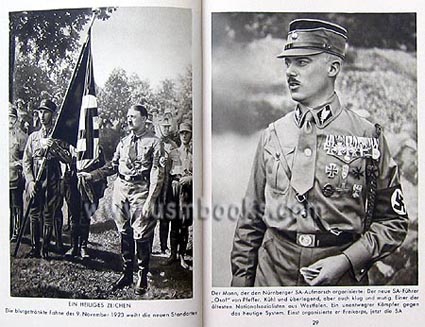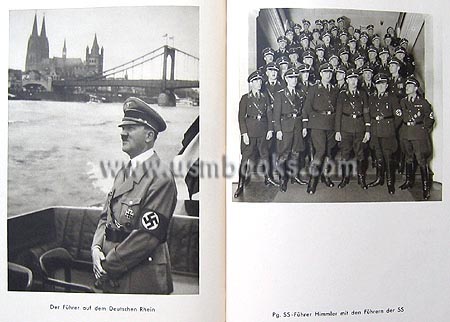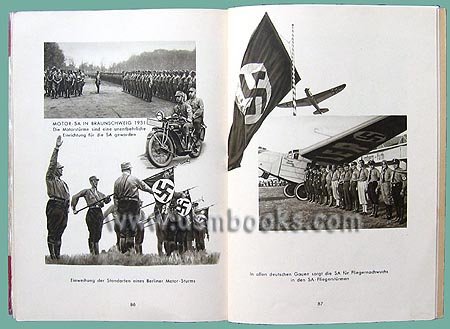 One of the earliest and rarest books in the series of 50 or so Hoffmann Bildbände or Heinrich Hoffmann photo books produced during the Third Reich in Germany, this 96 page, 7-1/8 x 9-7/8 inch, hardcover volume is called Das braune Heer - 100 Bilddokumente: Leben, Kampf und Sieg der SA und SS (The Brown Army - 100 Documentary Photos of the Life, Battles and Victory of the SA and SS). The forward was written by Germany's 23rd Reichskanzler and Führer of the Nazi Party, Adolf Hitler himself.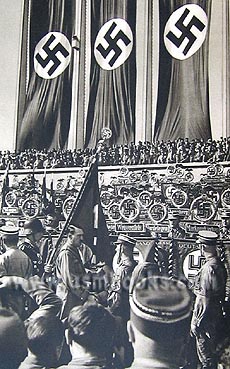 There is a portrait of Hitler in his "Brown Shirt" as "SA High Leader", pictures of men wearing home made armbands and carrying home made Nazi flags, early formations such as Stosstrupp Hitler, the storming of the barricades on 9 November 1923, the Nazi martyrs of 9 November 1923, NSDAP Reichsparteitag in Nürnberg in 1927 (the last year Hitler smiled during a parade), Horst Wessel, faces of the SA, Reichsführer-SS Himmler, SS troops from all over Germany, rows of Standards, the High Leadership of the SS (including Sepp Dietrich and Reinhard Heydrich), the Motor SA, the Flying SA, SA horsemen, etc., etc.
With 100 spectacular photographs, the book documents the rise of Hitler and his rag-tag group of National Socialists from the earliest of the 1920s through their parliamentary victories in 1932.
Within months of Hoffmann's publication of this book, Das braune Heer, the Nazi Party was in complete control of the political apparatus in Germany and other photo books followed which depicted the rise of the NSDAP and complete victory in Germany.
Note page 44 (directly above) which has the photo portrait of Stabchef Victor Lutze opposite Reichsführer-SS Himmler. Early printings of this book had a photo of SA Stabchef Ernst Röhm, but after the Night of the Long Knives the Röhm portrait was replaced by Victor Lutze.