This superb photo book about the Nazi times in the city of Linz is offered
for sale for $145.00 delivered by Media Mail in the continental USA.


USM book # 354
•IF you prefer faster and safer Priority Mail shipping with USPS Tracking add $6.95.
• IF you wish to purchase optional insurance, add $3.45.
• We will be happy to ship abroad at additional cost. Please inquire.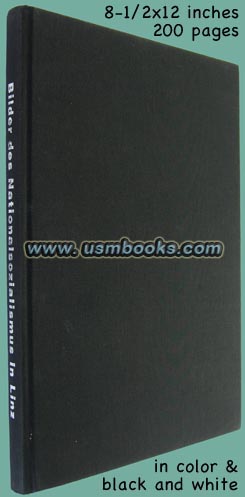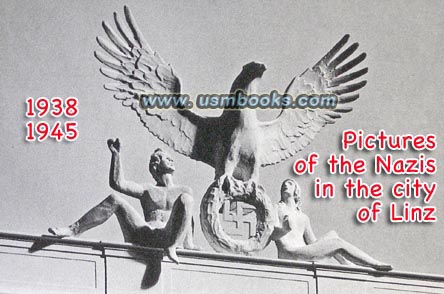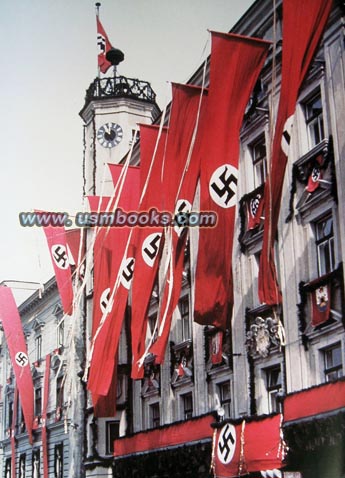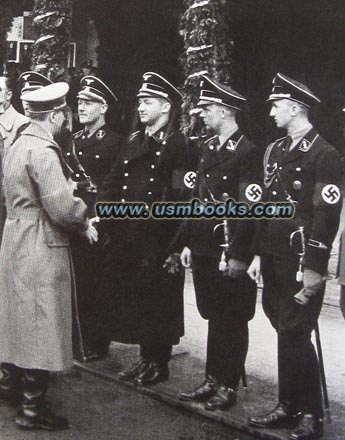 This is an excellent used example of the rare photo book Bilder des Nationalsozialismus in Linz or "Pictures of National Socialism in Linz" as published by the Archive of the City of Linz in 1997 as a history of Nazi times in Linz, Austria.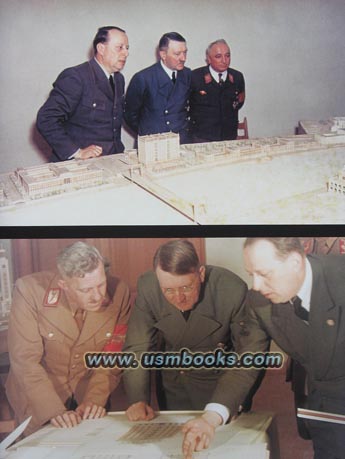 With the Anschluss in the spring of 1938 all of Austria became a part of Hitler's Greater Germany. Few cities in Austria more heartily embraced Nazism than Linz did. Hitler's childhood home was just outside the city boundary and he had lived in Linz with his mother as a teenager, before he moved to Wien (Vienna).

In April 1938 the city welcomed the German Army and the German Administration of many of the country's institutions. There was already an active SS and Nazi Party and Linz became the most important city of Reichsgau Oberdonau. The Nazis spent heavily on Linz, establishing the industrial Hermann Göring Works on the east side, and redeveloping the center which was to become a great art repository for all of Germany.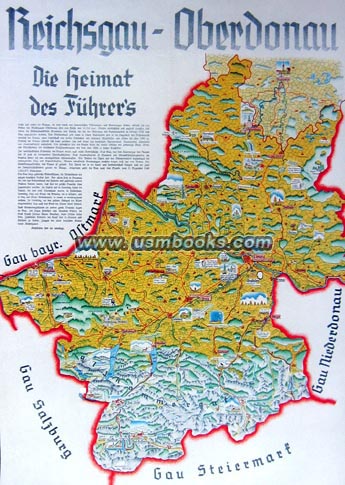 This amazing 8-1/2 x 12 inch, 20 page hard cover book documents Hitler's involvement in Linz through the City Register at a time when the Hitler name was still spelled Hietler through period of Nazi agitation before the Anschluss. Its focus then becomes the planning and reconstruction to make Linz the art capital of Greater Germany, the Jews in Linz at the time the Nazis came to power, the killing of undesirable people at Niederhart-Linz and nearby Mauthausen Concentration Camp, the importation of foreign workers (mostly from Italy), and the overwhelming might of the Nazi Government.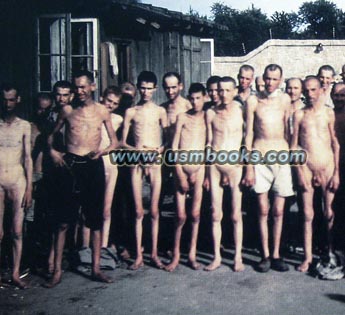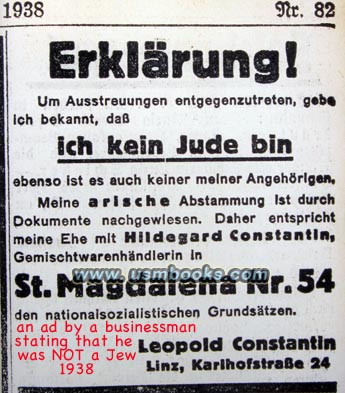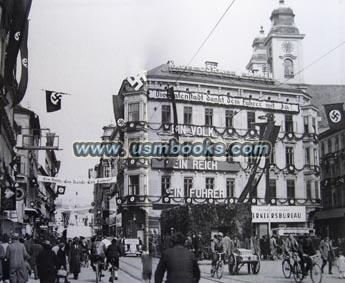 The books sums up the period with the announcement of the death of Adolf Hitler and the occupation of Linz by American troops under General Patton. A spectacular photo essay on the Nazi years in a large German city. Very hard to find, in excellent condition.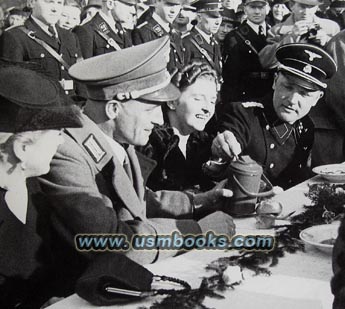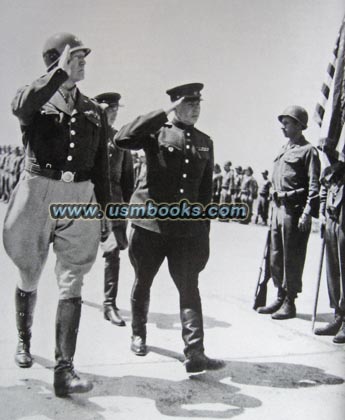 COLOR AND B & W PHOTO BOOK OF LINZ UNDER THE NAZIS
PICTURES OF THE CITY OF LINZ
UNDER NATIONAL SOCIALISM
1938-1945


The images and the entire text used on this and all other USMBOOKS web pages are the copyrighted property of USM Inc. Those images and the text may be used by others ONLY AFTER completion of a formal international licensing agreement and payment of a licensing fee! It is therefore, illegal for anyone to take any of the material found on USMBOOKS.com and use it for their own purposes without our written permission, irrespective of any excuse they may feel they have for doing so.