The images and text used on this and all other USM web pages are the copyrighted property
of USM Inc. Those images and the text may be used by others ONLY AFTER completion
of a formal international licensing agreement and payment of a licensing fee!
This 1939 Nazi edition of Der Volks-Brockhaus A-Z is offered for sale
for $195.00 delivered by Media Mail in the continental USA.


USM book #473
• IF you prefer Priority Mail shipping with USPS delivery confirmation add $6.95.
• IF you wish to purchase highly recommended, but optional insurance, add $2.95.
• We will be happy to ship abroad at additional cost. Please inquire.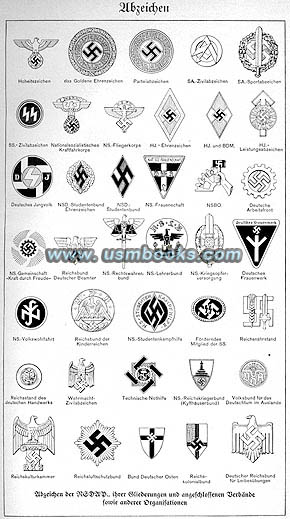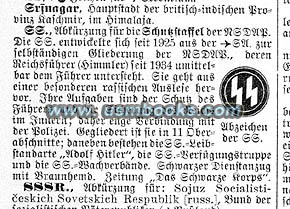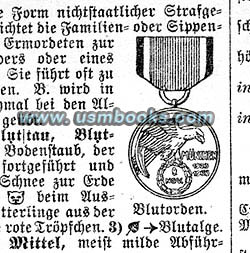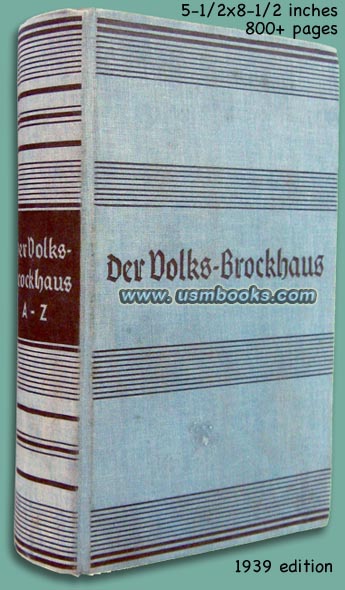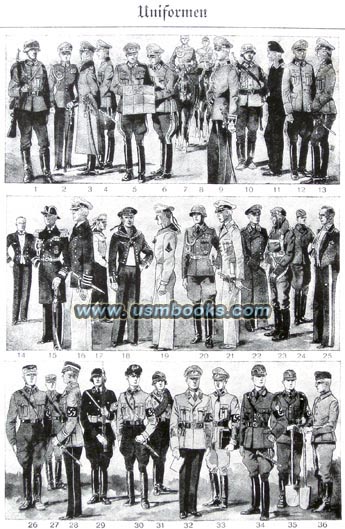 This is the big 800+ page Volks-Brockhaus encyclopedic dictionary of German things and German speech as published by the firm of F. A. Brockhaus in Leipzig. Most importantly, this is the rare 1939 Eighth Updated Third Reich edition which covers Nazi things and Nazi speech better than any other German dictionary of the period.
In a 5-1/2 x 8-1/2 inch hardcover format, the book has tens of thousands of entries, 3500 pictures (most are excellent line drawings) and a good number of full-color and black and white full-page plates and maps.

Since this is the Third Reich edition of Der Volks-Brockhaus A-Z, photos in the architecture section include the Führerbau in Munich, there are pictures of SS runes, the Nazi Blood Order and other Nazi medals, Wehrmacht uniforms, and the colorful flag section includes the Nazi swastika flag, the Reichskriegsflagge and the Standarte des Führers. Of course, regular subjects include astrology, fauna, chemistry, mining, flowers and herbs, race and the human body, radio, mushrooms, insects, foreign cultures, gas generators, world maps, etc., etc.
If you are a serious Nazi militaria collector or Third Reich history student, this dictionary is worth its weight in gold.
The cover is a bit faded, but the contents is in very good used condition.
RARE NAZI GERMAN ENCYCLOPEDIC DICTIONARY
DER VOLKS-BROCKHAUS A - Z
(NATIONAL BROCKHAUS) HEAVILY ILLUSTRATED DICTIONARY 1939 EDITION
This USM Books website is Copyright © 2012 by USM, Inc., and the text and images on it are fully protected by international copyright law. It is therefore, illegal for anyone to take any of the material found here and use it for their own purposes without our written permission, irrespective of any excuse they may feel they have for doing so.