The images and the entire text used on this and all other USMBOOKS web pages are the copyrighted property of USM Inc. Those images and the text may be used by others ONLY AFTER completion of a formal international licensing agreement and payment of a licensing fee! It is therefore, illegal for anyone to take any of the material found on USMBOOKS.com and use it for their own purposes without our written permission, irrespective of any excuse they may feel they have for doing so.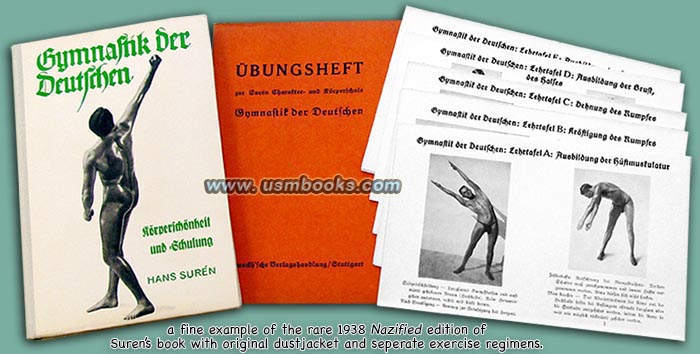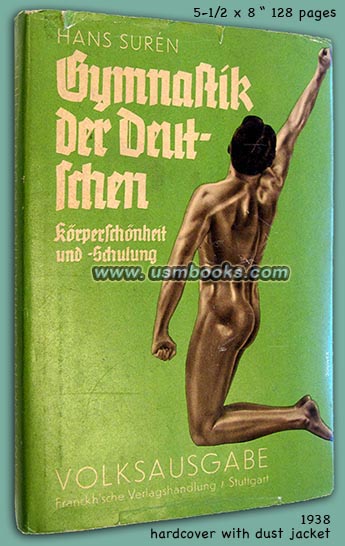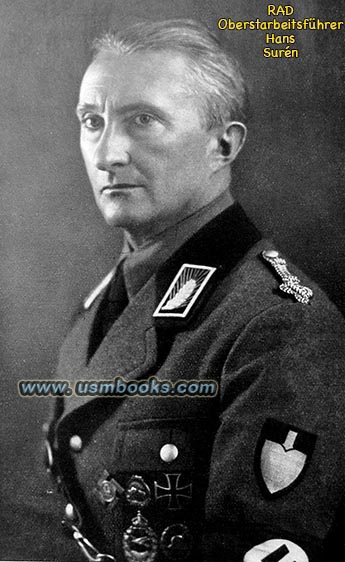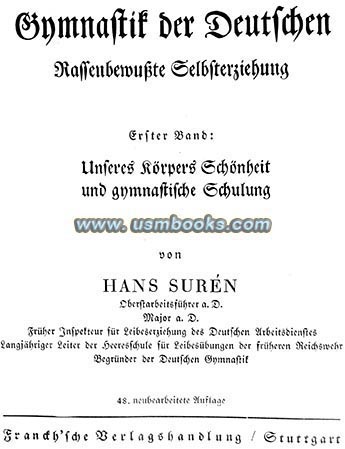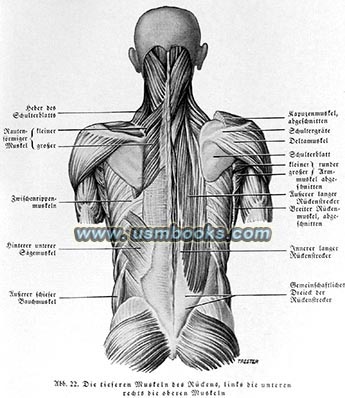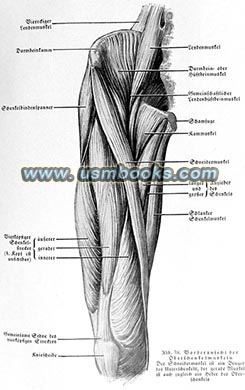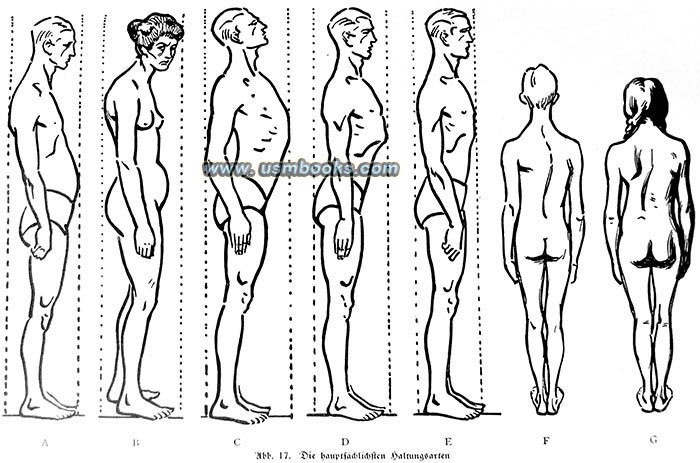 This is a one of the rarer Third Reich books by fitness expert Hans Suren, who was a Major and Oberstarbeitsführer as well as the Head Inspector for Physical Education of the Reichsarbeitsdienst (RAD) and long-time leader of the Army School for Physical Education. He was also one of the main promoters of the nudist movement in Nazi Germany.
This heavily illustrated book explains the basics about how the human body and muscles work, and is full of tips on how to obtain and keep good posture, a fit lifestyle, healthy food - all necessary to create the foundation for a healthy mind in all racially conscious, disciplined Nordic Germans living in Nazi Germany. The book still has its rare (frequently torn out) portrait of hans Suren wearing his RAD uniform with many medals.
Published by Franck'sche Verlagshandlung in Stuttgart in 1938, this 5-½ x 8 inch, heavily illustrated 128-page hardcover book with its original dust jacket, is in very nice, very lightly used condition. The additional inserts that are usually missing are quite rare and also in very good condition.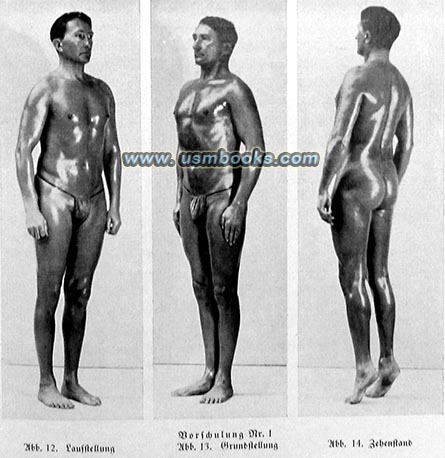 Most collectors are familiar with the Hans Suren bestseller
Mensch und Sonne
but the book offered on this USMBOOKS web page is a hardcover example of the much harder to find
Gymnastik der Deutschen, Körperschönheit und -Schulung (Gymnastics for Germans - Body Beauty and Body Training)
from 1938 in excellent condition! This heavily illustrated 128-page book comes with its original dust jacket AND inserted in a flap inside the back cover are FIVE glossy fold-out 7-¼ x 28 inch charts showing a lean, bronzed Suren doing sample exercises. There is also a 36-page
Übungsheft
or exercise book and a rare unused Third Reich order form for additional fitness books by Hans Suren.
Have a look at a fine 1936 hardcover example of the Hans Suren German
nudist book Mensch und Sonne, also for sale on USMBOOKS.com.
This 1938 Nazi fitness book by Hans Suren is offered for sale
for $125.00 delivered by Media Mail in the continental USA.


USM book # 853
• IF you prefer faster and safer Priority Mail shipping with USPS Tracking add $6.75.
• IF you wish to purchase highly recommended, but optional insurance, add $3.50.
• We will be happy to ship abroad at additional cost. Please inquire.
1938 HANS SUREN FITNESS BOOK + RARE NAZI EXERCISE REGIMEN INSERTS, EXERCISE BOOKLET AND ORDER FORM
HEAVILY ILLUSTRATED 1938 NAZI BODY BEAUTY & FITNESS BOOK WITH RARE EXERCISE INSERTS AND BOOKLETS