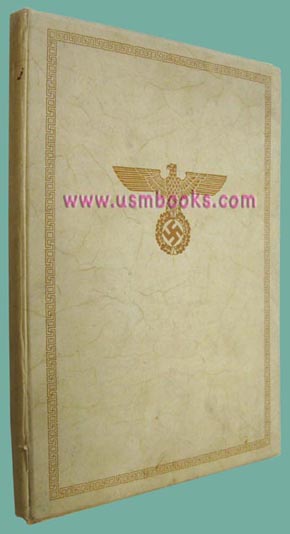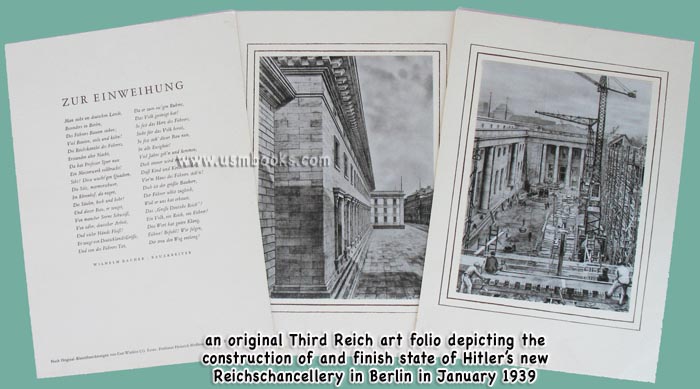 At the time it was constructed by 33 year old architect Albert Speer in 1938, die Neue Reichskanzlei (New Reichs Chancellery) of Germany's 23rd Chancellor and Nazi Führer Adolf Hitler in Berlin was one of the great wonders of Europe, if not of the entire world.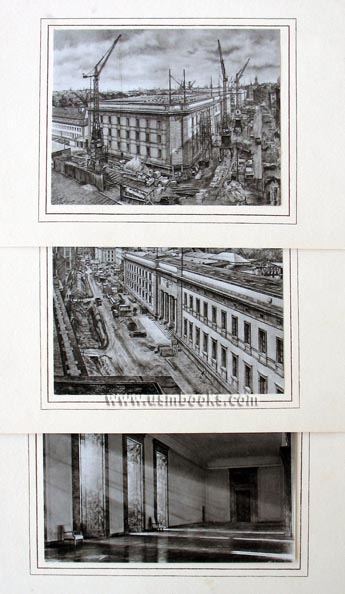 Constructed of the very finest materials by almost 5000 workers, the enormous government reception and office building was ready for occupancy by Hitler and his staff in just under one year.

The New Reichschancellery was gorgeous, it was huge and it was the seat of power of Adolf Hitler, the most powerful secular ruler in the entire 2000 year history of Europe. Events of enormous historical significance took place in the New Reichschancellery on a routine basis.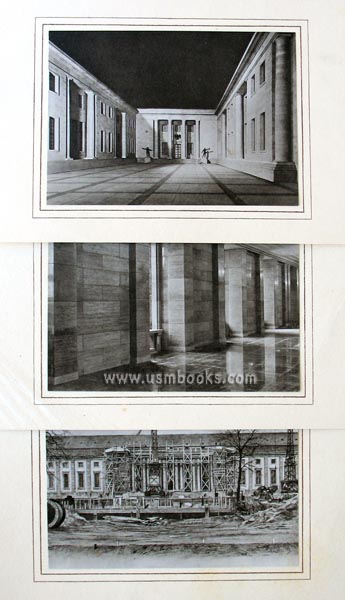 The rare 9 x 12-1/4 inch hard bound art folio we offer here was published at the time of the opening of the New Reichschancellery in January 1939. The parchment-like cover is emblazoned with a 4 inch golden German State eagle and swastika (Hoheitszeichen) inside a Greek motif border of squares and swastikas. Inside the folio there are eleven fine art prints measuring about 6 x 7-1/2 inches mounted within a double line border on specially prepared 8-1/4 x 11-3/4 inch cream colored cards.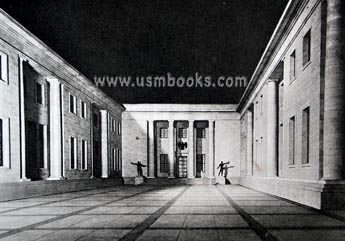 The 11 prints consist of renderings of the various stages of construction of die
Neue Reichskanzlei
by Curt Winkler and photographs of some of the most dramatic finished views by Heinrich Hoffmann. They include: the Vosstrasse entrances to the New Reichschancellery, the Honor Courtyard, the garden side (the Hitler office side), the Arched Walkway, Entrance Hall, Marble Gallery, etc. This set is complete in its original shipping case, with the eagle and swastika title page and the Wilhelm Bacher poem
ZUR EINWEIHUNG
(At the Occasion of the Dedication).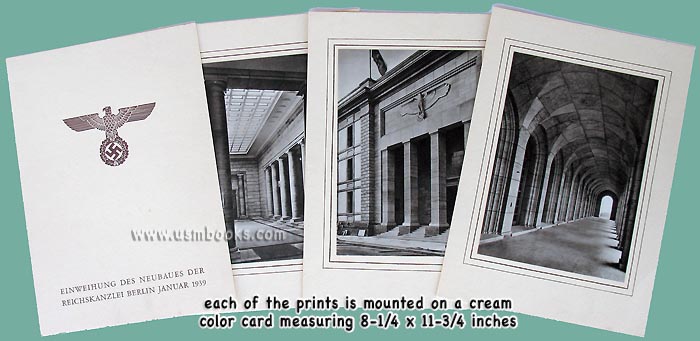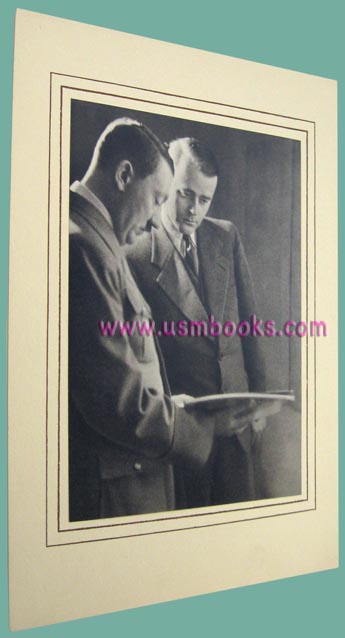 As to the fate of the New Reichschancellery, most people familiar with the history of the period know the burned bodies of Adolf Hitler and his wife Eva Braun were discovered in the garden of the New Reichschancellery at the end of the war in May 1945. The Soviet occupiers of Berlin first vandalized, then completely destroyed the New Reichschancellery late in 1949. Little remains in the 21st century of the remarkable building other than a few rare examples of this artist folio. Nice condition.
This rare and complete
Reichschancellery art print folio
is **SOLD**.

We are happy to ship abroad at additional cost. Please inquire.


The images and the entire text used on this and all other USMBOOKS web pages are the copyrighted property of USM Inc. Those images and the text may be used by others ONLY AFTER completion of a formal international licensing agreement and payment of a licensing fee! It is therefore, illegal for anyone to take any of the material found on USMBOOKS.com and use it for their own purposes without our written permission, irrespective of any excuse they may feel they have for doing so.
NAZI REICHSCHANCELLERY ART FOLIO
THE COMPLETE FOLIO SET
SPECIAL CARD-MOUNTED
ART PRINTS OF THE NEW
REICHSCHANCELLERY OF
ADOLF HITLER IN BERLIN