The images and the entire text used on this and all other USMBOOKS web pages are the copyrighted property of USM Inc. Those images and the text may be used by others ONLY AFTER completion of a formal international licensing agreement and payment of a licensing fee! It is therefore, illegal for anyone to take any of the material found on USMBOOKS.com and use it for their own purposes without our written permission, irrespective of any excuse they may feel they have for doing so.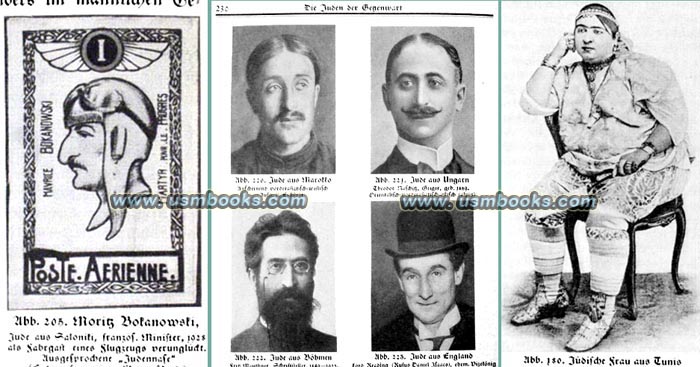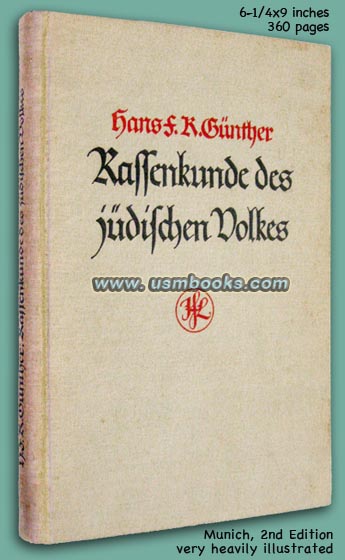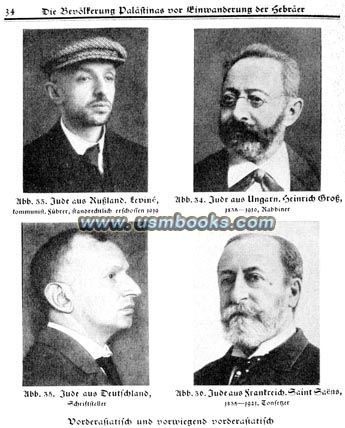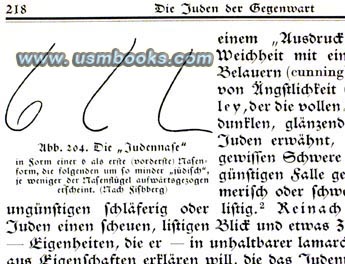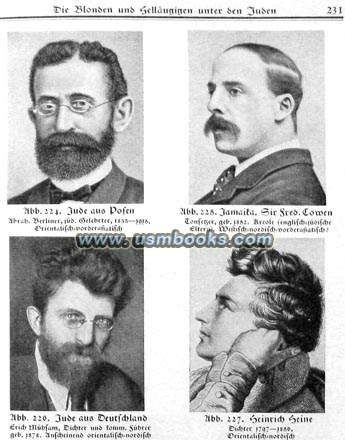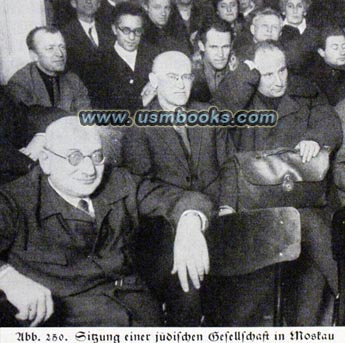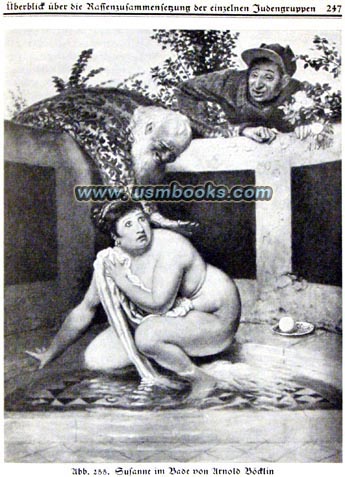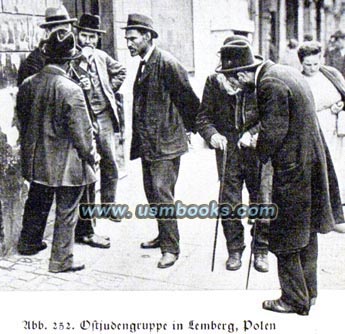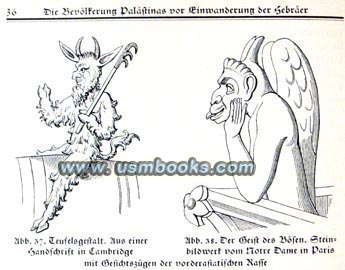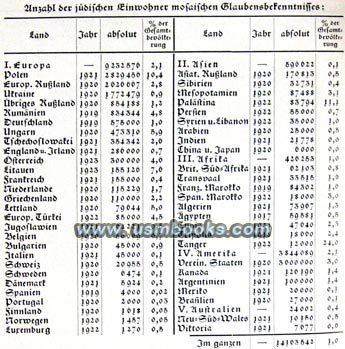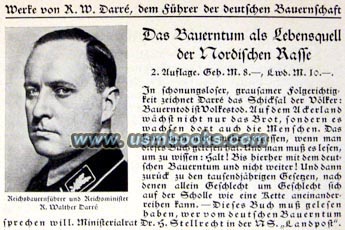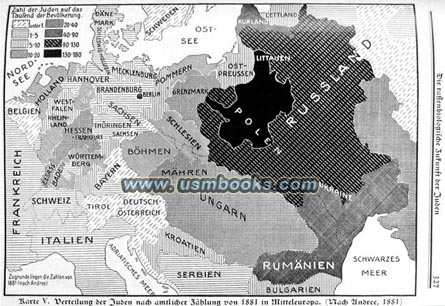 Offered for sale on this USMBOOKS web page is the second edition of Rassenkunde des jüdischen Volkes (Racial Science of the Jewish People) by Dr. Hans Friedrich Karl Günther, a prominent German race researcher and eugenist considered the Rassenpabst or 'Race Pope' of the Third Reich. Günther also wrote the well-known book Rassenkunde des deutschen Volkes (Racial Science of the German People) but this book is an in-depth study of Jews in historical, cultural and geographical perspective.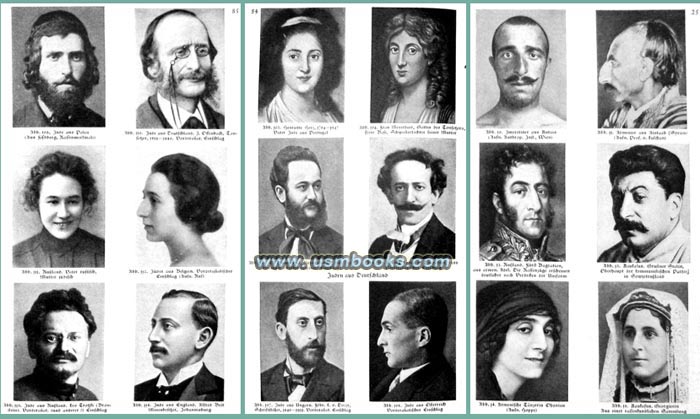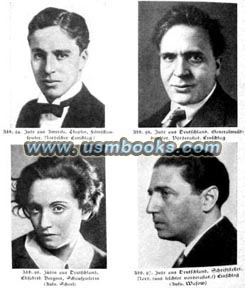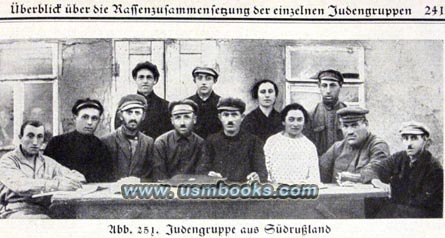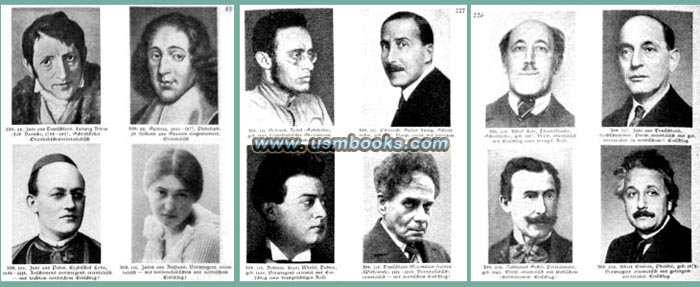 Unlike other Third Reich books on the the subject of race, Rassenkunde des jüdischen Volkes is light on statistics but has 305 illustrations and 6 maps that cover subject such as the Population of Palestine and Immigration of Hebrews, the Hebrews Mixing with the Nordic Race in Palestine, the Nordic Influence on Hebrews in the Middle East, the View of Hebrews on Beauty, Jews in Modern Times, the Jewish Question, Intermarriage of Jews and Non-Jews, the Root of Anti-Semitism, etc.
This is an original 1930 hardcover edition of Rassenkunde des jüdischen Volkes published by J. F. Lehmanns Verlag of Munich, not a modern reprint. It is fully indexed and has advertising for other anti-Jewish Third Reich racial studies published by Lehmanns Verlag in the back (Die Nodische Seele, Rasse und Seele, Deutsche Rassenkunde, Vererbungslehre, Rassenhygiene und Bevolkerungspolitik, etc.) - see example shown below.
In very good, little used condition.
This illustrated German study on the ethnology of the Jewish people is
**SOLD**


USM book #677
• IF you prefer Priority Mail shipping with USPS Tracking add $5.75.
• IF you wish to purchase highly recommended, but optional insurance, add $3.45.
• We will be happy to ship abroad at additional cost. Please inquire.
HEAVILY ILLUSTRATED HARDCOVER GERMAN STUDY OF THE JEWISH RACE
HEAVILY ILLUSTRATED THIRD REICH BOOK RASSENKUNDE DES JUEDISCHEN VOLKES
(RACIAL SCIENCE OF THE JEWISH PEOPLE)