The images and text used on this and all other USM web pages are the copyrighted property
of USM Inc. Those images and the text may be used by others ONLY AFTER completion
of a formal international licensing agreement and payment of a licensing fee!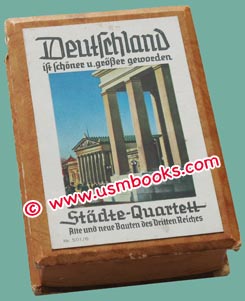 This original and complete Nazi era German Cities quartet game
is **SOLD**.
• For postage & USPS delivery confirmation you must add $5.50 to the price.
• IF you wish to purchase optional insurance, add $4.75 to your payment of $230.50.
• We will be happy to ship abroad at additional cost. Please inquire.
NAZI QUARTET
SAMPLE CARD FOR
DAS DEUTSCHTUM
IM AUSLAND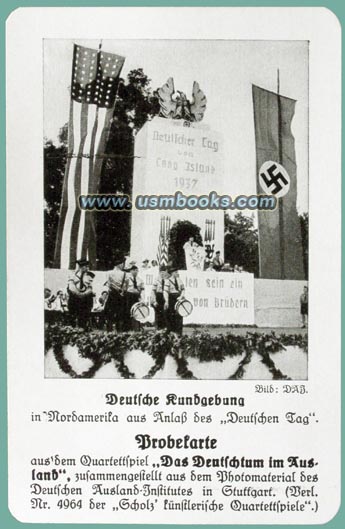 The quartet card shown left is a single Probekarte, a promotional or sample card to advertise the Nazi quartet game called Das Deutschtum im Ausland (German-ness Abroad).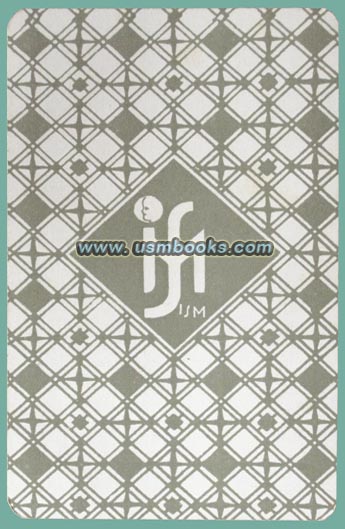 The advertising text shown above mentions this Quartettspiel was put together with photo material from Das Deutsche Ausland-Institut in Stuttgart. The most interesting aspect is the photo used: the 1937 Deutsche Tag Rally (German Day) on Long Island!
Extremely rare and in excellent condition!
This extremely rare original Nazi quartet advertising card is
offered for sale for $45.00 delivered in the USA (1st Class Mail).
---
NAZI ILLUSTRATED CARD GAME - QUARTETTSPIEL
A THIRD REICH QUARTETT CARD
GAME PLAYED SIMILAR TO RUMMY

DEUTSCHLAND STÄDTE-QUARTETT
This USM Books website is Copyright © 2011 by USM, Inc., and the text and images on it are fully protected by international copyright law. It is therefore, illegal for anyone to take any of the material found here and use it for their own purposes without our written permission, irrespective of any excuse they may feel they have for doing so.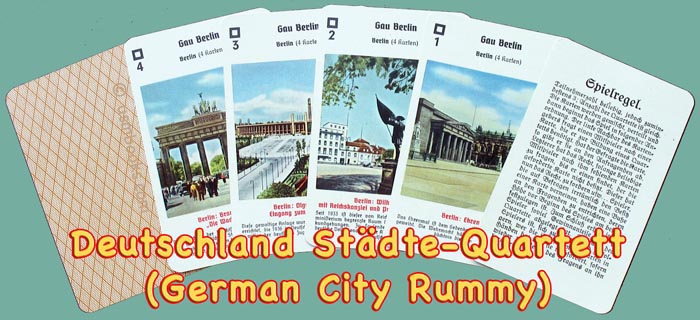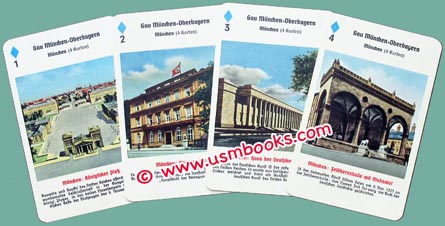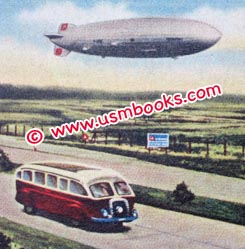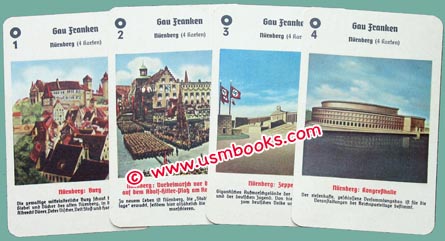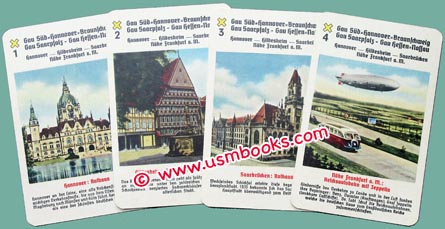 Published in the 1930s, this very rare card game called
Deutschland Städte Quartett
consists of a complete pack of forty-eight 2-3/4 x 4-3/8 inch playing cards; twelve sets of four each plus one card with instructions, in their original box.
The reddish-brown plaid backs are all the same of course but the fronts are all different. The pictures depict sights in the major Gaue and cities of Germany from Berlin to München (Munich) and Nürnberg (Nuremberg) to Wien (Vienna). There are photos of the Brandenburg Gate, 1936 Olympic Stadium, the Feldherrnhalle, House of German Art, NSDAP Braunes Haus, Nazi Party Days Grounds, Hitler's birth house in Braunau am Inn, the Reichsautobahn bridge in Hamburg, Adolf Hitler Platz in Weimar, the Reichsautobahn and the Zeppelin Hindenburg, etc.
The games played with these cards were similar to common card games like Rummy. The cards are all in splendid condition with the exception of card 3 in the 11th (green triangle) suit which is bent and about 1 inch up from the lower right corner.