This 1937 anniversary edition of Hildebrandts Wappenfibel is for sale
for $85.00 delivered by Media Mail in the continental USA.


USM book #480
• IF you prefer faster and safer Priority Mail shipping with USPS Tracking add $6.95.
• IF you wish to purchase highly recommended, but optional insurance, add $3.25.
• We will be happy to ship abroad at additional cost. Please inquire.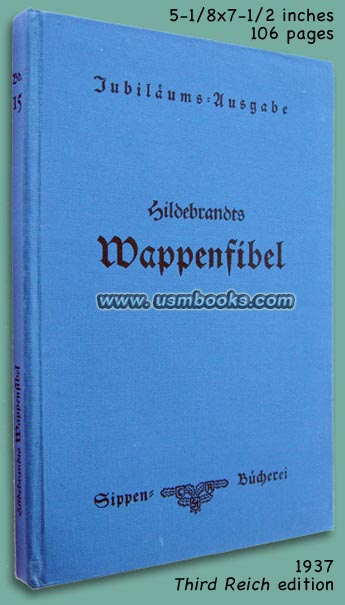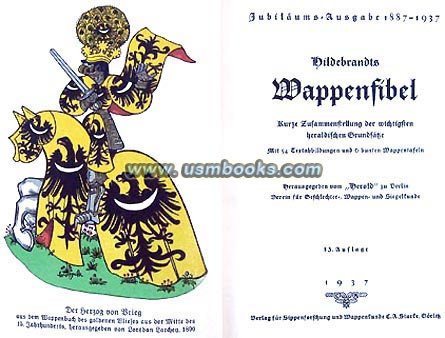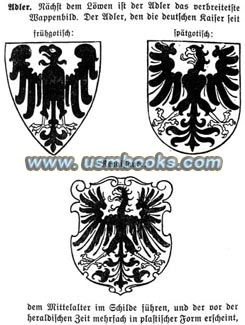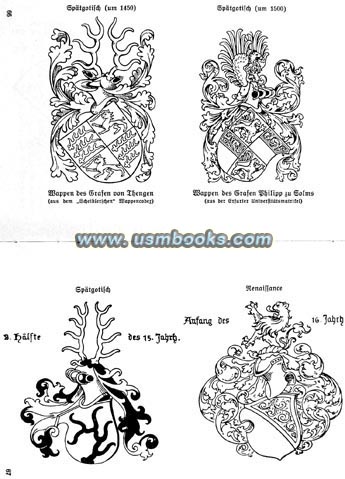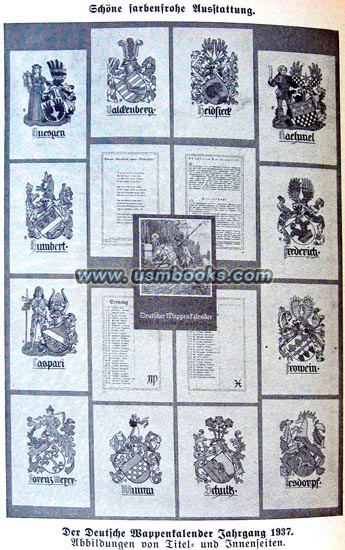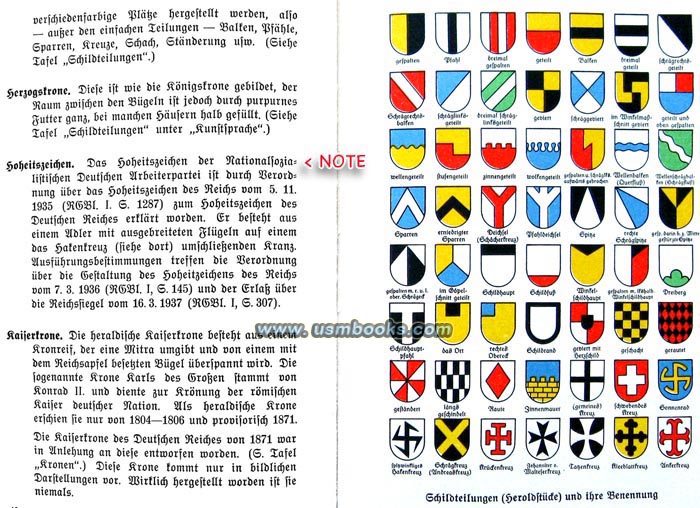 As one might expect, genealogical research in Third Reich Germany was a very popular subject. Many people were anxious to research and prove their lineage so they could fill out an Ahnentafel or NSDAP Abstammungsnachweis to prove that they did not have Jewish ancestors, and that they had a perfectly Aryan heritage and were racially pure Germans. The process was more important during Adolf Hitler's Third Reich than it had ever been in the history of Germany and even very common people were quick to trace their ancestry and find out about their family Wappen or coat of arms.
This excellent 5-1/8 x 7-1/2 inch, 106 page hardcover Wappenfibel was published in 1937 by the Verlag für Sippenforschung und Wappenkunde in Görlitz, Germany. Like the Panzerfibel that explained the basics of tanks, the Wappenfibel explained the basics of coats of arms in rather fine detail. There are 54 illustrations in the text that show everything from eagles to crowns and there is a general dictionary of the important aspects of coats of arms.
Between page 40 and 41 there is a full-color plate illustrating 56 different shields including some with swastikas on them. Between pages 62 and 63 there is a long fold-out with four more full-color, full-page examples of family coats of arms.
If you have an interest in the subject of German family coats of arms at the time of the Third Reich this hardcover edition of Hildebrandts Wappenfibel would be a welcome edition to your library. Very good condition.
RARE NAZI FAMILY CREST BOOK 1937
THIRD REICH
HILDEBRANDTS WAPPENFIBEL
OR HILDEBRANDT'S COAT
OF ARMS GUIDEBOOK
WITH 54 PICTURES AND
6 COLOR PANELS


The images and the entire text used on this and all other USMBOOKS web pages are the copyrighted property of USM Inc. Those images and the text may be used by others ONLY AFTER completion of a formal international licensing agreement and payment of a licensing fee! It is therefore, illegal for anyone to take any of the material found on USMBOOKS.com and use it for their own purposes without our written permission, irrespective of any excuse they may feel they have for doing so.