The images and text used on this and all other USM web pages are the copyrighted property
of USM Inc. Those images and the text may be used by others ONLY AFTER completion
of a formal international licensing agreement and payment of a licensing fee!
---
TYPICAL METAL BOXES FOR TOBACCO DURING
THE THIRD REICH:
KURS TABAK - ERNST UDET
Very rare and in good
condition -
**SOLD**.
We will be happy to ship abroad
at additional cost. Please inquire.
This USM Books website is Copyright © 2008 by USM, Inc., and the text and images on it are fully protected by international copyright law. It is therefore, illegal for anyone to take any of the material found here and use it for their own purposes without our written permission, irrespective of any excuse they may feel they have for doing so.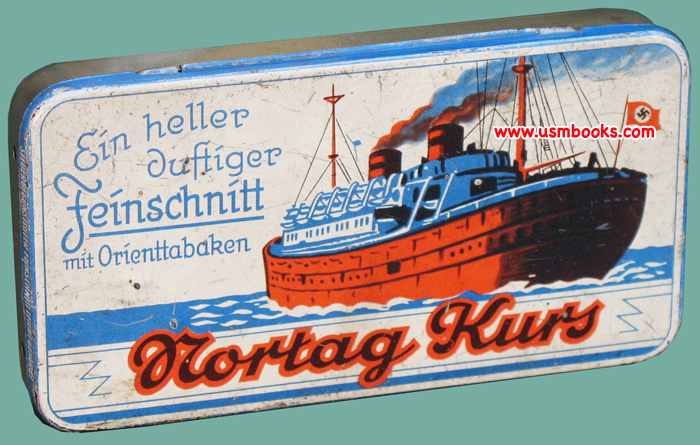 Most soldiers of the Waffen-SS and Wehrmacht did not buy ready-made cigarettes, but either "rolled-their-own" or smoked tobacco in pipes. In both cases they purchased bulk tobacco, usually in tin boxes like these, according to their preference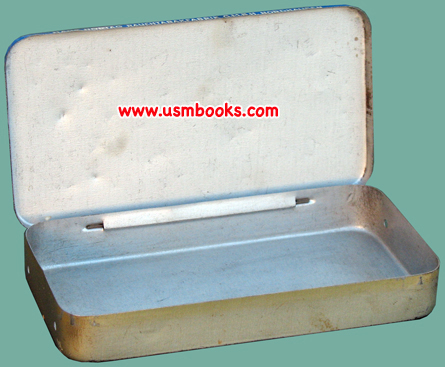 NORTAG KURS
SMOKING TOBACCO
This nice 7/8 x 3 x 5-5/8 inch metal box is decorated with a picture of a departing ship, the German swastika flag flying from the stern. Packaged by Haus Nortag in Nordhausen (home of Dora concentration camp), the text on the hinged lid says that the contents of the box was a "light, aromatic, finely cut product containing Oriental tobaccos".
Very rare and in nice
condition.
**SOLD**
.
We will be happy to ship abroad at
additional cost. Please inquire.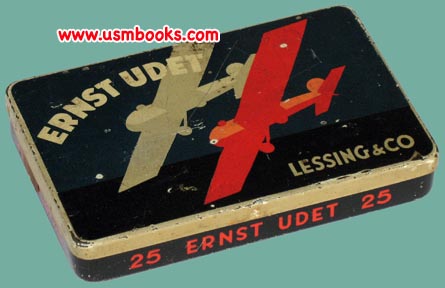 This is a printed metal can that once held 25 Ernst Udet cigarettes. Very similar in construction to the Nortag tin above, this 3/4 x 3 x 4-3/4 inch cigarette box was made to hold 25 Ernst Udet brand cigarettes manufactured by Zigarettenfabrik Lessing & Co. in Frankfurt am Main, Germany. The top of the box shows two beneath the name ERNST UDET.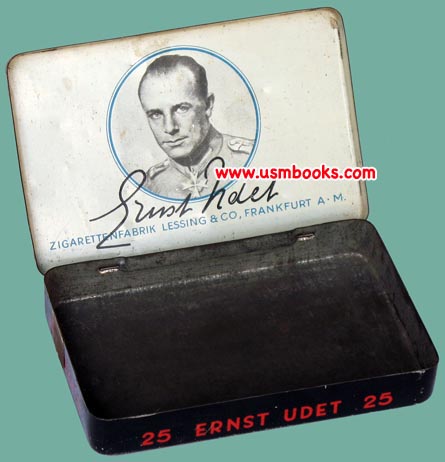 Inside the lid is a picture of the famous member of the Von Richthofen Squadron, World War I Luftwaffe Ace, Blue Max (Ordre pour le Mérite) winner and noted Nazi pilot above a replica of his autograph.