The images and the entire text used on this and all other USMBOOKS web pages are the copyrighted property of USM Inc. Those images and the text may be used by others ONLY AFTER completion of a formal international licensing agreement and payment of a licensing fee! It is therefore, illegal for anyone to take any of the material found on USMBOOKS.com and use it for their own purposes without our written permission, irrespective of any excuse they may feel they have for doing so.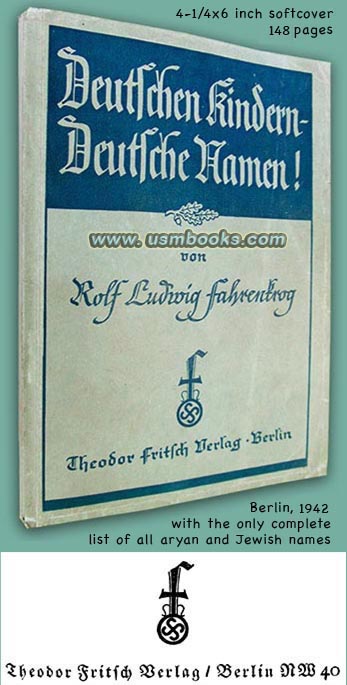 This book by Rolf Ludwig Fahrenkrog is the very best Third Reich treatise there is on the Nazi point of view on given names for the children of German parents. A quotation from a page preceding the lists of names sets the tone for the author's point of view on the subject: "the German name has a real German sound to it!"
German Children - German Names! begins with an overview in which the author gives credit to the "Germanic Revolution" that took place when the National Socialists came to power in Germany and the resulting return to German thinking, German traditions; to the clean core of the German Nation. Fahrenkrog considered it a victory for Racial and Nordic Principles.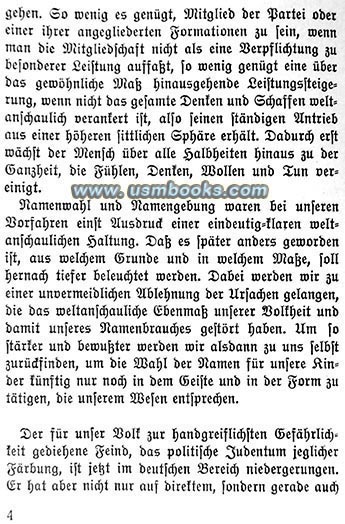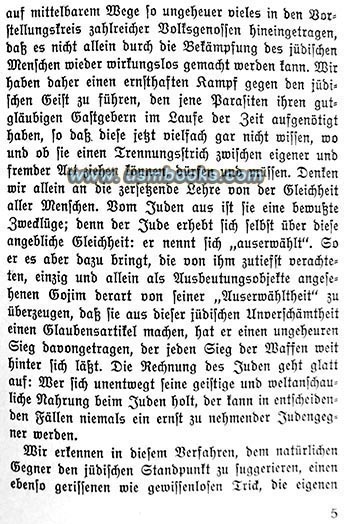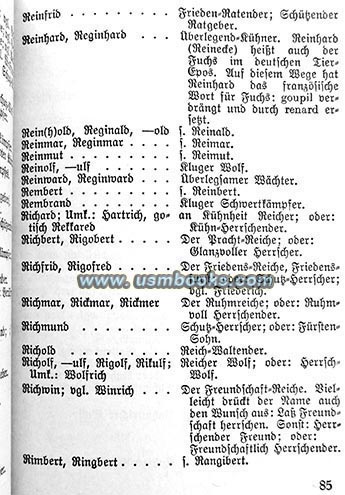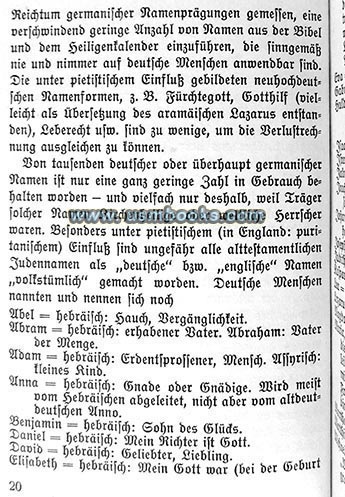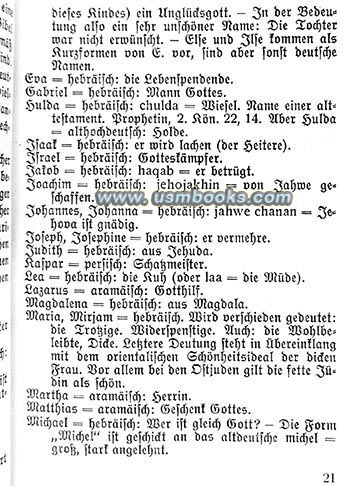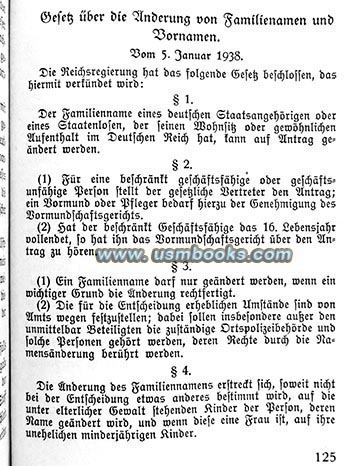 The cover of this 74+ years old book is somewhat faded, but it is complete and in nice used condition. Name of a previous owner on the title page and page 3.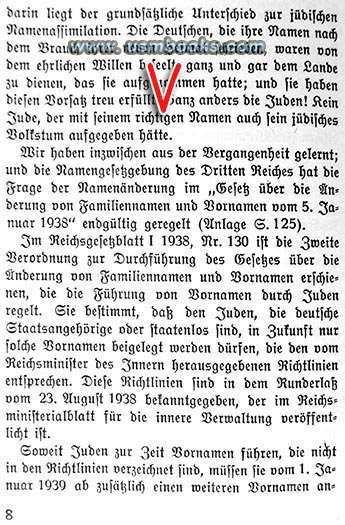 He goes on to say that Adolf Hitler and the Nazi Party awakened the need for a German future using important principles from the past and the choice of names was to be regarded as an expression of clear position on ones German heritage. It involved taking a stance against foreign influences, foreign names and names of Jewish enemies.
The author quotes the changes in official German laws regarding Namengesetzgebung in the Third Reich, 1938 legislation by the German Minister of the Interior Heinrich Himmler, that made it obligatory for German Jews to add Israel and Sara to their birth name. The official process on how this had to be done in accordance with German Law is spelled out in detail.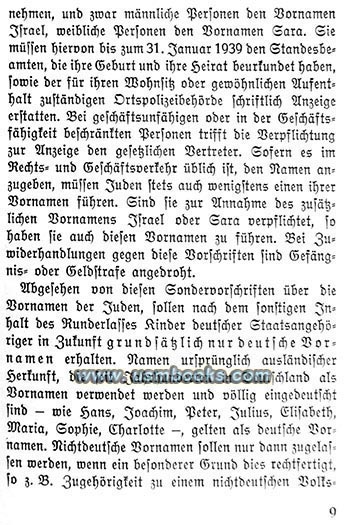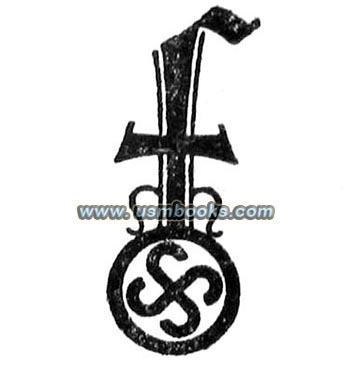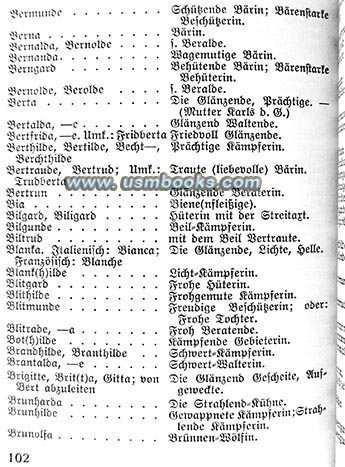 The background and source of names is covered: Germanic, Christian, Hebrew, English. Deutschen Kindern - Deutsche Namen! has a list of proper Aryan names and names showing a connection to ones race and Germanic background, as opposed to Judennamen (Jewish names), which are listed separately.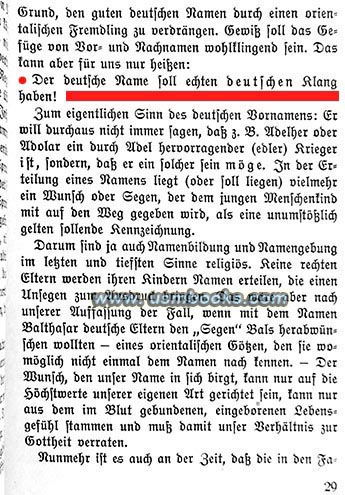 Fahrenkrog contends that parents should give their children names that show a connection to their Nation and Race, and thus to the powerful past of that Nation and People.
The 4-¼ x 6 inch, 148 page soft cover book published by Theodor Fritsch Verlag of Berlin in 1942, leaves no room for questions. The subject is fully explained in an historical and social German context and the lists of commendable names provided parents plenty to chose from. The entire subject as laid out in this book is a marvelously perfect example of the typical Nazi quest to remove all mystery from popular topics, thereby eliminating them from further discussion or capricious consideration.
This Nazi guide book for proper German male and female names is for
sale for $95.00 delivered by Media Mail in the continental USA.


USM book #819
• IF you prefer faster and safer Priority Mail shipping with USPS Tracking add $6.50.
• IF you wish to purchase highly recommended, but optional insurance, add $3.50.
• We will be happy to ship abroad at additional cost. Please inquire.
NAZI BOOK ON PROPER ARYAN GERMAN GIVEN NAMES
'GERMAN CHILDREN - GERMAN NAMES'
THE 1942 GUIDEBOOK
OF MALE AND FEMALE GERMAN GIVEN NAMES,
AS WELL AS THE NAMES
SET ASIDE FOR JEWS
THE BOOK IS DEDICATED
TO FAMILIES WITH
LOTS OF CHILDREN