Have a look at the many other original
Third Reich maps for sale on USMBOOKS.com.
This Nazi highway, Reichsautobahn and railway map of Austria is offered
for sale for $75.00 delivered by 1st Class Mail in the continental USA.

•IF you prefer faster and safer Priority Mail shipping with USPS Tracking add $6.45.
• IF you wish to purchase optional insurance, add $2.75.
• We will be happy to ship abroad at additional cost. Please inquire.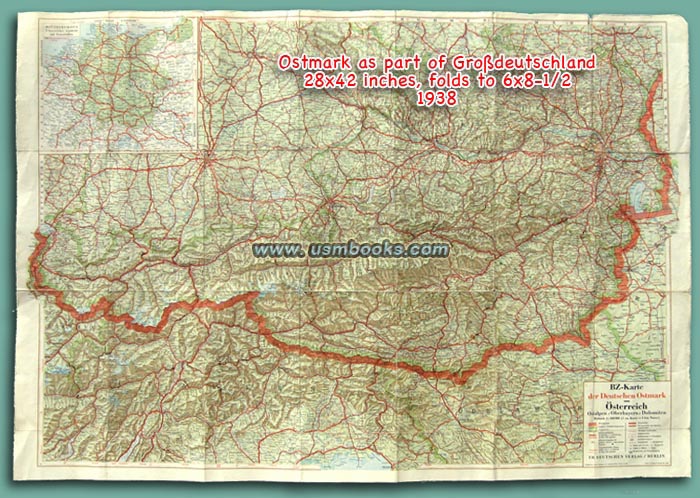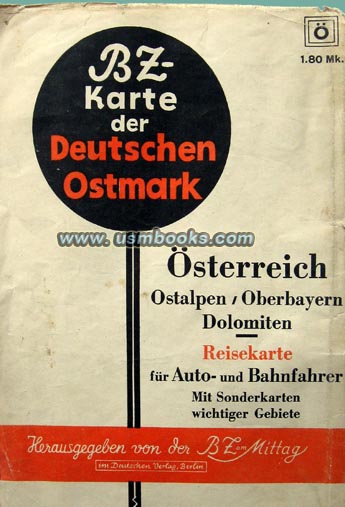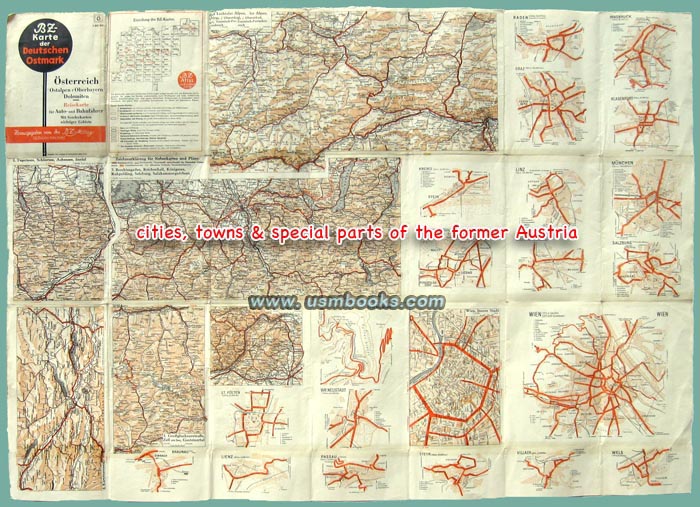 Hitler made no secret of his intention to re-unify the independent country of Austria with the country of Germany as part of the overall creation of Grossdeutschland or Greater Germany (the German equivalent of "Great" Britain). In the early part of 1938, Hitler offered Austrians the opportunity to become a part of Germany and in a plebiscite in which virtually all Austrians voted, 97% agreed with Hitler and the Anschluss or reunification became a part of European history.

With reunification, many things changed because Austria was quite a backward country compared to Germany. In half the country traffic kept to the right, while in the other half traffic kept to the left. Quite a challenge along the border between the two traffic zones! Austria was quickly brought up to date as it was incorporated into Germany, with German currency, German road signs and German institutions.
Few maps from the period survive, but this is one of the best large-scale travel maps of Deutsche Ostmark, the former Austria. It measures 28 x 42 inches and contains all highways and principal roads, the layouts for the Reichsautobahn, railway lines and special maps of important cities and towns. A special section in the upper left also shows the shape of Germany with the Deutsche Ostmark added to it.
The map is in nice used condition but has had its folds scotch taped from the backside to prevent it from tearing.
LARGE NAZI OSTMARK HIGHWAY, RAILWAY AND CITY MAP
ORIGINAL THIRD REICH MAP OF THE SOUTHEASTERN PART OF GROSSDEUTSCHLAND


The images and the entire text used on this and all other USMBOOKS web pages are the copyrighted property of USM Inc. Those images and the text may be used by others ONLY AFTER completion of a formal international licensing agreement and payment of a licensing fee! It is therefore, illegal for anyone to take any of the material found on USMBOOKS.com and use it for their own purposes without our written permission, irrespective of any excuse they may feel they have for doing so.