The images and the entire text used on this and all other USMBOOKS web pages are the copyrighted
property of USM Inc. Those images and the text may be used by others ONLY AFTER
completion of a formal international licensing agreement and payment of a licensing fee!
This USMBOOKS web page is Copyright © 2014 by USM, Inc., The text and images on it are fully protected by international copyright law. It is therefore, illegal for anyone to take any of the material found here and use it for their own purposes without our written permission, irrespective of any excuse they may feel they have for doing so.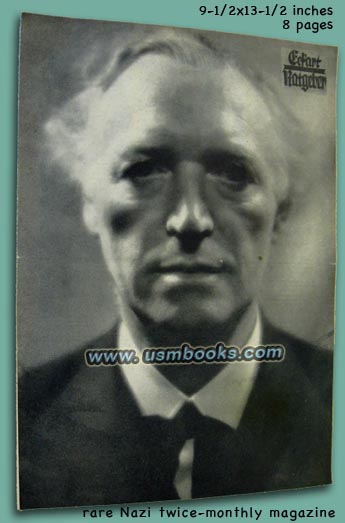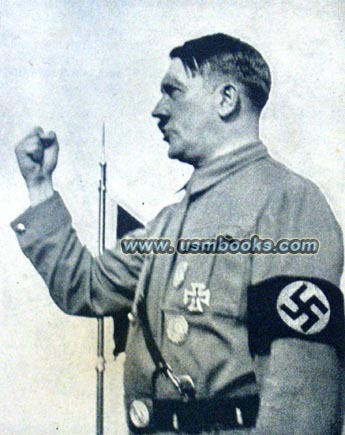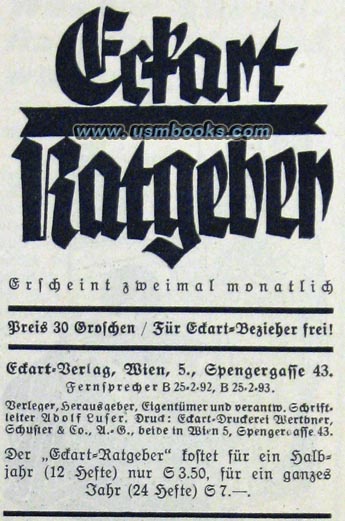 Ratgeben in German means giving advise. This 9-1/2 x 13-1/2, 8 page example of Eckart Ratgeber was published as a sample, to entice readers to subscribe to the larger magazine Der getreue Eckart that came out twice per month in Vienna when the Nazi Party was still illegal in Austria.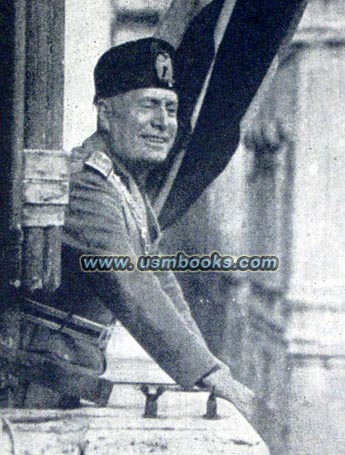 The main article in this undated Eckart Ratgeber is called "Success for Everybody". It uses Franklin Roosevelt as an example that his handicap did not stand in the way of becoming President of the United States, and the overall message is clearly that it is up to every individual to figure out what he or she wants out of life and to make it happen. Making a plan, sticking to it, leading a healthy life, etc.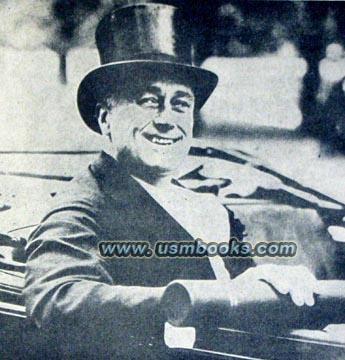 Il Duce, benito Mussolini is called a man who knows what he wants, and Hitler's confidence in himself and his vision made it possible to go from soldier to Reichschancellor!

Inside the front cover is a request to readers, to REALLY pay attention to the text in this magazine and let it sink in, not just look at the pictures. For readers who like the practical information in this Eckart Ratgeber, there are subscription possibilities with cost.

Very good used condition, was once folded through the middle.
This unusual pre-Nazi informational photo magazine is offered for sale
for $45.00 delivered by Media Mail in the continental USA.

• IF you prefer Priority Mail shipping with USPS Tracking add $5.95.
• IF you wish to purchase highly recommended, but optional insurance, add $2495.
• We will be happy to ship abroad at additional cost. Please inquire.
OVERSIZED NAZI RATGEBER SAMPLE MAGAZINE
ILLUSTRATED NAZI MAGAZINE WITH USEFUL, PRACTICAL ADVICE - UNDATED