This Nazi era pocket Taschenlampe produced by Philips in Holland
is offered for sale for $175.00 delivered in the continental USA.


• IF you prefer Priority Mail & USPS Tracking add $6.75 to your payment.
• IF you wish to purchase optional insurance, add $3.45 to your payment.
• We will be happy to ship abroad at additional cost. Please inquire.
When German troops invaded Holland in 1940 they found that the large Dutch exporting company Philips in Eindhoven had capacity to manufacture something that their soldiers, sailors and airmen needed very badly - a no-batteries-required, squeeze-type pocket-size dynamo flashlight (the bulb remains lit as long as you keep squeezing the spring-loaded hand piece).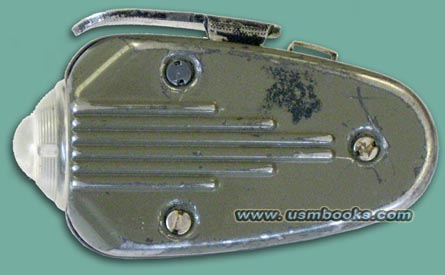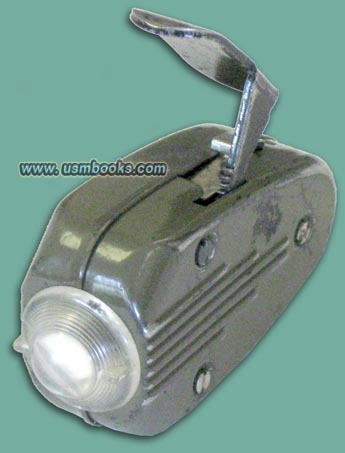 In 1943 the Germans put the flashlight into production for the Wehrmacht and the little "knijpkat" (pronounced Knyp-Kot, means "squeeze cat") found its place in military history. It was produced ONLY in 1943 with a steel case painted an olive green color. After the war Philips produced a similar flashlight but the case is made from aluminum, unpainted.

German military flashlights or Taschenlampen (pocket lamps) came in all shapes and sizes and were made by dozens of European manufacturers during World War II. Probably the most common Wehrmacht style was made with a rectangular metal case containing batteries and either wire or leather attachments to facilitate hanging it from a coat button.
Somewhat more sophisticated were the "dynamo" type pocket lamps that did not require a battery. Rather, they contained a small armature and flywheel driven by a gear meshing with teeth on a hand lever. As the armature turned it generated enough electrical current to light a small bulb and the flywheel kept the armature turning between "pumps" on the hand lever. These were widely used by the Army, SS, Kriegsmarine, Luftwaffe in the Third Reich Germany of Adolf Hitler.

The flashlight is about 1 inch thick, 2 inches tall, 3-1/2 inches long and weighs about 5 ounces. Working the hand lever of this Taschenlampe produces a "quiet" noise that would have been recognized instantly by every Landser in the German Army.

This Wehrmacht Taschenlampe is in very good working condition with 90+% of its original olive green paint. Complete with the rare original lens that is often missing.

If you need parts, look at the one below.

NAZI WEHRMACHT DYNAMO FLASHLIGHT
A NICE WORKING
TASCHENLAMPE
OR POCKET
FLASHLIGHT
POWERED BY A
HAND GENERATOR AS USED BY THE GERMAN ARMED FORCES DURING WORLD WAR II


The images and the entire text used on this and all other USMBOOKS web pages are the copyrighted property of USM Inc. Those images and the text may be used by others ONLY AFTER completion of a formal international licensing agreement and payment of a licensing fee! It is therefore, illegal for anyone to take any of the material found on USMBOOKS.com and use it for their own purposes without our written permission, irrespective of any excuse they may feel they have for doing so.