The images and text used on this and all other USM web pages are the copyrighted property
of USM Inc. Those images and the text may be used by others ONLY AFTER completion
of a formal international licensing agreement and payment of a licensing fee!
---
NAZI GUARD AND WATCH DOG MAGAZINES
9 DIFFERENT ISSUES OF
THE RARE THIRD REICH
MONTHLY MAGAZINE OF THE
FACHSCHAFT FÜR GEBRAUCHSHUNDE (THE PROFESSIONAL ASSOCIATION
FOR SPECIAL SERVICE DOGS)

This lot of rare Nazi dog magazines is **SOLD**.
We will be happy to ship abroad at additional cost. Please inquire.
This USM Books website is Copyright © 2010 by USM, Inc., and the text and images on it are fully protected by international copyright law. It is therefore, illegal for anyone to take any of the material found here and use it for their own purposes without our written permission, irrespective of any excuse they may feel they have for doing so.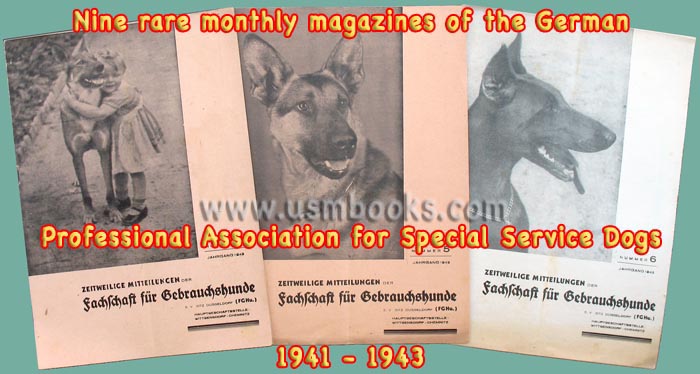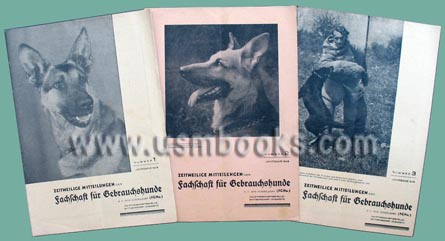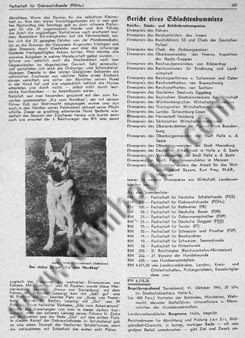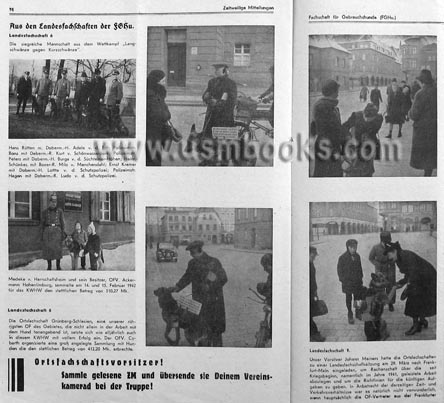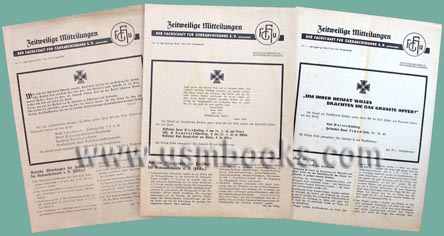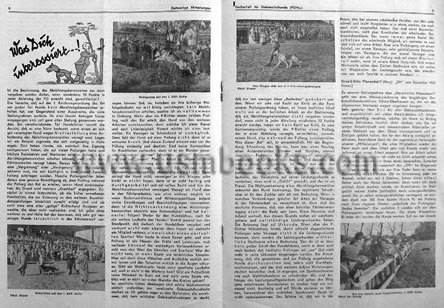 Der Fachschaft für Gebrauchshunde eV or the Professional Association for Special Service Dogs had its headquarters during the Third Reich in Düsseldorf and was published monthly to provide news, photos and information for breeders, trainers, owners and users of Gebrauchshunde or specially trained service dogs. Those are typically dogs used as watch dogs, rescue dogs, military dogs, protective dogs, mine sniffing dogs, attack dogs, dogs for the blind, etc. Among the dogs used for such purposes are Alsatians, German shepherds, Rottweilers, Doberman Pinschers, Collies, Shelties, Leonbergers, etc.
In Germany during the Third Reich such dogs were used by the SS, the police, the Wehrmacht and political organizations and people from those groups read this magazine along with the civilian membership.

The 8-1/4 x 11-1/2 inch, 16 page monthly magazine carried news of the Reichsverbandes für Hundewesen (RH) in addition to informational articles, official announcements, notices of the military death of members, prize lists, competitions, personals, etc.
Issue number 1 for 1943 starts with a call or request from SS-Standartenführer and President of the RH Mueller on behalf of the
Abteilung SS-eigene Zucht, Beauftragter für Diensthundwesen
in Berlin-Steglitz for dogs to be used in the SS breeding program. There are also articles about Wehrmacht Soldiers and their Dogs, Dogs in War Zones, the "War Dog" of the Panzer Commander, Scottish Shepherds, etc.
This rare lot of Nazi dog magazines consists of issue 11 of 1941, issues 1, 2, 3, 4, 5, 6 and 8 of 1942 and issue 1 of 1943. Issues 11/41, 8/42 and 1/43 have no covers but the others do.

All the magazines are in very good, lightly used condition.
If you are interested in additional original magazines from
the Third Reich period in Germany, click HERE.