The images and the entire text used on this and all other USMBOOKS web pages are the copyrighted property of USM Inc. Those images and the text may be used by others ONLY AFTER completion of a formal international licensing agreement and payment of a licensing fee! It is therefore, illegal for anyone to take any of the material found on USMBOOKS.com and use it for their own purposes without our written permission, irrespective of any excuse they may feel they have for doing so.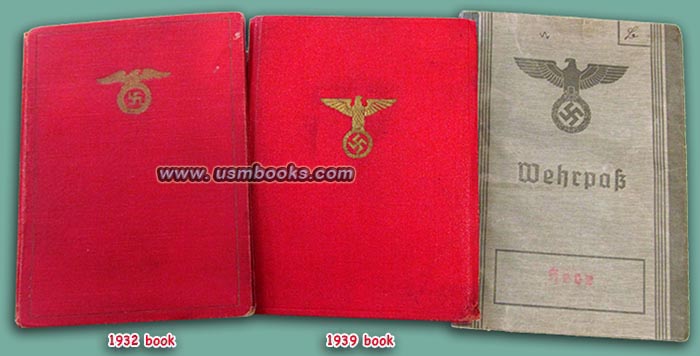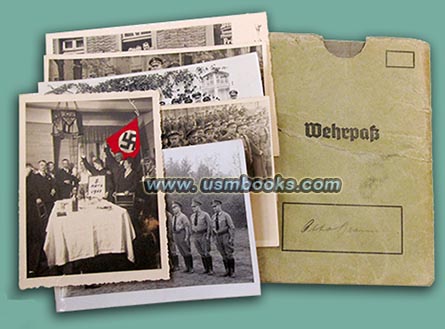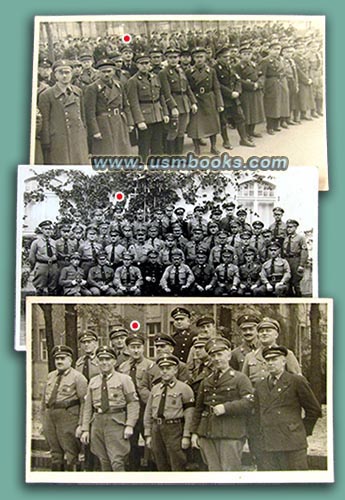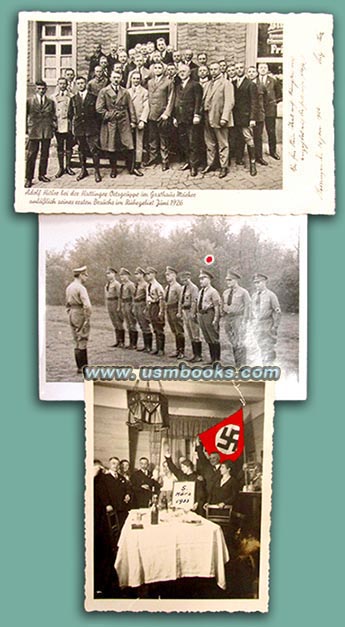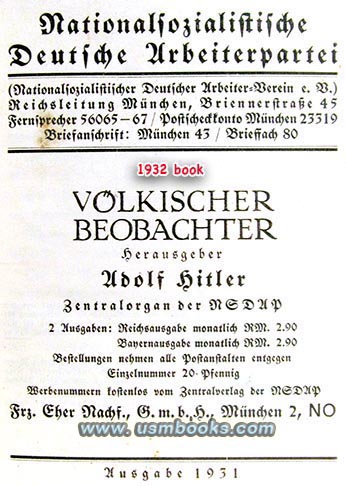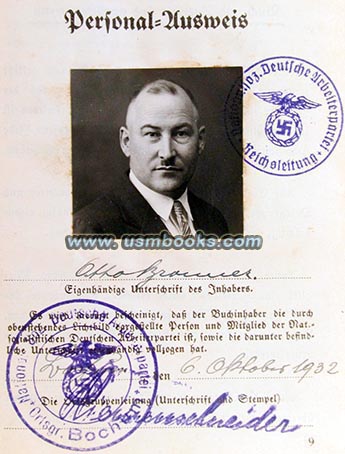 This is a great Nazi grouping that belonged to Otto Bronner, an engineer from Bochum who was born in Steinen on 15 July 1897. The grouping contains TWO editions of the Nationalsozialistische Deutsche Arbeiterpartei Mitgliedsbuch, both a 1931 edition and a 1935 edition of the Nazi Party Membership Book issued to Bronner, a Wehrpass issued to Bonner on 25 June 1937 as well as six Third Reich photos, four of them showing Otto Bronner in uniform.

From the material in this grouping we know Bonner was a decorated World War I veteran and POW, an early member of the Nazi Party, a husband and father, and an engineer who worked for a company that used foreign slave labor during World War II.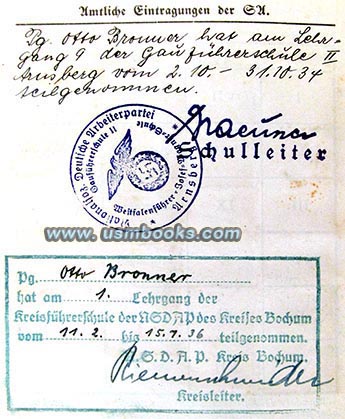 According to information in his very rare 40-page, 4 x 5-1/4 inch, 1931 early edition Nazi Party Mitgliedsbuch or Membership Book number 469423, Bronner joined the NSDAP on 1 March 1931, when he was 33 years old. This Nazi Party membership ID was issued on 6 October 1932 in Bochum. It contains the original ID photo and membership dues stamps for 1932 - 1938, including the Reichsparteitag stamps for 1935 and 1936.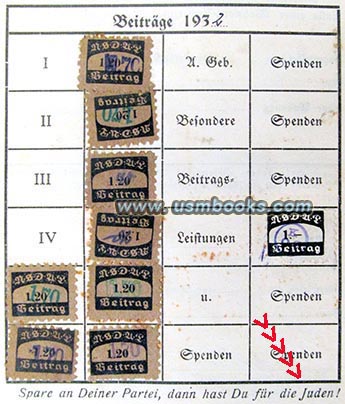 Two additional entries on page 22 (above) show Pg. Bonner participated in classes at the Gau Führerschule in Arnsberg and the Kreisführerschule in Bochum in 1936 and 1937.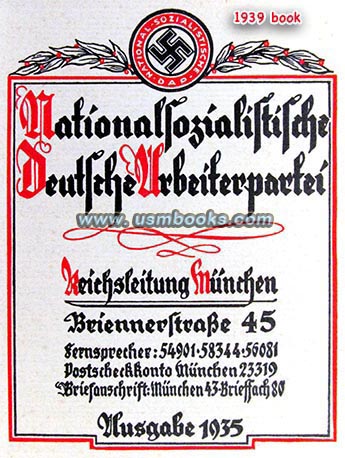 On 24 May 1939, Otto Bronner received a second NSDAP Mitgliedsbuch, the more colorful 1935 edition. The original ID photo shows Bronner still had a Hitler mustache, and that he still lived in Bochum. It has the same number as his first Nazi Party membership ID (469423) and contains membership contribution stamps for 1939 through late 1944. On page 30 there are notations that he changed from Ortsgruppe Bochum to Ortsgruppe Lauenburg-Elbe in May 1939.
Any grouping containing two Nationalsozialistische Deutsche Arbeiterpartei Mitgliedsbücher made out to the same person is very rare!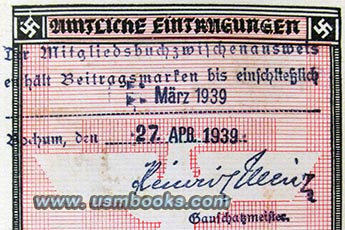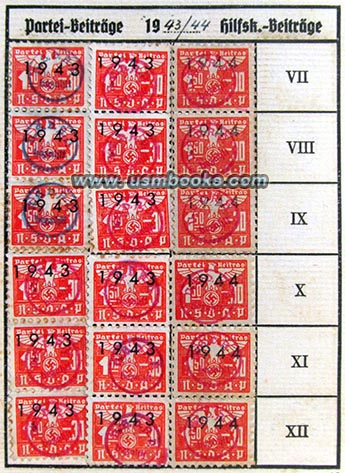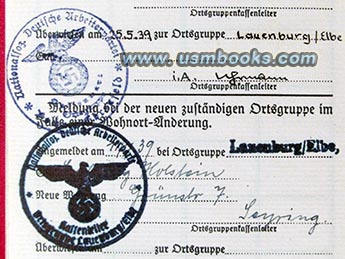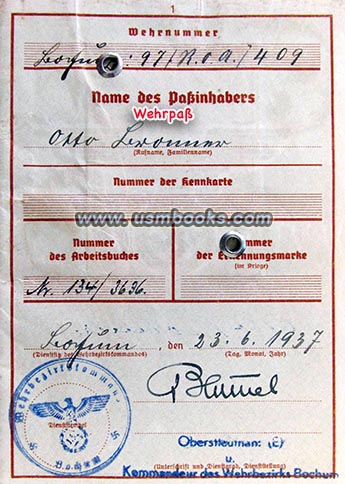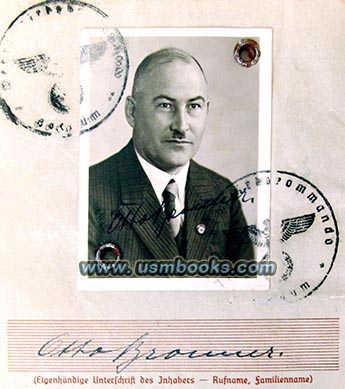 The Wehrpaß in this grouping (still in its original 4-½ x 6 inch sturdy protective cover) was issued to Otto Bronner on 23 June 1937 in Bochum. It shows he was married at the time, that he was the father of three children and that he had a driving permit and was a Leutnant in the Army.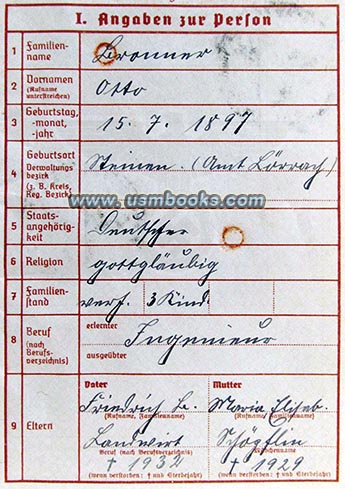 Both his parents were deceased, his father's occupation was listed as farmer. Page 11 shows he took his military oath on 26 July 1937. Page 12 shows his military service in the Infantry on the west front during World War I from July 1916 through 1 November 1918 when he was wounded, and that he was a Prisoner of War from 1 November 1918 through 19 September 1919. He was awarded the Iron Cross 2nd Class on 26 August 1917.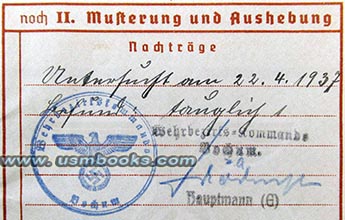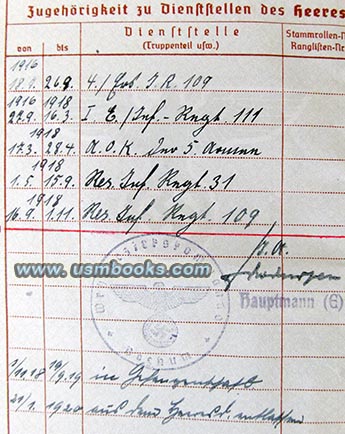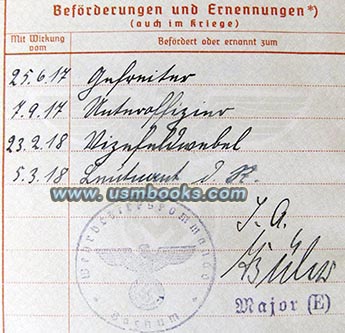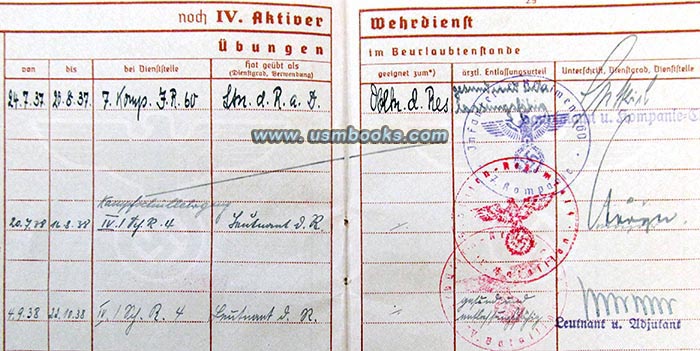 He was in the Reserves during World War II. Inside the front cover of Bronner's Wehrpaß we found a bright pink Wehrpaß-Notiz dated 15 August 1939, originating at the Wehrbezirkkommando in the city of Lübeck.
It shows that at the time Bonner was employed at Dynamit AG Düneberg (yes, the explosives firm), a company in Krümmel (Schleswig-Holstein) that employed slave laborers during World War II.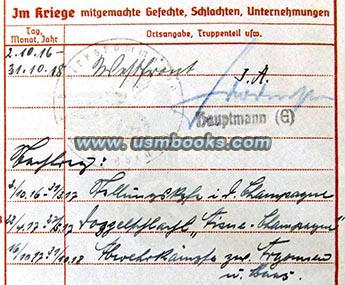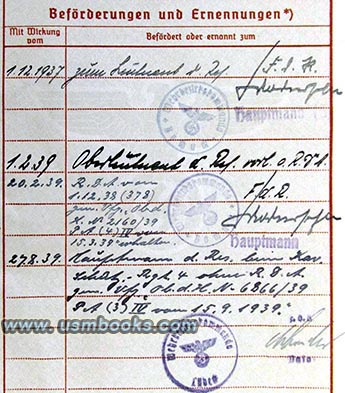 There is also an official notice from the Wehrbezirkkommando Lübeck dated 12 May 1944 that Rittmeister der Reserve Otto Bronner could resume his civilian employment.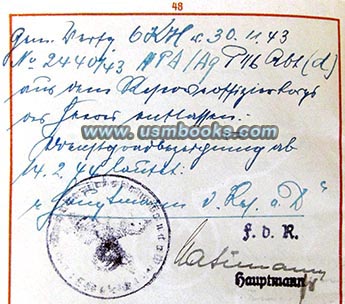 There is also a rare 3-½ x 5-½ inch, unused deckle edge postcard of Adolf Hitler during his visit to the Ruhrgebiet in June 1926 (shown left). The picture was taken at Gasthaus Märker in Hattingen (a few miles from Solingen) and shows Hitler and Dr. Joseph Goebbels with a group of men of the NSDAP Ortsgruppe Hattingen. We found the same photo on the website of the United States Holocaust Memorial Museum, but without the printed dedication and signature by Hitler on the right side.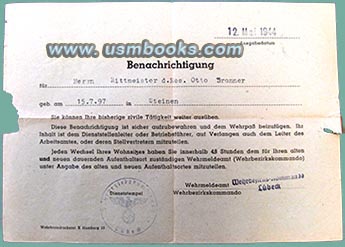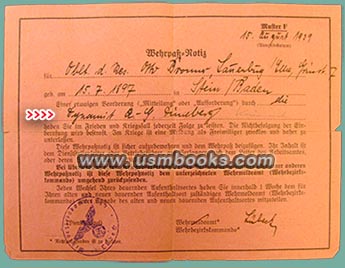 Inside the front cover of Bonner's Wehrpaß there were also three old, small photocopies showing Bronner was the recipient of the Ehrenkreuz für Frontkämpfer (dated 12 November 1935), the Verwundetenabzeichen (a Black Wound Badge, dated 26 November 1937) and the Kriegsverdienstkreuz 2. Klasse (dated 1 May 1941).
This Third Reich grouping also contains four photos showing Bronner in uniform, as well as a deckle edge black & white photo with a red swastika flag showing a celebration on 5 March 1933 (clearly the people in the photo were happy with the results of the Reichstagswahl, the parliamentary elections of that day).
A rare, historical Third Reich double-document and photo grouping in very good condition.
This fine Nazi document grouping of Otto Bronner is offered for sale
for $995.00 delivered by 1st Class Mail in the continental USA.

• IF you prefer faster and safer Priority Mail shipping with USPS Tracking add $7.20.
• IF you wish to purchase highly recommended, but optional insurance, add $11.95.
• We will be happy to ship abroad at additional cost. Please inquire.
100% ORIGINAL THIRD REICH NAZI PARTY GROUPING WITH
TWO NSDAP MEMBERSHIP BOOKS - RARE!
A SPLENDID
GROUPING
CONSISTING OF
TWO NAZI PARTY
MEMBERSHIP IDs
FOR THE SAME
ENGINEER, ALONG
WITH HIS
WEHRPASS AND
SIX NAZI ERA PHOTOS