This historic Nazi document grouping of Philipp Guyot is offered
for sale for $225.00 delivered by 1st Class Mail in the USA

• IF you prefer Priority Mail shipping with USPS Tracking add $6.95.
• IF you wish to purchase optional insurance, add $4.75.
• We will be happy to ship abroad at additional cost. Please inquire.
NAZI DOCUMENT GROUPING PHILIPP GUYOT:
SA AUSWEIS, KENNKARTE, PHOTOS & HAND-DRAWN MAP OF HIS WW2 GRAVE IN LATVIA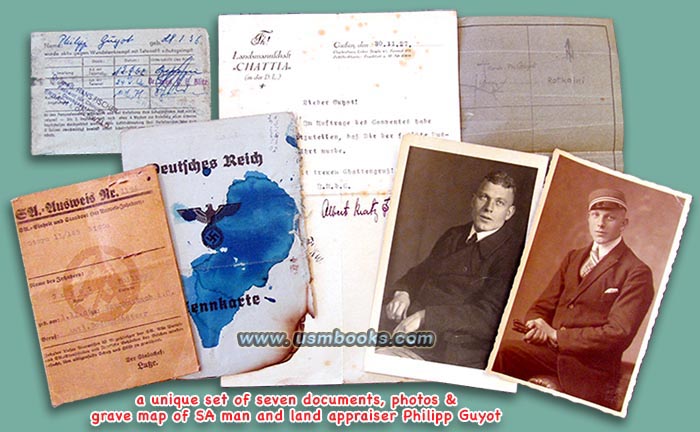 The material in this USMBOOKS grouping belonged to Philipp Guyot, a surveyor born on 1 November 1906 in Waschenbach im Odenwald, a village south of Darmstadt. According to the information in his SA-Ausweis number 1194, he was a Truppenführer in Sturm 11/145 Nidda and had been member 293187 of the Nazi Party since 1 September 1930. The 1937 SA membership document has its original ID photo showing Guyot in his SA uniform, and the back panel has membership stamps thru 1940. It is in very nice condition.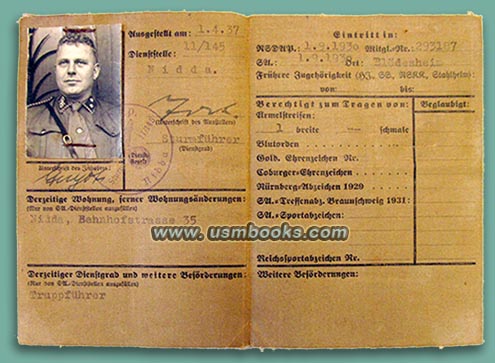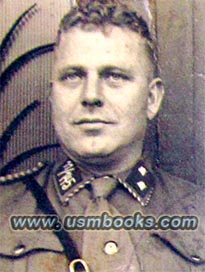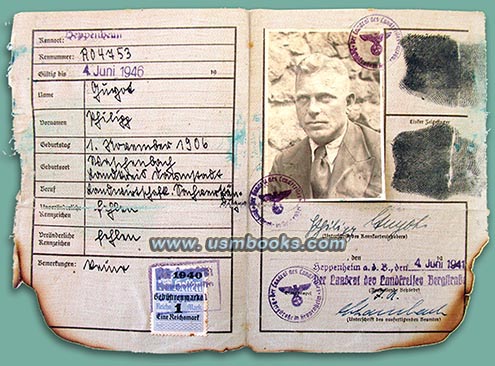 This Guyot grouping also includes his Nazi Kennkarte or Civilian Identity Document issued on 4 June 1941 at Heppenheim a/d Brenz. It was valid until 4 June 1946. The original ID photo shows Philipp Guyot in civilian clothing. As can be seen in our photos, this Nazi ID is not in very good condition.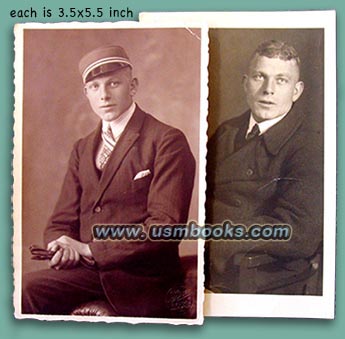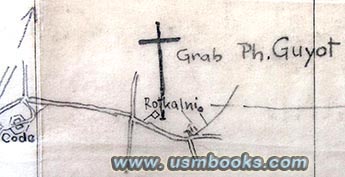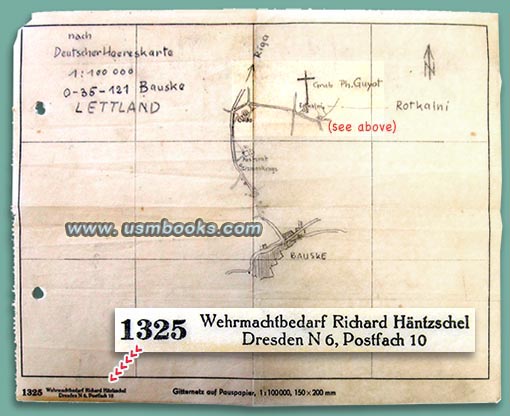 A very unusual part of this lot is a hand-drawn map showing the location of Philipp Guyot's grave at Rotkalni, near the town of Bauska, 66 km south of Riga, the capital of Latvia. The German spelling of the historic fortress town 20 km from the border of Lithuania, is Bauske and from the summer of 1941 until September 1944 the area was in German hands.
It was a historic Germanic town with a large number of Jewish inhabitants when the Wehrmacht arrived in June 1941. About 2000 of them were exterminated in July and August of 1941. In 1944, Soviet forces reached the area on 21 June and after heavy fighting the German Army was defeated at Bauske on 14 September 1944. The person who drew the map of the location of Guyot's grave used a Deutsche Heereskarte or German Army map and today the location would be just east of the intersection of the A7 freeway and P94 highway. Unfortunately, no date of death is shown.
Other material in this lot are two portrait photos of Guyot. In one he is wearing civilian clothes and the other is from his time as a university student. The 5-½ x 8-3/4 inch letter dated 30 November 1927 (in photo at the top of this USMBOOKS web page) shows that during his time as a student, Guyot had been a member of Landsmannschaft Chattia, an association of students and graduates of the University and Technical College of Giessen (still active today, and still located at the same address as in 1927!).

The blue 3 x 4-1/8 inch, two-sided inoculation card (also shown in photo at the top of this USMBOOKS web page) belonged to his son, also named Philipp Guyot, born 28 January 1936. Three inoculations dated 1962, 1966 and 1971 are shown on the card, administered by a medical doctor in Erbach im Odenwald, a picturesque town very near to where his father was born.
An unusual Third Reich document grouping of a member of the NSDAP, SA and Wehrmacht. Condition exactly as shown.
NAZI DOCUMENT GROUPING OF A NSDAP & SA MEMBER
WHO DIED IN LATVIA


The images and the entire text used on this and all other USMBOOKS web pages are the copyrighted property of USM Inc. Those images and the text may be used by others ONLY AFTER completion of a formal international licensing agreement and payment of a licensing fee! It is therefore, illegal for anyone to take any of the material found on USMBOOKS.com and use it for their own purposes without our written permission, irrespective of any excuse they may feel they have for doing so.