This historic Nazi document grouping of Josef Kittler is
**SOLD**

• IF you prefer Priority Mail shipping with USPS Tracking add $6.95.
• IF you wish to purchase optional insurance, add $5.95.
• We will be happy to ship abroad at additional cost. Please inquire.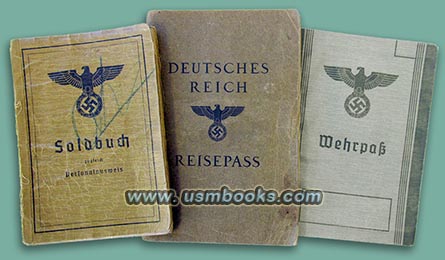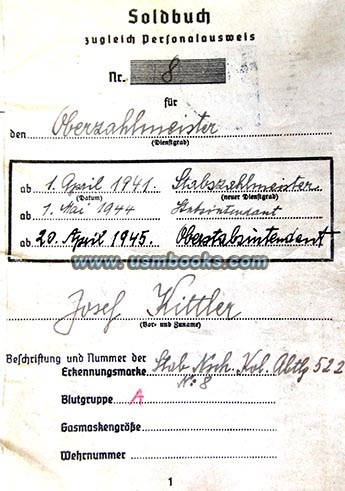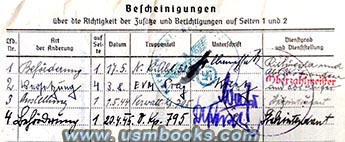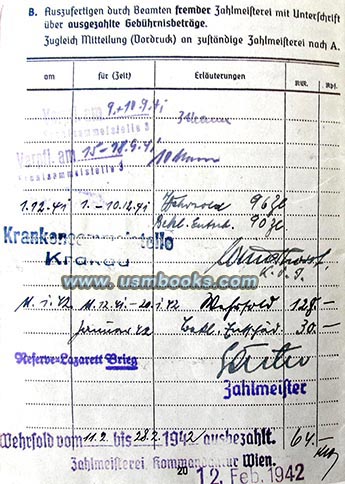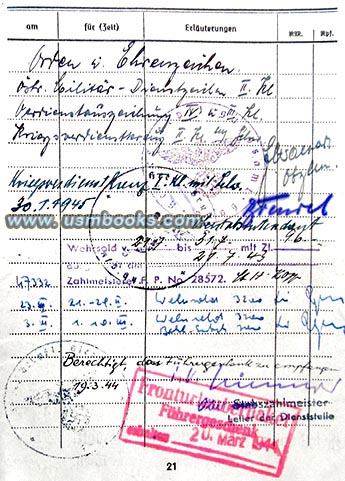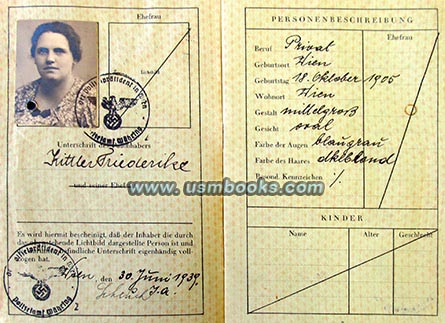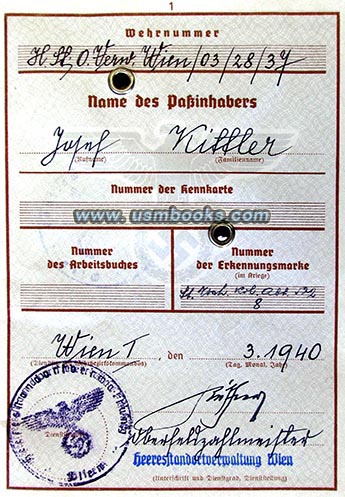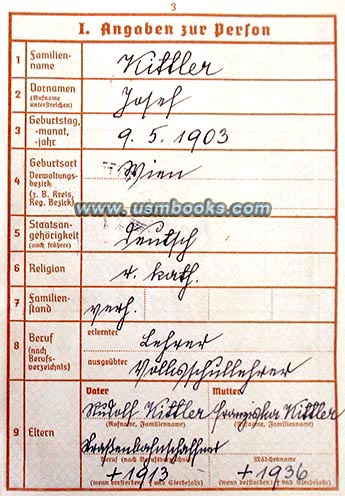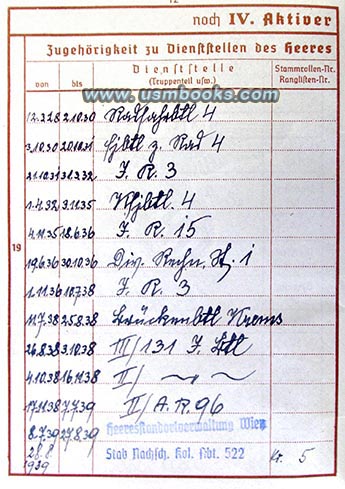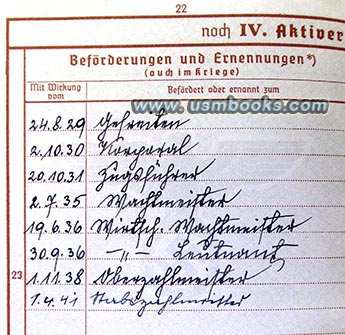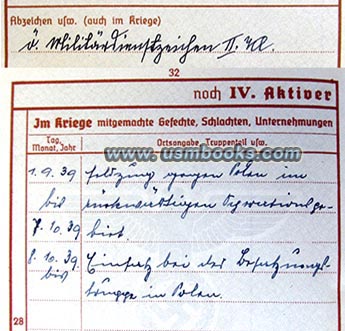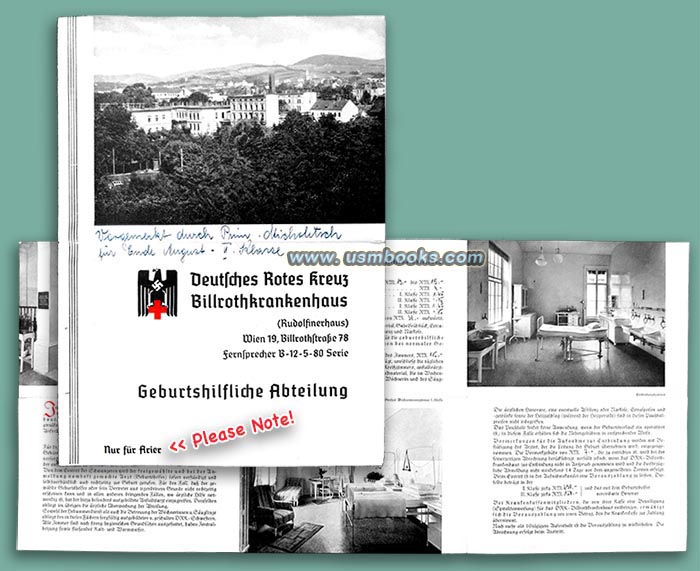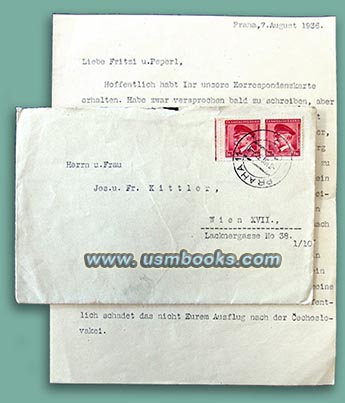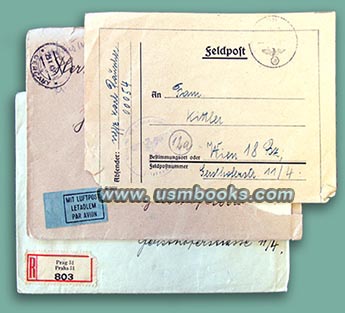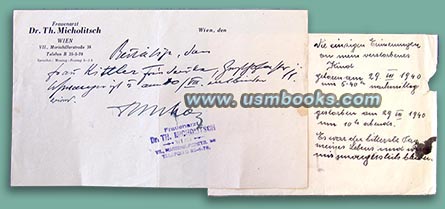 The Third Reich document grouping offered for sale on this USMBOOKS web page contains a Nazi Soldbuch and Wehrpass for the same Officer, a passport for the Officer's wife, a Red Cross maternity hospital brochure (marked "For Aryans Only"), a Feldpost letter and other correspondence to Josef Kittler, a Wehrmacht Officer and his wife Katharina Friederike Kittler from Wien (Vienna).
Josef Kittler was born on 9 May 1903 in Wien. After finishing his education in 1928 he did his military service in the Austrian Army and became an Oberzahlmeister, a Senior PayMaster and then a Stabsintendant. After the Anschluss in 1938 he merged into the German Army as an Oberzahlmeister. He became a Truppenzahlmeister and head of an Armee-Umschlagplatz, an Army Transfer Point and served in Poland and Russia. He was wounded and after convalescing he was in charge of "Meat and Sausage Provisioning" (Fleisch- und Wurstversorgung) in the Protectorate of Bohemia and Moravia between February 1942 and July 1943. At the end of July 1943 he was sent to Russia again where at Heeresgruppe Süd Kittler became Stabintendant und Kompaniechef of an Administration Company and then head of a provisions outfit of Heeresgruppe Süd. He was a Prisoner of War and after his release Kittler returned to Vienna where in November 1945 he applied for a job at a bank.
The Soldbuch und Personalausweis (Pay Book and Personal Identification Document) in this grouping was issued to Josef Kittler on 11 September 1939 by the head of the Nachschub-Kolonnen-Abteilung 522, a supply transport company. It shows Kittler was promoted in 1941 (to Stabszahlmeister), 1944 (to Stabsintendant or Staff Commissariat Officer) and for the last time on Hitler's birthday, 20 April 1945, to Oberstabsintendant.
Kittler's Soldbuch has the usual entries about family, vaccinations, clothing issue and shows he was hospitalized for a rib injury, first in a Feldlazarett (a military field hospital) mid-November 1941, then moved to a hospital in Krakau (December 1941) and eventually to Hitler's birthplace, Braunau am Inn, in June 1942.

There are 4 extra pages added to Kittler's Soldbuch after page 8 on which it is noted that he was issued a gas mask and a Phenix wristwatch number 2024H.

Page 18 of Kittler's Soldbuch shows that as Paymaster he paid himself and then another Oberzahlmeister signed off after verifying Kittler's entries! Page 22 (shown left) notes that he was allowed to carry his own pistol, a Steyr Pistole cal. 7.65, and pages 23, 24 and an added page have entries for leave for business and personal purposes, all officially dated and stamped.
Kittler's Soldbuch security picture is missing but it is present in his Wehrpaß (Permanent Military Service Record Book) and shows him, a handsome young man in his Nazi Officer's uniform. Kittler's Wehrpaß was issued on 19 March 1940, shows his Erkennungsmarke (dogtag) number, family details (he was married but both his parents were dead) and shows he entered the army on 12 March 1928, and that he swore allegiance to Hitler on 14 March 1938, right after the Anschluss!
Page 12 shows shows his entire military career, page 22 all his promotions through 1 April 1941 and page 32 has entries about his participation in the invasion of Poland in September and October 1939 (shown left).
This Nazi document grouping also includes a Deutsches Reich Reisepass, Passport Nr. 160748 issued on 30 June 1939 by the police in Vienna to Josef Kittler's wife Katharina Friederike (née Fichtner) Kittler, born 18 October 1905. It was valid until 29 June 1944 and it was used to travel to Prague in July of 1939 and it still has the original ID photo of Mrs. Kittler attached on the back of the title page.
Shown here is another interesting item in this lot, a photo brochure of the Deutsches Rotes Kreuz Billrothkrankenhaus Geburtshilfe Abteilung, a German Red Cross Maternity Clinic in Vienna. The photo brochure is boldly marked "For Aryans Only" (Nur für Arier) on the front cover.
In it we found a doctor's note and handwritten note from Mrs. Kittler (both shown left). Apparently the DRK Billrothkrankenhaus Geburtshilfe Abteilung is where she delivered a baby on 29 March 1940. The note states the baby was born at 5:40 PM and died at 10 PM the same day and that "It was the bitterest day of my life which I will never be able to forget."
From miscellaneous letters in this lot we know that Josef and Friederike Kittler were nicknamed Peperl (or Pepi) and Fritzi and that they had relatives in Prague with the family name Unger. A typed letter from Josefa Ungerova (feminine of "Unger" in the Czech language) in Prague dated 7 August 1936 is filled with the latest family news - deaths, marriages, new jobs, family disputes, etc.


There is another letter from the Ungers sent to the Kittlers in Vienna AFTER the war. It is dated 21 October 1945 and is in response to a letter from the Kittlers in which they apparently had informed the Ungers that Josef Kittler had returned home after his time as a POW.

The Ungers confirm that they still had Kittler's belongings and that the situation in Prague was grim. Only bread and potatoes were available, no vegetables. Mrs. Unger wrote that farmers in the country would not accept ration cards, only gold, and that there was no coal available to heat the house. She predicted the coming winter would be worse than the last wartime winter! Other interesting news in the letter was that the Ungers were housing a repatriated woman refugee who had just discovered that her son had not died in the war.
A letter from an attorney named Rudolf Buchinger, dated 2 November 1945, addressed to Stabsintendant a.D. Josef Kittler contains a copy of a very informative Lebenslauf (Curriculum Vitae or resumé) Kittler had sent as part of a job application at a bank. It sheds more light on Kittler's time as a student, his military service (it mentioned he had been a POW) and membership in political parties. Interestingly, Rudolf Buchinger had been a Austrian Cabinet member prior to World War II, and after Gestapo imprisonment in 1944 became State Secretary for Agriculture and Forestry in Austria after the war. Apparently, Kittler's Curriculum Vitae had impressed Buchinger as he wrote that he would pass on Kittler's job application to a bank director in Vienna.


The lot also includes a Feldpost letter dated 30 April 1944 to Mrs. Kittler by an Officer named Karl Rauscher, a handwritten letter in Czech (still in its original envelope) dated 23 October 1945 from a Josef Kudrna in Czechoslovakia, a 1949 Czech death announcement for Josef Smejkal showing wife Anna Smejkalova of Karlovy Vary in Czechoslovakia as the survivor, a postwar color postcard addressed to Mrs. Kittler as well as a 31 December 1954 letter to Mrs. Kittler from an angry, disappointed friend who refers to a nasty note received from Mrs. Kittler.

These kind of historic Third Reich and World War II document lots shed great light on the military and everyday life of members of the Wehrmacht during wartime and their families. In most cases a few of the most important documents are saved and the remainder of the fascinating supporting material is discarded. Not in this case. This is a great 70+ year old Officer / family grouping in very nice condition.
NAZI DOCUMENT GROUPING OF A WEHRMACHT SENIOR PAYMASTER (ZAHLMEISTER) WHO SERVED IN POLAND, BOHEMIA & MORAVIA AND RUSSIA AND WHO ENDED WORLD WAR II AS A POW


The images and the entire text used on this and all other USMBOOKS web pages are the copyrighted property of USM Inc. Those images and the text may be used by others ONLY AFTER completion of a formal international licensing agreement and payment of a licensing fee! It is therefore, illegal for anyone to take any of the material found on USMBOOKS.com and use it for their own purposes without our written permission, irrespective of any excuse they may feel they have for doing so.