The images and the entire text used on this and all other USMBOOKS web pages are the copyrighted property of USM Inc. Those images and the text may be used by others ONLY AFTER completion of a formal international licensing agreement and payment of a licensing fee! It is therefore, illegal for anyone to take any of the material found on USMBOOKS.com and use it for their own purposes without our written permission, irrespective of any excuse they may feel they have for doing so.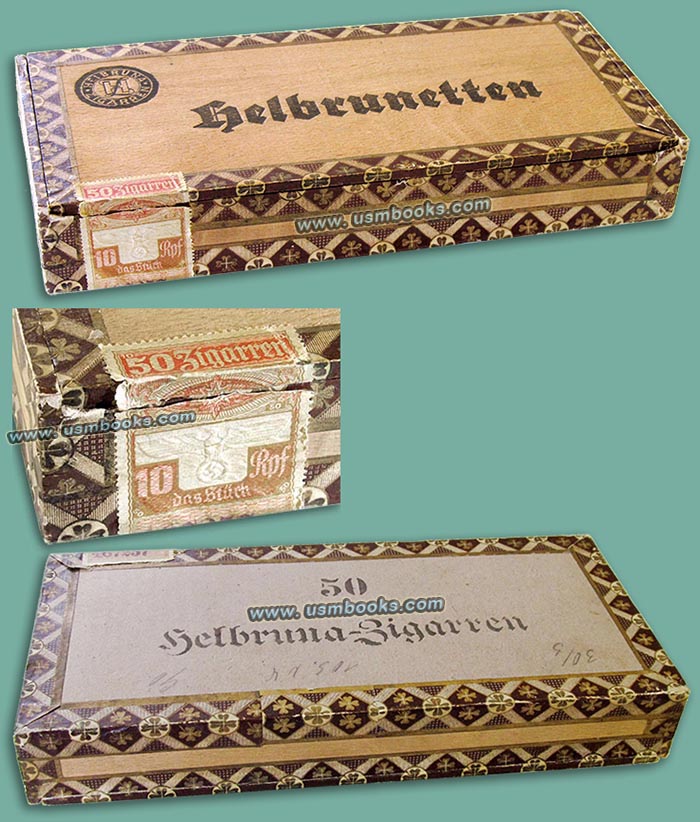 This is a very nice original 1-½ x 4 x 8-3/4 inch wooden cigar box that once held 50 individual Helbrunetten or 'light brown' brand Zigarren. It is complete with all the exterior brown, tan and gold shamrock or four-leaf clover paper trim and the 1-1/4 x 2 inch Nazi tax stamp embossed with a large eagle and swastika. The top is still correctly hinged to the box which is not the case with most Nazi era cigar boxes. The tax stamp assesses a tax of 10 Reichspfennigs per piece for the fifty cigars that came in the box.
The manufacturer of Helbrunetten Zigarren was Helbrunna Zigarrenfabriken KG, a company owned by Dr. Hans Hesse und Wolfgang Saar located in Heilbronn on the Neckar river. For people with an interest in Third Reich history it would be interesting to know that the company was founded in 1909 by three Jewish businessman brothers; Anselm, Julius and Josef Kahn, and was called Anselm Kahn Zigarrenfabriken. The company was Aryanized after the National Socialists were voted into power in Germany and was renamed Helbruna. After the Kristallnacht or the 'Night of Broken Glass' in November 1938, the Kahn family moved to the United States. Anselm Kahn died in New York in 1957.

Perfect for any historical Third Reich display or presentation in an advanced collection or in a museum. A rare tobacco collectible with incredible history from Nazi Germany in very nice condition.
This original Nazi era Helbrunetten cigar box is **SOLD**

• IF you prefer faster and safer Priority Mail shipping with USPS Tracking add $7.75.
• IF you wish to purchase highly recommended, but optional insurance, add $3.50.
• We will be happy to ship abroad at additional cost. Please inquire.
NAZI CIGAR BOX WITH ORIGINAL EAGLE AND SWASTIKA
5 REICHSMARK TAX STAMP
AN ORIGINAL THIRD
REICH WOODEN BOX
THAT ONCE CONTAINED
50 HELBRUNETTEN
BRAND CIGARS