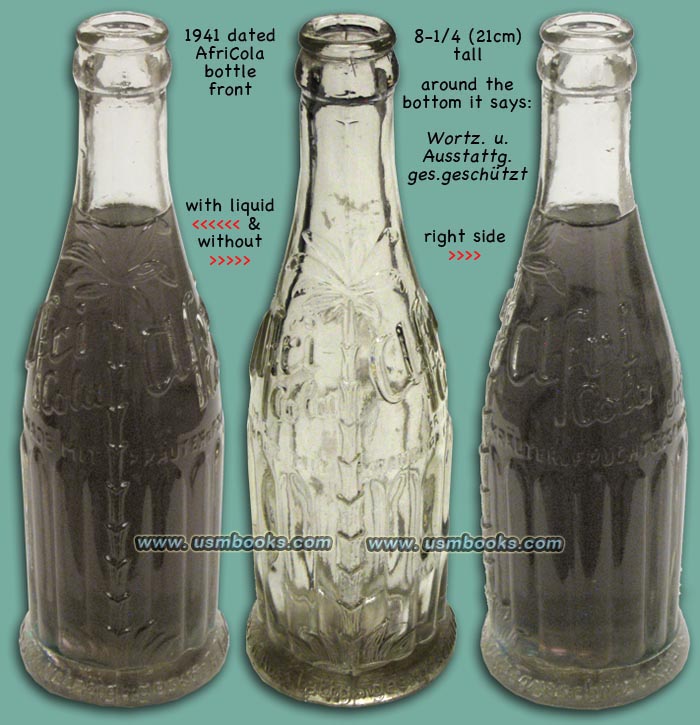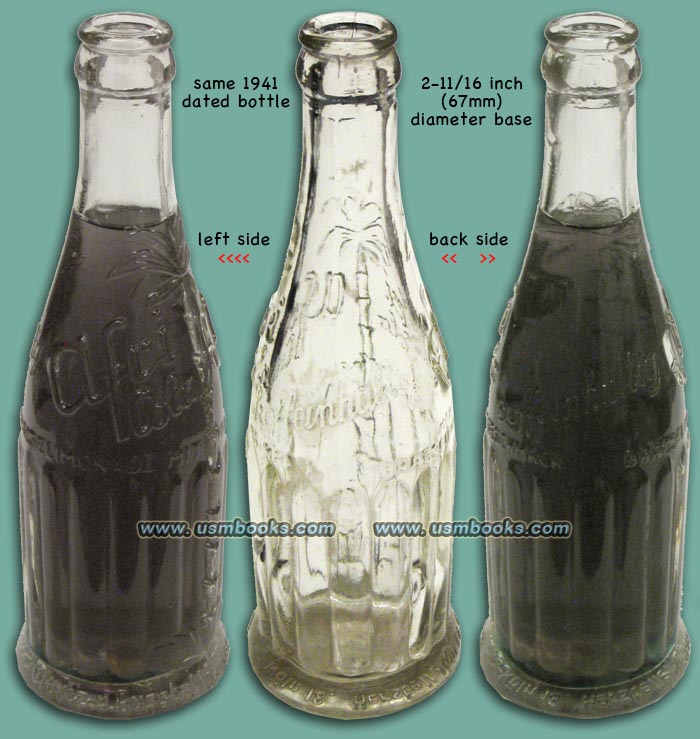 During World War II American GIs drank Coca Cola brand soda all over the world. It had also been a very popular soft drink in Nazi Germany, it was made there, well advertised everywhere and widely consumed. As various boycotts were put in place against Germany by Jewish organizations and other activists, German citizens sought out alternatives rather than consuming products they saw as, or considered "foreign." Coca Cola was one of them. German Landsers and Waffen SS troopers drank Afri Cola instead.
Perhaps the boldest aspect of Afri Cola marketing was their well-known German slogan: ".... auch hier bekommen Sie Afri Cola - gut ... und deutsch!" (You can also get Afri Cola here - it's good and it's German!).

This is a very nice 2-11/16 inch (67 mm) diameter by 8-1/4 inch (21 cm) tall original glass Afri Cola bottle. They are very hard to find now. There is a small chip on the outer edge of the bottom at the 3 o'clock position which does not show from the side.

Empty. Very historic stuff, in very good condition.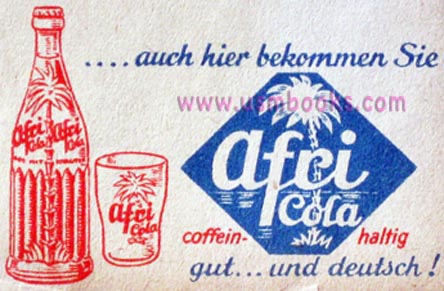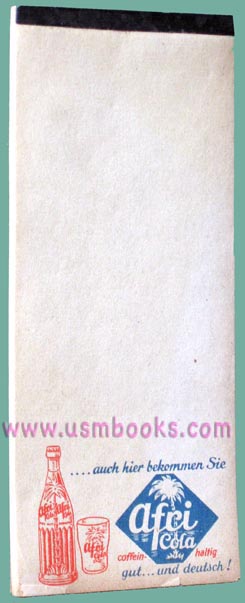 Afri Cola was a direct Coca Cola knock-off. The bottle was heavily molded in the fashion of Coke bottles and the two-part name and logo were reminiscent of Coke. They even sold it for consumption in Coke "shaped" glasses. The trademark symbol was a palm tree. The description of the contents, the trade mark protection data, and even the dating code on the bottle was copied almost verbatim from a Coca Cola bottle.


The images and the entire text used on this and all other USMBOOKS web pages are the copyrighted property of USM Inc. Those images and the text may be used by others ONLY AFTER completion of a formal international licensing agreement and payment of a licensing fee! It is therefore, illegal for anyone to take any of the material found on USMBOOKS.com and use it for their own purposes without our written permission, irrespective of any excuse they may feel they have for doing so.
This very rare original Nazi era AfriCola bottle is **SOLD**.

• IF you prefer Priority Mail shipping with USPS Tracking add $6.95.
• IF you wish to purchase highly recommended, but optional insurance, add $3.45.
• We will be happy to ship abroad at additional cost. Please inquire.
ORIGINAL NAZI AfriCola SOFT DRINK BOTTLE
AN ORIGINAL THIRD REICH GLASS BOTTLE THAT ONCE CONTAINED 0.25 L. OF COCA COLA SUBSTITUTE AFRI COLA