The Lebensborn eV was a Registered Society in Germany which maintained birthing homes and provided other services for aryan pregnant women without husbands. The Nazi Government of Germany was happy to have the racially pure children to adopt into German families of pure blood. Unmarried SS men were allowed to mate with racially pure unmarried German women in order for the Lebensborn Society to acquire more children that they could place with families.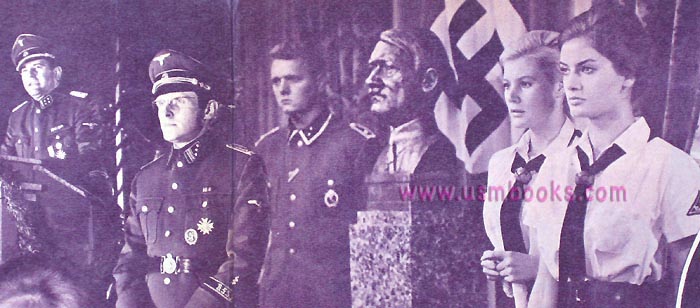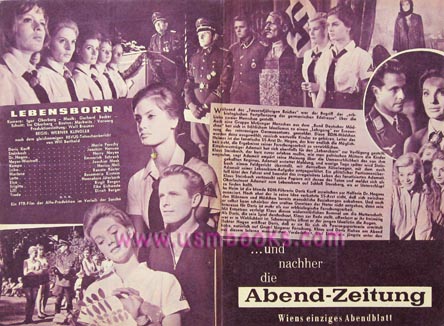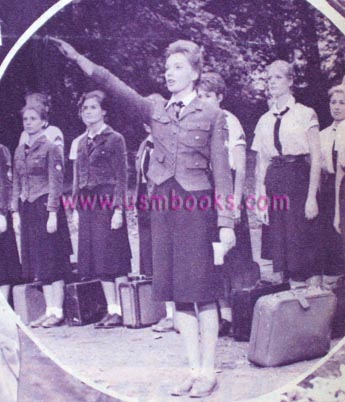 For additional Nazi German movie material for sale on USMBOOKS.com,
click HERE.
This is a good used 6-1/2 x 9-1/2 inch, 4-panel example of the Neues Filmprogramm brochure for the German FTR Sascha movie LEBENSBORN starring Maria Perschy, Joachim Hansen, Harry Meyen, Renate Küster, Birgitt Bergen and Elke Eichwede. The post-World War II movie purported to show what happened to idealistic BdM girls who got wrapped up in the Lebensborn eV, and their subsequent search for babies they gave up to the "Black SS". SS Doctor Hagen is the real heavy of this picture, who gets "blond and delicate" Doris (a beautiful BdM Leader), to assist him and she soon finds herself pregnant.

With the film brochure we are selling a DVD of the movie Lebensborn, dubbed in English and sold under the title "WOMEN ORDERED TO LOVE" (Frauleins Forced into Nazi Breeding!). This is a brand new DVD dated 2011 (Region O NSTC), Made in the USA. On the back of the DVD box the movie is described as a "creepy vintage classic".
THE FILM BROCHURE + DVD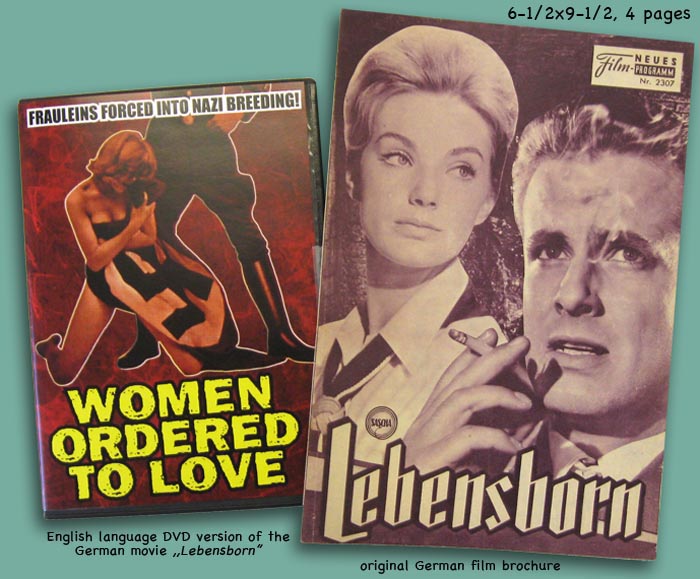 This LEBENSBORN film brochure PLUS the DVD of the English language
version of the movie is for sale for $55.00 delivered by Standard Mail
in the continental USA.

• IF you prefer faster and safer Priority Mail shipping with USPS Tracking add $650.
• IF you wish to purchase highly recommended, but optional insurance, add $2.95.
• We will be happy to ship abroad at additional cost. Please inquire.
AN ORIGINAL
NEUES FILM PROGRAMM BROCHURE FOR THE MOVIE LEBENSBORN
PLUS THE DVD OF THE ENGLISH LANGUAGE VERSION OF THE MOVIE


The images and the entire text used on this and all other USMBOOKS web pages are the copyrighted property of USM Inc. Those images and the text may be used by others ONLY AFTER completion of a formal international licensing agreement and payment of a licensing fee! It is therefore, illegal for anyone to take any of the material found on USMBOOKS.com and use it for their own purposes without our written permission, irrespective of any excuse they may feel they have for doing so.