This FIRST EDITION example of HITLER HOLT DIE SAAR HEIM is
**SOLD**

USM book # 110
• IF you prefer Priority Mail shipping with USPS Tracking add $6.50.
• IF you wish to purchase highly recommended, but optional insurance, add $3.45.
• We will be happy to ship abroad at additional cost. Please inquire.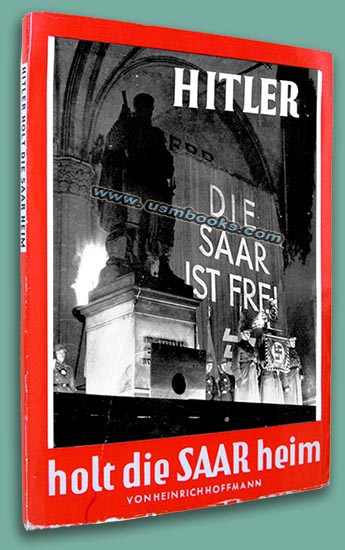 This First Edition of Hitler holt die Saar Heim was published in 1938. It is complete with its original dust jacket which was laminated by a previous owner to preserve it. The book is very rare and in very good used condition.

GENUINE 1938 FIRST EDITION NAZI PHOTO BOOK BY HEINRICH HOFFMANN


The images and the entire text used on this and all other USMBOOKS web pages are the copyrighted property of USM Inc. Those images and the text may be used by others ONLY AFTER completion of a formal international licensing agreement and payment of a licensing fee! It is therefore, illegal for anyone to take any of the material found on USMBOOKS.com and use it for their own purposes without our written permission, irrespective of any excuse they may feel they have for doing so.
ORIGINAL THIRD REICH HEINRICH HOFFMANN PHOTO BOOK
HITLER HOLT
DIE SAAR HEIM
HITLER RETURNS THE SAAR TO
THE GERMAN HOMELAND
To see other original Third Reich Heinrich Hoffmann photo books
for sale on USMBOOKS.com, click HERE.
NO modern reproductions!
One of the rarer books in the series of 50 or so Heinrich Hoffmann photo books produced during the Third Reich of Adolf Hitler, this 64 page, 7-1/2 x 10-1/2 inch, softcover volume is called
Hitler holt die Saar Heim
(Hitler Returns the Saar to the German Homeland).
The forward was written by Joseph Bürckel,
Gauleiter
of
Saar und Ostmark
.
With more than 80 spectacular full-page and half-page photos, this book tells the story of the German demand and the Allied return of the Saarland portion of Germany which had been occupied by British and Italian troops since the end of World War I. Naturally, the occupation of the Saar was extremely unpopular with Hitler and the National Socialists who demanded its return.
Finally in 1935, Hitler had sufficiently frightened the British and French who opposed him, that they decided to let the residents vote on the issue. Overwhelmingly, the people of the Saar region decided they were German and that they had a right to be a part of Germany.
In one of the strangest twists of history, ten years later the victorious Allies of World War II again removed the Saar from Germany and gave it to France.
With the liberation of the Saar there were celebrations without end. There were eagles and swastikas and swastika banners everywhere.

The Wehrmacht, the SA and the SS all marched into Saarbrücken as did Hitler himself, and in official ceremonies the province was welcomed back to the German homeland.