The images and text used on this and all other USM web pages are the copyrighted property
of USM Inc. Those images and the text may be used by others ONLY AFTER completion
of a formal international licensing agreement and payment of a licensing fee!
For other Third Reich era art material, click HERE.
This original, complete Nazi era Adolf Hitler Aquarelle folio
is **SOLD**

• For Priority Mail shipping with USPS delivery confirmation add $7.95.
• IF you wish to purchase optional insurance, add $6.75.
• We will be happy to ship abroad at additional cost. Please inquire.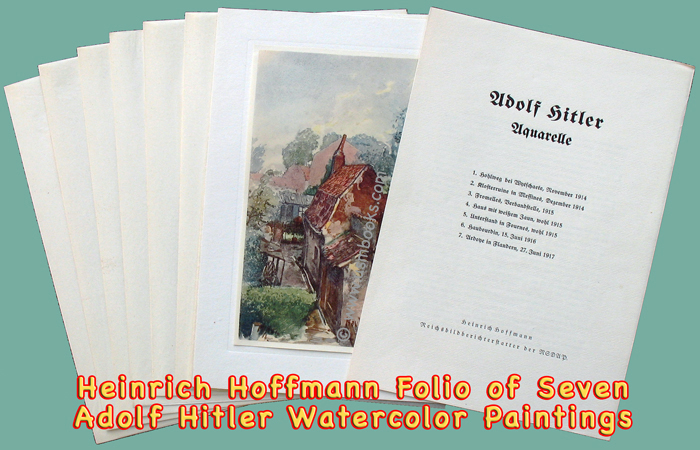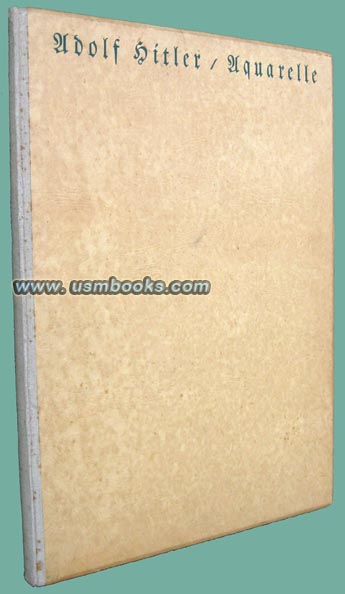 This is a rare original Third Reich era set of reproductions of seven full-color Adolf Hitler watercolors as published by Nazi
Reichsbildberichterstatter
Heinrich Hoffmann. He chose seven of the best Adolf Hitler World War I paintings done on Western Front battlefields between 1914 and 1917.
The seven paintings were printed in full-color on high quality art paper, and each was tipped onto its own carrier sheet on which the name of the painting and the date on which it was painted had been printed.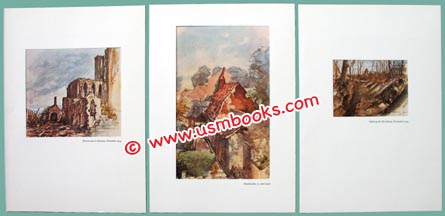 The seven mounted prints are tucked into the four flaps inside the heavy portfolio especially made to protect the prints. The front cover bears the words ADOLF HITLER / AQUARELLE (Adolf Hitler's Watercolors). Packed with the prints is the Index to them with an introduction by Hermann Rasse.
Complete original Heinrich Hoffmann sets of Adolf Hitler watercolors are now very rare and difficult to buy if one can find them. The seven prints in this set are complete originals in very good condition, as is the original Index sheet. The folio or folder is also original and in good used condition.
ADOLF HITLER WATERCOLORS OR AQUARELLE
A SPECTACULAR HARDCOVER
PORTFOLIO OF ADOLF HITLER
WATERCOLORS AS PUBLISHED
BY HEINRICH HOFFMANN,
REICHSBILDBERICHTERSTATTER
OF THE NSDAP
This USM Books website is Copyright © 2012 by USM, Inc., and the text and images on it are fully protected by international copyright law. It is therefore, illegal for anyone to take any of the material found here and use it for their own purposes without our written permission, irrespective of any excuse they may feel they have for doing so.