The images and the entire text used on this and all other USMBOOKS web pages are the copyrighted property of USM Inc. Those images and the text may be used by others ONLY AFTER completion of a formal international licensing agreement and payment of a licensing fee! It is therefore, illegal for anyone to take any of the material found on USMBOOKS.com and use it for their own purposes without our written permission, irrespective of any excuse they may feel they have for doing so.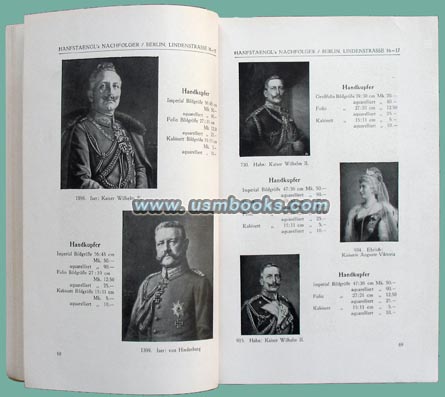 Ernst 'Putzi' Hanfstaengl was Adolf Hitler's first Foreign Press Secretary and an early Nazi Party insider. He as the American educated son (Harvard graduate) of Edgar Hanfstaengl, founder of Germany's premier color print manufacturer. When the Nazis came to power in Germany, the Hanfstaengl firm offered many prints featuring Hitler, other leading Nazis, and buildings of importance to the Nazi movement.
Among the prints offered are many of scenes of Richard Wagner operas, battle scenes, colorful flower bouquets, horses and other animals such as dogs and kittens, farming scenes, hunting scenes, wild game of all sorts in its natural surroundings, seascapes, landscapes, castle ruins, towns and villages, biblical scenes, classic images such as the Mona Lisa and the Man in the Golden Helmet, sentimental couples, children, scantily clad and nude women, early automobiles, courting scenes, composers and authors, political leaders including the Kaiser Wilhelm II, Paul von Hindenburg, von Mackensen, von Ludendorff, World War I hero Manfred von Richthofen, religious scenes and portraits of Jesus.
When Putzi Hanfstaengl fled Germany in 1937 all the assets of the Hanfstaengl firm in Germany were seized by the Nazis and catalogs like this one were destroyed.

A very hard-to-find nearly 100 year old piece of pre-Nazi German history, complete and in very good condition. Tight spine, no odor.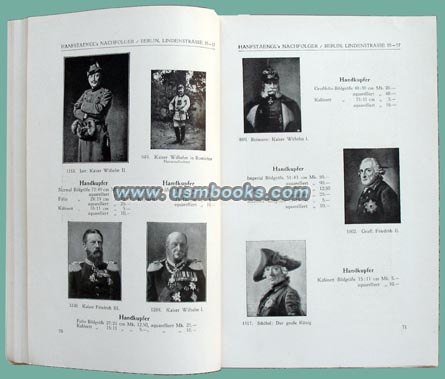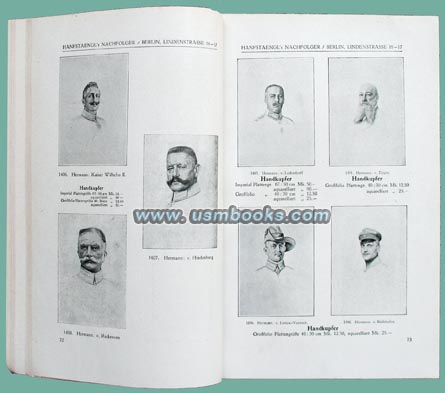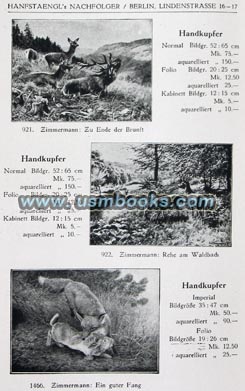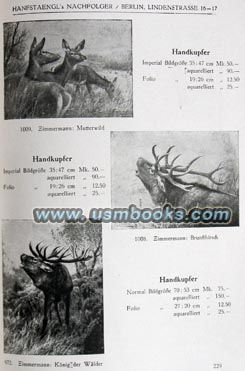 The rare, nearly hundred year old catalog we offer here is the large 6-1/4 x 9-1/8 inch, 316 page very, very heavily illustrated complete listing of the prints available from the Hanfstaengl's Nachfolger Kunstverlag in Berlin in 1920. 1920. This was the first Hanfstaengl Kunstverlag catalog printed since 1913!
This rare pre-Nazi Hanfstaengl art print catalog is offered for sale
for $95.00 delivered by Media Mail in the continental USA.


USM book # 818
• IF you prefer faster and safer Priority Mail shipping with USPS Tracking add $6.50.
• IF you wish to purchase highly recommended, but optional insurance, add $3.50.
• We will be happy to ship abroad at additional cost. Please inquire.
HANFSTAENGL ART PUBLISHER FULL CATALOG FROM 1920
THE COMPLETE CATALOG OF THE PRINTS OFFERED FOR SALE BY THE FIRM HANFSTAENGL'S NACHFOLGER KUNSTVERLAG IN BERLIN IN 1920