The images and text used on this and all other USM web pages are the copyrighted property
of USM Inc. Those images and the text may be used by others ONLY AFTER completion
of a formal international licensing agreement and payment of a licensing fee!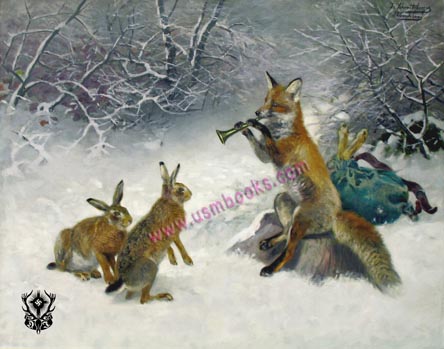 Version 2 >>>>
During the Third Reich of Adolf Hitler copies of this print could be found decorating the walls of hunting camps and lodges throughout Greater Germany. Any hunter with a wall to hang one on put this beautiful painted scene at the top of his want list. The European Brown Hare (Lepus europaens) is a very fast, very reclusive animal; so fast and reclusive that foxes have difficulty getting one to dinner. Thus legends abound about foxes calling hares, providing inspiration for the remarkable Josef Schmitzberger painting
.


We offer two versions of this beautiful print, each measuring 7-1/2 x 9-1/2 inches, centered on a 8-1/2 x 11 inch sheet of archival white 80 pound matt paper. Version 1 above is simply print as painted. Version 2 seen below has a 1 inch tall black
Deutsche Jägerschaft
emblem in the lower left corner. BE SURE TO SPECIFY WHICH VERSION YOU WANT WHEN ORDERING.
A splendid compliment to any collection of Third Reich
Deutsche Jägerschaft
material. New condition.