This Nazi exposé on the massacred ethnic Germans in Poland is offered
for sale for $95.00 delivered by Media Mail in the USA.


USM book # 380
•IF you prefer Priority Mail shipping with USPS delivery confirmation add $6.65.
• IF you wish to purchase optional insurance, add $3.50.
• We will be happy to ship abroad at additional cost. Please inquire.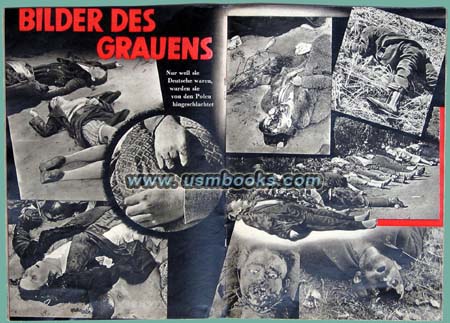 The 6-1/2 x 9-1/2 inch, 24 page heavily illustrated booklet Polnische Blutschuld or "Polish Capital Crime" was printed shortly after the slaughter of Volksdeutschen or ethnic Germans in western Poland in September 1939.

According to eyewitness statements taken under oath, members of the Polish military murdered thousands of Volksdeutschen, men, women and children, just after the Nazi invasion of Poland on 1 September 1939.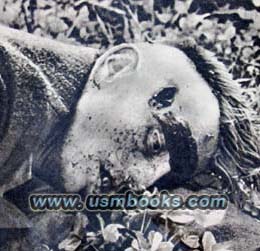 According to sworn testimony in Polnische Blutschuld from 1 - 3 September ethnic Germans living in western Polish cities like Bromberg, were systematically murdered, beaten to death, shot, stabbed, had their skulls smashed and limbs cut off. When the German Wehrmacht arrived around 4 September they found plundered houses, bodies buried in shallow graves with tongues cut off, without eyes, and skulls with holes so big that the brain had slid out.
This booklet is full of gruesome photos of the events described above, copies of reports (Vernehmungs-Protokollen) taken from survivors by German Wehrmacht personnel in September 1939, pictures of graves, and death announcements that filled newspapers for weeks after the massacre.

An original very rare exposé in the German language of a monstrous event largely overlooked by historians today, in good used, original condition.
POLISH MASSACRE OF GERMANS - NAZI BOOK
POLNISCHE BLUTSCHULD
HEAVILY ILLUSTRATED EXTREMELY GRUESOME EXPOSÉ OF THE MASSACRE OF ETHNIC GERMANS IN POLAND IN SEPTEMBER 1939


The images and the entire text used on this and all other USMBOOKS web pages are the copyrighted property of USM Inc. Those images and the text may be used by others ONLY AFTER completion of a formal international licensing agreement and payment of a licensing fee! It is therefore, illegal for anyone to take any of the material found on USMBOOKS.com and use it for their own purposes without our written permission, irrespective of any excuse they may feel they have for doing so.