The images and the entire text used on this and all other USMBOOKS web pages are the copyrighted property of USM Inc. Those images and the text may be used by others ONLY AFTER completion of a formal international licensing agreement and payment of a licensing fee! It is therefore, illegal for anyone to take any of the material found on USMBOOKS.com and use it for their own purposes without our written permission, irrespective of any excuse they may feel they have for doing so.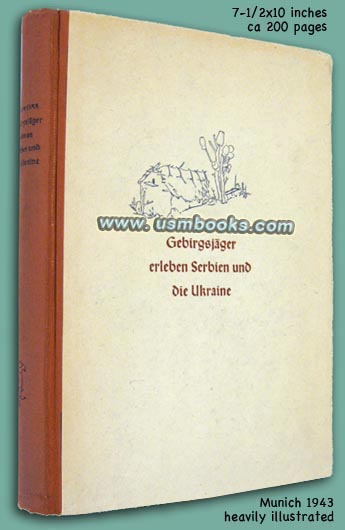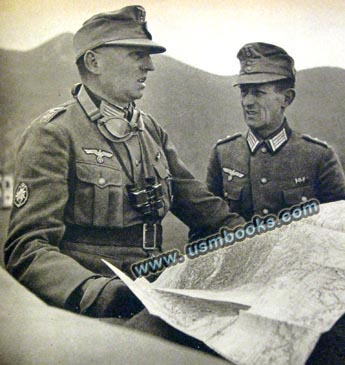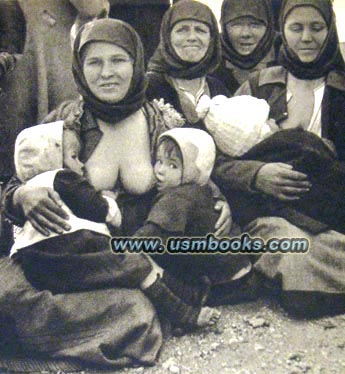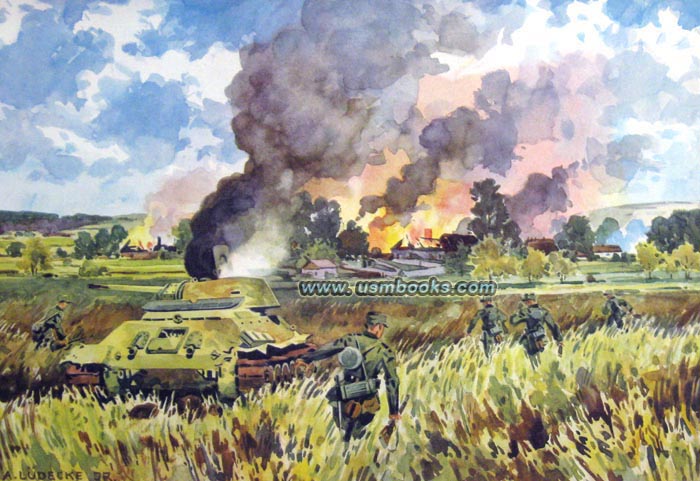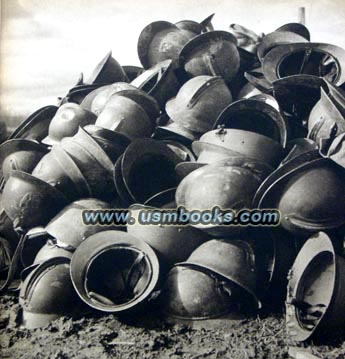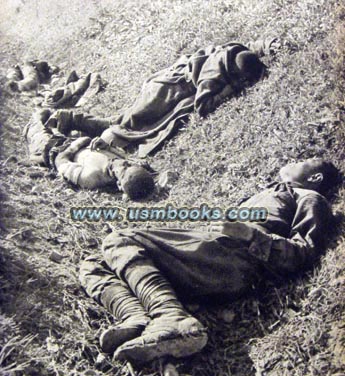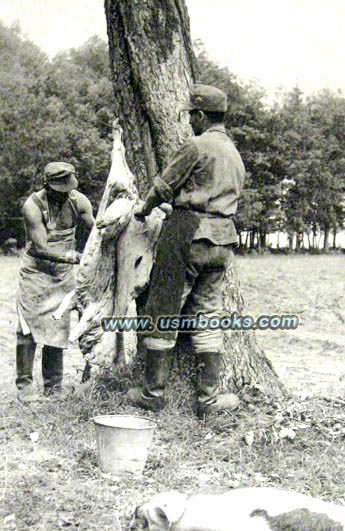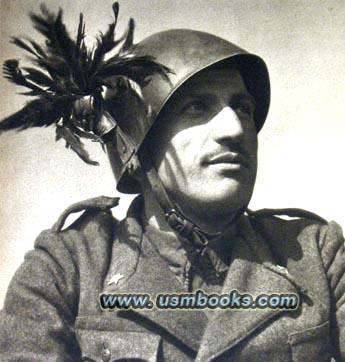 This example has a very rare and historic card and letter glued inside the front cover (shown above). The postcard dated 12 May 1943 is from the publisher Verlag F. Bruckmann in Munich and is regarding a free copy of Gebirgsjäger erleben Serbien und die Ukraine sent to one of the authors, Hauptmann E. Starkl of the 4th Mountain Division.

The two-sided typed letter dated 28 April 1943 was sent to Major Starkl by Obergefreiter J. Gaa, who had been responsible for the photographic content and overall publication of this book. It starts with congratulations on Starkl's promotion from Hauptmann to Major and then apologies for not being able to hand over a copy of the book to Starkl personally, as Obergefreiter Gaa had not been aware of Starkl's change of address as a result of his promotion (Garmisch-Partenkirchen to Halle/Salle). Obergefreiter Gaa said he hoped Starkl will like the book and apologizes for the quality of the paper ("the best he could get during the war") and mentions that the Enzian Division had ordered thousands of copies. Obergefreiter Gaa hoped, if Major Starkl like the book, he could put in a good word for him so he would possibly receive the Kriegsverdienstkreuz for all the energy and hard work he had put in putting together this book! We don't know if Gaa ever got his medal!
GEBIRGSJÄGER ERLEBEN SERBIEN UND DIE UKRAINE
EXPERIENCES OF THE GERMAN 4th MOUNTAIN DIVISION MOUNTAIN TROOPS IN SERBIA AND THE UKRAINE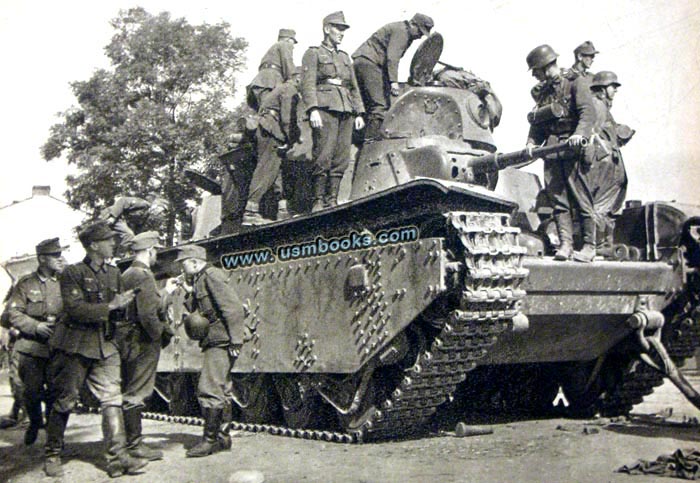 This is a very good hardcover example of the rare World War II German combat history of the Nazi 4th Mountain or Enzian Division, Gebirgsjäger erleben Serbien und die Ukraine (German Mountain Troops Experience Serbia and the Ukraine) as published in cooperation with the Generalkommando XVIII for the Division by Verlag F. Bruckmann in Munich, Germany. Responsible for the content were Oberleutnant H. Manz and Hauptmann E. Starkl, and Obergefreiter J. Gaa for the photographic material and overall publication.

Historic correspondence between the publisher and Hauptmann E. Starkl and Obergefreiter J. Gaa and Major Starkl accompany this Third Reich book.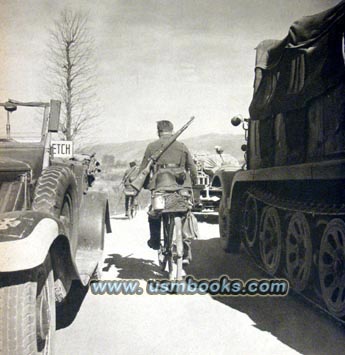 This excellent 7-1/2 x 10 inch, very heavily illustrated, 200 or so (unnumbered) page hardcover book is one the very best of its type in that many sepia toned photos show the men and officers of the outfit with vehicles from bicycles and horses to huge halftracks and radio trucks. They also show their weapons and equipment, their captives, the death and destruction they produced, and their everyday life among occupied people.
There are dead enemy soldiers, odd looking heavy tanks, piles of helmets and rifles, columns of jaunty Gebirgsjäger on the march, Gebirgsjäger on horseback and the graves of dead comrades.

Supplementing about 200 very sharp full-page photos are around a dozen full-page, full-color paintings by A. Lüdecke, one of the Gebirgsjäger who painted what he saw along the route of the 4th Mountain Division to the Ukraine.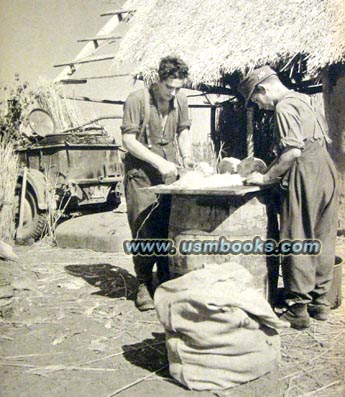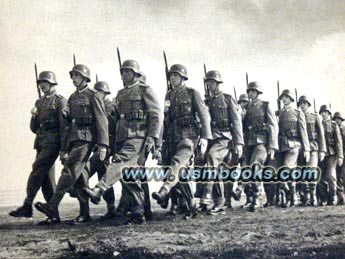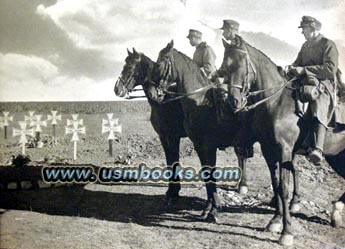 The book with the correspondence is very rare and in very good used condition and quite timely with the continued unrest brewing in that part of the world!
This Nazi Mountain Troop hardcover photo book is offered for sale
for $175.00 delivered by Media Mail in the continental USA.


USM book # 139
• IF you prefer faster and safer Priority Mail shipping with USPS Tracking add $6.85.
• IF you wish to purchase highly recommended, but optional insurance, add $3.45.
• We will be happy to ship abroad at additional cost. Please inquire.
RARE NAZI GEBIRGSJÄGER BOOK ENZIAN 4th MOUNTAIN DIVISION
SUPERB PHOTOGRAPHIC MATERIAL